Found September 19, 2012 on Fox Sports:
(Eds: With AP Photos.) By TIM DAHLBERG AP Sports Columnist For baseball purists, there's not a whole lot to like about what Bud Selig has done to the national pastime. More proof of that came Wednesday when Selig said he wasn't likely to do anything about Melky Cabrera winning the NL batting title while serving a 50-game suspension for a positive drug test. He also said he has no plans to do some things he should have done a long time ago - like take Barry Bonds' name off the top of the career home run list and restore Roger Maris as the legitimate single-season home run record holder. ''You can't change records because once you get into that it would never stop,'' Selig said in an interview for the YES Network. ''It would create more problems than it would solve.'' It wouldn't, but that's not the real reason baseball won't wipe the steroid slate clean. Times are good, teams are flush, and there's no real incentive for Selig to reopen the drug scandal that once threatened the game's very integrity. While stripping Cabrera of the title would be easy enough, it would spark yet another debate over whether baseball has really conquered its drug-related demons. Purists may object, but they should understand that Selig's main job is not to uphold decades of baseball tradition, but to make baseball owners money. That's why Seattle and Oakland met in the not-so-traditional season opener in Japan, and it's why the World Series might not end this year until November. It's also why the Dodgers are playing in Yankee Stadium next year in June instead of October, and why the lines between the National League and American League are so blurred by interleague play that they mean nothing anymore. Give Selig credit for doing his job well. There are new stadiums in almost every city, teams are being sold for astonishing sums, and Major League Baseball is so attractive that ESPN doubled down on it last month with a new contract that pays some $700 million a year. And even the purists have to be rethinking the one money-making idea that really works - the addition of two new wild-card slots to the playoffs. Without it, the New York Yankees might be a short losing streak away from not making the postseason at all. With it, the Baltimore Orioles have a good shot at the playoffs for the first time in 15 years. Without it, the St. Louis Cardinals would have no chance of repeating their improbable run to a World Series title. With it, the Oakland A's are suddenly a threat to the usual big spenders. We may never have a day in baseball again like the final day of last year's regular season, when after three blown saves and two walk-off wins, the Cardinals and Tampa Bay made the playoffs. But the first day of this postseason could come close, with two teams moving on and two others eliminated in the space of a few hours. It's a tantalizing prospect, even for baseball fans who remember the days when finishing on top of the regular season standings was a guaranteed ticket into the World Series. Imagine the Yankees having to jet across the country to play one game in Oakland, with the loser done for the season. Could easily happen. Something Yankee fans couldn't have imagined when their team held a 10-game lead in the AL East in mid-July. How about the Cardinals against the Atlanta Braves - one game, winner take all. Is there any better way for the Braves to avenge an extra-inning loss on last season's final day that put the Cards in the playoffs? The fear was that the expansion of the playoffs to 10 teams would take away from the division races, but the prospect of not having to play one game with the season on the line now makes winning the division even more important. It may not seem fair to players who have just battled through a 162-game regular season to have to win one game to advance, but it gives a jolt to the first day of the postseason. And until now, that buzz has been missing. It may have also encouraged the Dodgers to break the bank for Adrian Gonzalez and others in a desperate move by new owners to deliver a playoff team - a move that hasn't quite worked out. That's baseball, though, a game that can't always be neatly figured out. At the same time the Dodgers were spending millions, their rivals in the Bay Area were losing their best player in Cabrera. The Giants were a game out of first place then, but now they're running away with the NL West after going 21-9 without the leading hitter in the league. The Yankees, meanwhile, are in danger of blowing the AL East, while the Boston Red Sox are an odd collection of players who have nothing left to play for this year. It's all part of the beauty of a game that stretches from the first warm days of spring to the chilly nights of fall. The addition of two wild-card teams give fans more reasons to hope in September, and more reasons not to change the channel when football is in full swing. Like almost every idea hatched by Selig, it was designed to make money - and this one actually works. ---- Tim Dahlberg is a national sports columnist for The Associated Press. Write to him at tdahlberg(at)ap.org or http://twitter.com/timdahlberg
Original Story:
http://msn.foxsports.com/mlb/story/Co...
THE BACKYARD
BEST OF MAXIM
RELATED ARTICLES
The Mets are six months removed from entering a $162 million settlement with those affected by the Madoff scandal. After slashing payroll by $50 million, the team is struggling to stay afloat on the field, posting a 66-81 record entering Wednesday which is good for fourth place in the National League East. Not the ideal situation for a club in the country's largest market. Despite...
SAY CHEESE: Looks like Fred and Bud are holding Mr. Met and the rest of the Mets franchise hostage. Send us a deliverer… (Photo by Newsday) I never got a chance to weigh in on MLB commissioner Bud Selig's comments earlier this week when he expressed confidence and satisfaction with the state of the Mets and their current direction. (They are heading for a fall off a steep...
PAPER CHAMPION
MLB announced on Friday that players suspended for PED use will not be eligible for that season's individual batting, slugging or on-base percentage titles.
NEW YORK -- Melky Cabrera has been disqualified from the National League batting title at his own request, a person familiar with the discussions told The Associated Press. The person said Cabrera asked the players' association to convey his desire to the commissioner's office and that an agreement to make him ineligible was reached Friday. The person spoke on condition of...
San Francisco Giants outfielder Melky Cabrera has been ruled ineligible for the National League batting title -- at his own request. Cabrera had continued to lead the NL with a .346 batting average despite being suspended 50 games for performance-enhancing drugs Aug. 15. Without Friday's action from Major League Baseball and the players' union, there's an excellent chance...
Major League Baseball isn't likely to prevent Melky Cabrera from winning the National League batting title, despite his 50-game suspension for a failed drug test. The San Francisco Giants outfielder is seven points ahead of Pittsburgh's Andrew McCutchen with a .346 average entering Wednesday. "We'll see how it all plays out," baseball Commissioner Bud Selig...
In an unexpected piece of news, Andrew Baggarly of CSN Bay Area is reporting that suspended Giants outfielder Melky Cabrera will be ineligible to win the National League batting title this year. Cabrera reportedly asked the players union to remove himself from consideration on Wednesday, and the players union worked out an amendment to rule 10.22a (which gives extra at bats to...
A person familiar with the discussions tells The Associated Press that Melky Cabrera has been disqualified from the National League batting title at his own request.
Hey, I'm all for a useless, arbitrary holiday, "Talk Like a Pirate Day" is about as useless and arbitrary as you can get. I won't be following along with this, but I will help you all out with some things to say to make you sound like a Pirate. - My cousin was on the Jersey Shore! What? No, it was the bartender Snooki threw up on. - Syracuse, Pitt, Notre Dame, and West Virginia...
Another award that should be abandoned? Just about every athlete that is caught guilty on a drug test follows the below 5 step pattern: 1) Claim they have no idea how this happened 2) Blame faulty test 3) Claim innocence even if retest shows guilt 4) Blame system for false positive on something unrelated (i.e. the poppy muffin excuse) 5) Agree to disagree, I'm not saying I did...
MLB News

Delivered to your inbox

You'll also receive Yardbarker's daily Top 10, featuring the best sports stories from around the web. Customize your newsletter to get articles on your favorite sports and teams. And the best part? It's free!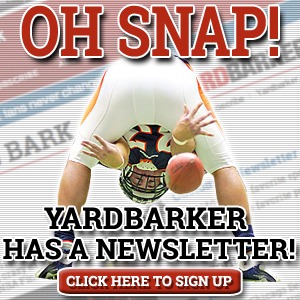 Latest Rumors
The Backyard

Today's Best Stuff

For Bloggers

Join the Yardbarker Network for more promotion, traffic, and money.

Company Info

Help

What is Yardbarker?

Yardbarker is the largest network of sports blogs and pro athlete blogs on the web. This site is the hub of the Yardbarker Network, where our editors and algorithms curate the best sports content from our network and beyond.