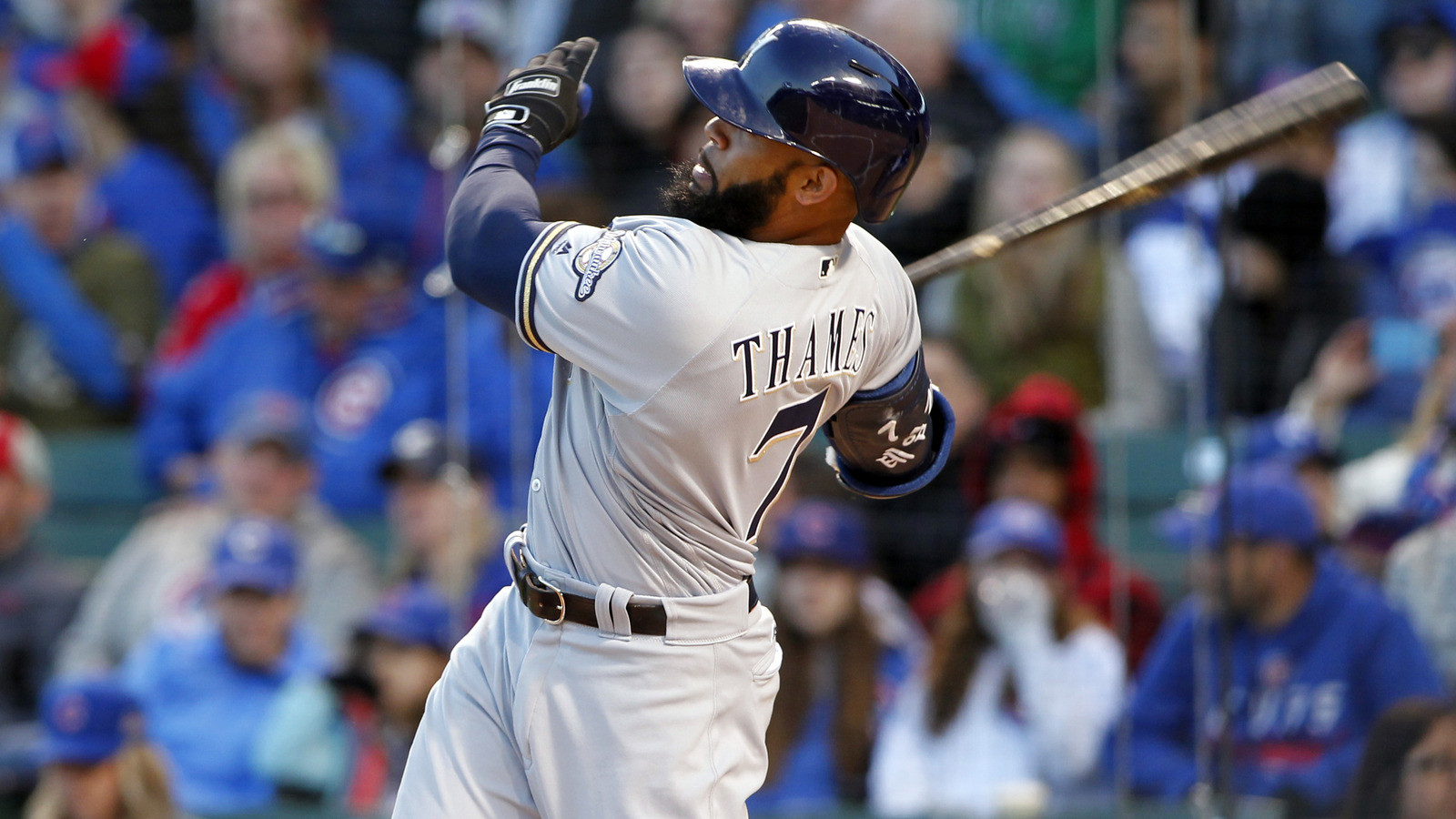 Apr 17, 2017; Chicago, IL, USA; Milwaukee Brewers first baseman Eric Thames (7) hits a single during the first inning of the game against the Chicago Cubs at Wrigley Field. 
Caylor Arnold-USA TODAY Sports
It seems like some with the Chicago Cubs are ascribing Eric Thames' hot start to the season to the use of PEDs without actually saying so.
Thames, who spent the past handful of seasons slugging home runs in Korea, has been scorching hot to start the 2017 MLB season. He has six doubles and seven home runs for the Brewers, and produced three hits in each of the first two games of Milwaukee's series with the Cubs this week.
Thames went 3-for-4 with an opposite field homer off John Lackey in the first game of the series on Tuesday. Lackey talked about Thames after the game and seemed to show suspicion about Thames' success.
"You watch film on recent stuff and try to figure out a way, you know, to get him out. But I mean, really even the homer hit the other way, I mean, you don't see that happen here very often. That's kinda one of those things that makes you scratch your head," Lackey said.
The video shared by the Chicago Tribune cuts off after he says "scratch your head," which the pitcher did while winking. Perhaps Lackey gave more context than that, but the wink seemed like he was hinting something.
Cubs pitching coach Chris Bosio also raised suspicion by grouping Thames in the same conversation as noted PED users Barry Bonds and Manny Ramirez. To be fair, Bosio was asked by 670 The Score's Mully & Hanley Wednesday about Thames in the context of Starling Marte's PED suspension.
"Well, the bottom line is [Thames] has hit the ball and we gotta figure out a way to get him out. All that other stuff, I'll let other people worry about. But he's doing stuff that I haven't seen done for a long time.
"You start thinking about Ken Griffey Jr., Manny Ramirez when he went to the Dodgers, Barry Bonds … You're talking about some of the greatest players to ever play this game. So, yeah, it's probably a 'head scratcher' because nobody knows who this guy is. And when he was here before … yeah, his body has changed. But, like I said, I'll leave that to everyone else and we're just gonna try to worry about how to pitch him better and get him out."
Bosio also said one of Thames' hits was an eyebrow-raiser.
The league is doing its due diligence as Thames was subjected to a random drug test earlier this week.
Though the Cubs have a right to be surprised by Thames' success to start the season, they need to be careful with what they're saying. They didn't like it when Jake Arrieta faced similar accusations while he was dominating, so they should know what it's like to be on the receiving end of things and how unfair that can be.
MORE FROM YARDBARKER
MLB News

Delivered to your inbox

You'll also receive Yardbarker's daily Top 10, featuring the best sports stories from around the web. Customize your newsletter to get articles on your favorite sports and teams. And the best part? It's free!