Found October 22, 2012 on NESN.com:
Yankees stars need to stop taking their fans' taunts so seriously. First it was Nick Swisher, who appeared very hurt by some New Yorkers' negativity. Now Curtis Granderson sounds like he's responding to the old cliche to "get his eyes checked" by ... actually going and getting his eyes checked. Granderson will be going to an eye specialist amid concerns that poor eyesight may have been behind his mounting strikeouts this season, the New York Daily News reports. Granderson first had his eyes checked when he started with the Yankees in 2010, and he found out his vision was 20/30. He got contact lenses to help him out, and it may have worked -- he struck out just 116 times that season, compared to 141 the season before (although that year was also the beginning of his hitting resurgence under Yankees hitting coach Kevin Long, as Granderson regained his power stroke, leading to 84 total home runs in 2011 and 2012). The strikeout numbers have be...
Original Story:
http://www.nesn.com/2012/10/curtis-gr...
THE BACKYARD
BEST OF MAXIM
RELATED ARTICLES
From Jon Heyman:The Yankees are still planning to make a qualifying offer of about $13.5 million to free agent Nick Swisher, but only to protect the draft choice, not with any hope or expectation he'd accept the offer and return to the Bronx. While Swisher generally had a nice four-year run in the Bronx, the Yankees are ready to move on after a fourth straight postseason of...
English: CC Sabathia (left) and Mark Teixeira (Photo credit: Wikipedia) Most baseball fans probably read this already either in the NY Daily News, NY Post or any national newspaper that New York Yankees fans ace CC Sabathia has an appointment with Dr. James Andrews this week. The doctor's visit is to get answers about why Sabathia's left elbow, the one that landed on the 15-day...
The Times of Trenton (New Jersey)October 21, 2012 Sunday Dear Editor:I have always been a Yankees fan. The antics of the owners, the late father, George Steinbrenner, and now his sons, always amazed me with their lack of class. The current A-Rod situation ("A-Rod epoch ending ugly," Oct. 18) is a perfect example. Selecting him as the reason for their current failure...
Everyone knows how billionaires love-love-love capitalism and hate-hate-hate commies - you know, like Obama and George Soros. Hell, they didn't get to be billionaires by organizing co-ops. Nevertheless, something happens when they buy baseball teams. Then, they turn pinko. Things like top-down artificial salary caps make sense. Last year, they managed to put one into place on...
Brian Cashman is going to get asked a lot of questions this offseason. Some will be about the New York Yankees' postseason struggles. Some will be about the future of Robinson Cano and a new contract. Some will revolve around the return of Andy Pettitte. Some will center around the health of C.C. Sabathia. But the majority of questions Cashman will be forced to deal with on a daily...
I've seen Yankees catching prospect Gary Sanchez as much as any other prospect this season and while I have a good feel for what he can do, I'm still not certain what he'll become. I saw him in spring training, at Lo-A Charleston, at Hi-A Tampa and again recently in instructs; he's shown the same tools each time but has also been making some adjustments, mostly at the plate...
Sports columnist Mike Lupica may be the newspaper equivalent of a slugger whose best days were in the 1970s, but every once in a while, he can still hit a mistake pitch out of the ballpark. The New York Daily News writer had a great column this Sunday about what I've been saying and thinking recently about the Yankees front office -- that the Yankees' rhetoric about how the...
New York Yankees general manager Brian Cashman said Saturday that left-handed pitcher CC Sabathia will have his left elbow examined by Dr. James Andrews. Sabathia, 32, reportedly needs to have a bone spur cleaned out, an injury that occurred while played for the Cleveland Indians (2001-08), ESPN New York reported. He was placed on the disabled list in August after having elbow...
NEW YORK -- Yankees ace CC Sabathia will have his pitching elbow examined by Dr. James Andrews following inflammation that landed him on the disabled list in August. An MRI showed a bone spur in the left elbow and the Yankees believe it has existed since he pitched for the Cleveland Indians from 2001-08. "Yeah, you have to be concerned, because like I'...
Alex Rodriguez is no longer a superstar, and while a trade is "unrealistic," all offers for the high-priced slugger will be considered, Yankees GM Brian Cashman said Sunday.
Yankees News

Delivered to your inbox

You'll also receive Yardbarker's daily Top 10, featuring the best sports stories from around the web. Customize your newsletter to get articles on your favorite sports and teams. And the best part? It's free!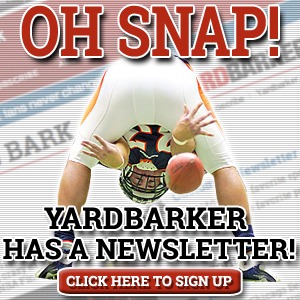 Latest Rumors
Best of Yardbarker

Today's Best Stuff

For Bloggers

Join the Yardbarker Network for more promotion, traffic, and money.

Company Info

Help

What is Yardbarker?

Yardbarker is the largest network of sports blogs and pro athlete blogs on the web. This site is the hub of the Yardbarker Network, where our editors and algorithms curate the best sports content from our network and beyond.