Found March 26, 2013 on Fox Sports Arizona:
SCOTTSDALE, Ariz. Cliff Pennington was on first base in an early spring training game when Jason Kubel came to the plate. The pitcher had a slowish delivery to the plate, so second base was there to be stolen. But Pennington did not budge, giving Kubel a wider hole to hit through. Ten days into his first spring training with his new team, Pennington seemed right at home. New Diamondbacks shortstop Pennington brings speed and a will run, but only when the situation dictates. He had 58 stolen bases in his three full seasons with Oakland, a good number for most and a better number considering that the Moneyball As believe the stolen base brings too much downside risk. He would like to do more this season, circumstances permitting. The last year or so I didnt steal as many as I would like," said Pennington, 28. "It was just the way the team was shaking out. You have to play within the game. Im not going to be a guy that runs just to run. Who is batting behind you, where you are in the order, dictates a little bit of how often you are going to run. But if the team is needing it and we are struggling to score runs or we need to make something happen, thats something I want to be able to do. I love it. I feel like it makes something happen, puts pressure on the other team. A lot of good things come from it. Pennington .hit .250 with six homers, 46 RBIs and 29 stolen bases with Oakland in 2010, his first as a regular, and was .264 with eight homers 58 RBIs and 14 stolen bases in 2011. While he had 15 stolen bases last season, he other numbers declined -- a .215 averge, six home runs, 28 RBI. He moved to second base after the As acquired Stephen Drew from the D-backs in early August. He is hitting .239 with four extra-base hits and three stolen bases this spring, and the Diamondbacks believe he's a better hitter than last year's numbers indicate. Hes versatile, pretty driven," manager Kirk Gibson said. "Hes worked hard on his hitting. He is trying to understand and execute things. He is very good in the field, and his bat is better than it was last year. He can run. Hes alert. The other day (Adam) Eaton went (stole third), and he was right behind him. Hes going to get a lot of time. I think hes kind of a younger version of Willie (Bloomquist)." As far as running more, Gibson added: If you can make it, we are all for it. Were working on that. Pennington, a first-round draft pick out of Texas A&M in 2005, has a game built on aggressiveness, and playing 54 games against the go-go Los Angeles Angels the last three seasons only sharpened his appreciation for that style, which the D-backs are working to implement. The constant pressure can be as difficult to measure as it is to combat. For instance, when you are on defense and you play a team that runs a lot, or maybe goes first to third or first to home or stuff like that, its something you have to think about," Pennington said. "You know they are not just going base to base. Its nice when you are infielder and you have a slow guy at first base and a slow guy at the plate. You can play a little deeper. You can give yourself a little more range. You can turn a double play as long as you run it cleanly. You put a runner on first who is fast and you know might be running or doing something, you are having to work on coverage, what pitch the pitcher is throwing so we know who is covering (second base), if the ball gets in the dirt there is a lot more stuff you can happen if you know you have guys who are going to try to push the envelope a little bit. Its a good thing that I think we are going to have, a positive for us. Pennington was part of an Oakland team that made one of the most stunning comebacks in baseball history last season. The As caught Texas for the AL West title on the last day of the regular season after trailing by 13 games on June 30 and by five games with nine games left in the regular season. It was fun," he said. "It was a team that jelled together just right. There was no one superstar. It was a bunch of guys who never would quit. Played hard every night. Obviously we had some really good pitching, and those guys did it all year. The bats, it was somebody new each night trying to pick it up. Really, we just took it one game at a time and felt like every game we had a chance to win. We were going to play all 27 outs. The D-backs have talked about using a platoon at shortstop with Pennington and Bloomquist, although a lot will be determined as the season goes along. Versatile Bloomquist could be needed more in the outfield early in the season, with Eaton expected to miss six to eight weeks with a left elbow injury. Pennington made only nine errors in 93 games at shortstop last season, only two in 32 games at second base. Former Oakland teammate Trevor Cahill, a ground-ball pitcher, has seen Pennington in action. He has good range and a good arm," Cahill said. "Hell get to balls which you expect him to, which helps a lot. Coming here to the National League, I think hell have a good year with the bat, too. He adds a good component to the team. He is scrappy. He puts together good at-bats. Hell take his walks. I think it will be a good fit for him. Hes not unbelievably fast, but hes a smart base runner. He knows when he can go, when to take the extra base and when not to.
Original Story:
http://www.foxsportsarizona.com/mlb/a...
THE BACKYARD
BEST OF MAXIM
RELATED ARTICLES
PAINFUL REMINDER
Over the weekend, injured D'Backs starter Daniel Hudson sent out a tweet voicing his displeasure over the photo Topps chose to use for his baseball card.
Isn't every Little Leaguer's dream to make it to the Majors and end up on a baseball card some day? Imagine how Arizona Diamondbacks right-hander Daniel Hudson must have felt when he saw an unflattering picture of him on his 2013 Topps baseball card. The 26-year-old starting pitcher, about to begin his fifth season in the majors and third with the D-backs, was going through...
SCOTTSDALE, Ariz. -- Though Cody Ross took a step in his rehab of a calf injury Tuesday, the Diamondbacks outfielder will likely open the season on the disabled list, D-backs manager Kirk Gibson confirmed. "I'd rather (do that) than him push it and injure himself for six to eight weeks," Gibson said. "Let's get it right. If we have to DL him to do that, then...
SCOTTSDALE, Ariz. -- The injury bug bit the D-backs hard Tuesday night, as Aaron Hill, Jason Kubel and Willie Bloomquist all left the game with injuries, but it appears only one of those is significant. The D-backs announced Wednesday an MRI revealed Bloomquist suffered a grade 2 strain of his right oblique and will start the season on the disabled list. The team put no timetable...
Baseball players tend to be a picky bunch, but Daniel Hudson may be the first to ever complain (publicly, at least) about a baseball card photo. But don't go calling D-Huddy high maintenance just yet, as the Diamondbacks hurler has good reason to be upset. Hudson recently caught glimpse of his Topps baseball card and expressed his displeasure on Twitter. No, the baseball card company...
Every young boy or girl who wants to play sports for a living dreams of someday being featured on a playing card. Usually kids envision themselves on the front of a card jacking a home run or catching a touchdown pass. It didn't exactly work out that way for Arizona Diamondbacks pitcher Daniel Hudson. Hudson is rehabbing from Tommy John surgery after he blew out his elbow last...
Arizona Diamondbacks utility player Willie Bloomquist will start the season on the disabled list. The team says an MRI on Wednesday showed a grade 2 right oblique strain. There is no timetable for his return. The injury, sustained in Tuesday night's game against the Los Angeles Angels, is another blow to Arizona, which figured to use Bloomquist considerably at shortstop and...
Arizona Diamondbacks second baseman Aaron Hill has left a spring training game after getting hit on the left hand by a pitch from Los Angeles Angels ace Jered Weaver. Hill, a 2012 Silver Slugger award winner who is batting .432 this spring, was plunked in the bottom of the first inning Tuesday night. He did not come out to play defense in the top of the second and was replaced by...
With the season fast approaching the injuries are already starting to pile up. Today we delve into two players whose playing time should be beneficial to your fantasy team in the first weeks of the season.Gerardo Parra, OF, ARIYou know the name, it almost seems like he has been around forever. I get it, it sounds like a boring option, but with Adam Eaton out six to eight weeks and...
The Arizona Diamondbacks have released Josh Booty, who had earned an invitation to the team's spring training by winning a televised knuckleball competition among former college quarterbacks. ''The Next Knuckler'' competition was held on MLB Network, with Booty beating out his brother John David Booty, Doug Flutie, David Greene and Ryan Perrilloux. Josh Booty...
Daniel Hudson's seemingly harmless tweet about his baseball card picture that blew up across the internet Monday really was, well, harmless. The Diamondbacks right-hander, who is expected to miss much of the season while rehabbing from Tommy John surgery after tearing a ligament in his arm last June, took to Twitter on Sunday after he opened some fan mail that included a new...
Three key players for the Diamondbacks left Tuesday night's spring training game with injuries before Arizona scored seven runs in the eighth inning to beat the Los Angeles Angels 7-1. Second baseman Aaron Hill was hit on the left pinkie by a pitch from Angels ace Jered Weaver, who gave up only two hits in seven scoreless innings. Diamondbacks shortstop Willie Bloomquist (right...
MLB News

Delivered to your inbox

You'll also receive Yardbarker's daily Top 10, featuring the best sports stories from around the web. Customize your newsletter to get articles on your favorite sports and teams. And the best part? It's free!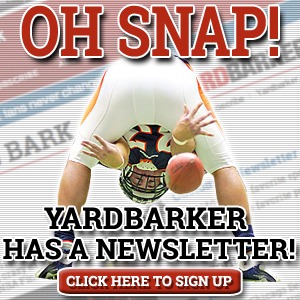 Latest Rumors
The Backyard

Today's Best Stuff

For Bloggers

Join the Yardbarker Network for more promotion, traffic, and money.

Company Info

Help

What is Yardbarker?

Yardbarker is the largest network of sports blogs and pro athlete blogs on the web. This site is the hub of the Yardbarker Network, where our editors and algorithms curate the best sports content from our network and beyond.