Found July 02, 2012 on Fox Sports Arizona:
The San Diego Padres are hoping the momentum they've gained on their current road trip will help them end a long history of struggles in Arizona and the Diamondbacks' recent dominance at home. The Diamondbacks return from a rough trip looking to continue their success at Chase Field while trying to prevent the Padres from a third straight win Monday night. After salvaging a four-game split in Houston, San Diego (30-50) took two of three at Colorado over the weekend to improve to 4-3 on a 10-game trip. The Padres, who were 10-23 on the road before this trek, now head to Arizona, where the Diamondbacks (39-39) have won four in a row and 12 of 14. Though San Diego snapped a seven-game skid at Arizona with a 7-6 win Sept. 11, the Diamondbacks' .686 home winning percentage against the Padres - an 83-38 record all-time - is their best versus any NL opponent. The Padres also dropped four of six at home to begin the 2012 season series. Two of those defeats came in games started by Arizona's Trevor Cahill (6-6, 3.67 ERA), who allowed one run in 15 innings while going 1-0 in those starts. The right-hander, however, hopes to avoid a third straight rough outing Monday. Cahill allowed six runs in six innings June 20 but recorded a fourth straight winning start in a 14-10 victory over Seattle. He wasn't so fortunate after again yielding six - four earned - along with four walks in five-plus innings of a 6-4 loss Wednesday at Atlanta. The Diamondbacks have averaged 8.0 runs while winning 10 of their last 11 at home, but they totaled three runs while losing two straight at Milwaukee to conclude a 2-4 trip. Jason Kubel homered to tie Sunday's game in the eighth inning, but two Arizona errors on a stolen base attempt in the ninth led to a 2-1 loss. "It's a tough way to lose, but that's baseball," said outfielder Gerardo Parra, whose throw to third base trying to cut down Brewers pinch-runner Carlos Gomez bounced into the seats to end the game. Kubel is batting .415 with five homers and 19 RBIs during a 10-game home hitting streak, but he's 3 for 19 versus San Diego this season. Teammate Aaron Hill has batted .431 (22 for 51) and hit for the cycle twice in his last 12 games overall, but he's 2 for 20 against the Padres in 2012 and 1 for 6 in his career against scheduled San Diego starter Clayton Richard (5-8, 3.77). The left-hander allowed a run in 6 2-3 innings June 1 to improve his ERA to 4.45 in five starts against the Diamondbacks. He's 3-0 in those outings even though he didn't get the decision in San Diego's 7-1 victory last month. Richard faced one batter over the minimum in seven innings Wednesday at Houston, but a home run in a 1-0 defeat ended his three-start winning streak. "Baseball is a funny game," Richard said. "Sometimes you pitch well and don't get the results you want. But that just goes to show how much of a team game this is. You have to have everything going to get wins." Chris Denorfia had two hits with an RBI in San Diego's 2-0 win at Colorado on Sunday, going 6 for 11 in that series.
Original Story:
http://www.foxsportsarizona.com/07/02...
THE BACKYARD
BEST OF MAXIM
RELATED ARTICLES
A few days ago (June 29) the Diamondbacks Aaron Hill hit for the cycle.  A nice feat, but nothing I'd normally still be writing about today; except that he also did it eleven days earlier, on June 18.  The last time anybody even accomplished it twice in one season was in 1931, when some guy named Babe Herman did it for the Brooklyn Dodgers.  Statistically hitting for the cycle...
From Geno Ball Just in time for the Tour de France, Aaron Hill of the Arizona Diamondbacks is getting pretty comfortable riding a cycle. Twice in 11 days, the second baseman has hit a single, a double, a triple and a tater in the same game. Hill is only the second player in the modern era—and the fourth in Major League history— to accomplish the heroic feat...
Call him Aaron History. Diamondbacks second baseman Aaron Hill became the second player in major league history to hit for the cycle twice in a season when he repeated in a 9-3 victory at Milwaukee on Friday. It was the second time Hill had done it in 11 days and the first double-cycle since Babe Herman had two for the Brooklyn Robins in 1931. "He's been locked in lately...
Going Cycling Did we really witness two cycles in less than two weeks? As if it was easy to hit for one, let alone two. Arizona Diamondbacks' 2B Aaron Hill did it all on Friday, June 29, 2012. He ended his spectacular night by going 4-5, 1 HR, 3 RBI, 1 SB, and 2 runs. His first cycle of the year was on June 18 and he enjoyed it so much that he went and did it again. Hill joins...
The Texas Rangers are hoping the Yu Darvish-Aaron Hill pairing will finally push the club over the top when it comes to the Final Five voting for the All-Star Game. After the first day of voting, things are working for the Rangers. Darvish has a slim lead over Chicago's Jake Peavy for the final All-Star spot for the American League. The Rangers decided to team with the other...
The rosters for the MLB All-Star Game in Kansas City on July 10 were announced Sunday, and Diamondbacks rookie pitcher Wade Miley was selected as a reserve for the National League team while second baseman Aaron Hill was named one of five finalists for the fans' "Final Vote." Miley will be the first D-backs rookie to participate in the Midsummer Classic. The left-hander...
PHOENIX -- Word came Tuesday afternoon that Atlanta Braves third baseman Chipper Jones has replaced injured Los Angeles Dodgers outfielder Matt Kemp on the National League All-Star team, and that can only bode well for Diamondbacks second baseman Aaron Hill. Until Jones was officially named to the team, Hill was up against him in the Final Vote contest, along with Cardinals third...
PHOENIX -- Diamondbacks teammates Wade Miley and Aaron Hill sat next to each other Monday at Chase Field to discuss the very same thing yet in markedly different ways. Miley, the rookie pitcher, has already earned spot on the National League All-Star team, which was announced Sunday, while Hill hopes to join him in Kansas City via the "Final Vote," which allows fans to...
On Paper Aaron Hill Cylces The Diamondbacks, Aaron Hill, has done something that is amazingly rare. Hitting for the cycle is on the same level as a no hitter. 294 times a player has hit for a cycle in a game and 276 times has a pitcher accomplished a no-no. On Friday night, Hill's triple in the 6th clinched the cycle for Arizona 2nd baseman. The cycle is a great feat yet what Hill...
Considering the season the Philadelphia Phillies are putting up, it's actually quite an accomplishment they have three players going to the 2012 MLB All-Star Game on July 10 in Kansas City. It was pretty much expected that Cole Hamels and Jonathan Papelbon would be there. But, with the deserved announcement that Carlos Ruiz was on the team, it was a relief to know that we wouldn't...
Dusty Baker and Joey Votto were not pleased that teammates Johnny Cueto and Brandon Phillips were not selected to the National League All Star roster that Tony La Russa selected. Let's look first at the case of Cueto. Here is how he stacks up with the other starting pitchers on the roster: Player ERA WHIP Strikeouts Wins Cueto 2...
The San Diego Padres are hoping the momentum they've gained on their current road trip will help them end a long history of struggles in Arizona and the Diamondbacks' recent dominance at home. The Diamondbacks return from a rough trip looking to continue their success at Chase Field while trying to prevent the Padres from a third straight win Monday night. After salvaging...
MLB News

Delivered to your inbox

You'll also receive Yardbarker's daily Top 10, featuring the best sports stories from around the web. Customize your newsletter to get articles on your favorite sports and teams. And the best part? It's free!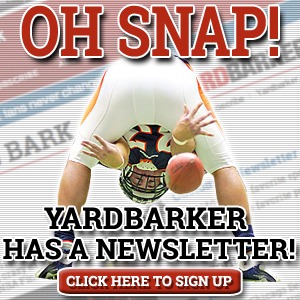 Latest Rumors
The Backyard

Today's Best Stuff

For Bloggers

Join the Yardbarker Network for more promotion, traffic, and money.

Company Info

Help

What is Yardbarker?

Yardbarker is the largest network of sports blogs and pro athlete blogs on the web. This site is the hub of the Yardbarker Network, where our editors and algorithms curate the best sports content from our network and beyond.