Found March 14, 2012 on Obstructed View OLD:
PLAYERS:
Chris Volstad
,
Jay Jackson
,
Andy Sonnanstine
,
Anthony Rizzo
,
Sergio Romo
,
Josh Vitters
,
Starlin Castro
,
Randy Wells
,
Travis Wood
,
Casey Coleman
,
Randy Wolf
,
Peter Gammons
,
Joe Mather
,
Blake DeWitt
,
Tony Campana
,
Marlon Byrd
,
Brett Jackson
TEAMS:
Miami Marlins
,
Chicago Cubs
,
San Francisco Giants
,
Milwaukee Brewers
,
New York Mets
,
Boston Red Sox
Practice Game recap
Chris Volstad pitched three strong inninngs yesterday, extending his spring training scoreless streak to six innings. As with Samardzija and the other starter candidates, small sample size abounds, but I think he's got a good shot making the rotation. Tom Ricketts seemed to think so too during his brief time in the booth with Len and Mick. Former top prospect Jay Jackson also pitched yesterday, surprisingly for three innings. Jackson completely fell off the radar after his disastrous 2010 season in Iowa. Jackson gave up one run and struck out one. Long man/pitching depth candidate Andy Sonnanstine had a rough outing, giving up three runs and nearly the lead in the eighth inning.
Offensively the star was Anthony Rizzo, who crushed a mammoth HR off of Giants reliever Sergio Romo. Josh Vitters hit an RBI triple earlier in the game. Starlin Castro managed to avoid a TOOTBLAN thanks to the stat's originator.
Is there a Cubs game today?
Indeed. Randy Wells takes the mound against the Brewers at HoHoKam today at 3 pm CT. Travis Wood and Casey Coleman are also pitching. Coleman pitching again so soon seems to point to the Cubs bullpenning him this year. Len and Mick have the call, and Randy Wolf will start for the Brewers.
Lineup:
RF DeJesus
CF Byrd
SS Castro
3B Stewart
2B Baker
C Soto
LF Johnson
1B Rizzo
P Wells
Is it just me, or are the Cubs regulars getting a lot mroe starts than they have in years past?
Great piece about baseball on the radio by wpbc
Cubs blog Ivy Envy got a mini-interview with Concepcion, He's very comfortable in camp and the Cubs have made him feel comfortable. Not sure if he reported it in this interview or earlier, but he says he throws a fastball, a circle change, and a "hard" curveball.
Perils of media access
(via hardballtalk). The Mets blog Amazin Avenue has a good piece up about media access and smear jobs. The whole thing is worth a read, but here's the best part:
Rubin says the press can't be expected to not report a story, even if it's an obvious whisper campaign. But the press can and should be expected to report a story in full. If an item appears to be a hatchet job by Mets brass, then reporters should perform due diligence and at least attempt to get all sides of that story before filing. In this case, that effort was made poorly, if at all. Maybe this happened because of the rush to be first, or the accelerated news cycle of the internet age. Whatever the reason, it happened nonetheless, and it shouldn't have.

The only reason I can come up with as to why this story was put out there unquestioned is because it came straight from ownership. So failing to report the "story" could not only mean getting scooped, but losing access as well. I understand that in journalism access trumps all, but what good is access if all it buys you is closer proximity to lies, half-truths, and axe-grinding? And what is a reporter's job if not to question the "official" story?
Chicago media take note.
Finally final Theo compensation in Red Sox hands
Per Peter Gammons
k

qppa

asllda
Seriously though, Gammons tweeted that the rest of this process is in the Red Sox hands, and will be decided by the end of the month. They get to pick one prospect from a list of three, and choose who to send back to the Cubs.
Sveumquotes
Per Sveum, Marmol's main goal this spring training is to work on locating his fastball. He's not too worried about Marmol's slider, and Marmol hasn't thrown many of them this spring. Not surprsingly Sveum is not considering demoting Marmol.
Sveum also commented on the handedness problem I've brought up a few times when talking about Joe Mather and the Cubs corner infielders. His chances of squeaking by Blake DeWitt or Tony Campana look better than they did yesterday.
Bruce Levine chat recap
Some nuggets from Bruce Levine's chat yesterday
For some reason Bruce doesn't think Maholm has a rotation spot locked down.
Bruce is also down on Wells, calls him "not a favorite" for the rotation. Lots of hedging though, no decisions are going to be made for another week or two.
There's been a lot of teams interested in Marlon Byrd. Once May/June rolls around and the Cubs can get the extra year of control for Brett Jackson, they should have an easy time moving him.
Bruce also says that the smart money is on Mather making the team over Campana, due to the way their options are structured. They can stash Campana in the minors, but Mather can void his deal if he's not in the bigs after the first monty or so
On how tough it is for a player to change his approach: "It's difficult to change a player's style once he gets to the majors. Jaramillo did it with DeWitt last spring and it took DeWitt almost four months to absorb all of Rudy's philosophical teachings. It also [cost] DeWitt his job."
Obstructed View bracket challenge
If you haven't joined yet, do so today! Winner gets a free one-week subscription to this blog.
Image of the day
Happy Pi Day
Please ignore any of the fools who go on and on about how "purists" think that tau is a better constant. It doesn't matter.
Original Story:
http://www.obstructedview.net/chicago...
THE BACKYARD
BEST OF MAXIM
RELATED ARTICLES
We move to the last member of the Cubs pitching staff who has a rotation spot locked down. As we all know, the should-have-been-rebuilding Cubs swapped three baseball players (and Sam Fuld) to the Rays at the beginning of last season for the getting-expensive Matt Garza. Garza went on to have a much better year than anyone expected, completely changing his pitch mix to generate...
George Kotarras drove-in five runs with bases-loaded doubles in consecutive innings, as the Milwaukee Brewers hammered the Cubs 10-2 in Cactus League action at Dwight Patterson Field at HoHoKam Park in warm & sunny Mesa, AZ, this afternoon. Battling for a spot in the Cubs starting rotation, RHP Randy Wells got the start and threw three shutout innings (38 pitches – 26 strikes...
Anthony Rizzo crushed a tape-measure two run home run, Chris Volstad and Jay Jackson combined to throw six innings of five-hit one-run ball, and the Cubs withstood a late San Francisco rally, edging the Giants 5-4 in Cactus League action at warm & sunny Scottsdale Stadium this afternoon. The game was scoreless through the first two innings, but the Cubs put two runs on the...
Paul Goldschmidt blasted a grand slam home run, Henry Blanco and Alfredo Marte slugged solo shots, and Ian Kennedy threw four shutout innings, as the Arizona Diamondbacks coasted to an 12-2 victory over a split squad of Cubs in Cactus League action at Dwight Patterson Field at HoHoKam Park in warm & sunny Mesa, AZ, this afternoon. Ryan Dempster got the start for the Cubs...
One of the Bay Area's own, Brett Jackson is a major part of what the Chicago Cubs hope is a bright future.  Here is a link to a Q&A with Jackson, on the Chicago Cubs Report at ESPNChicago. Jackson played at Miramonte HS and Cal, was a 1st round pick and has steadily produced in his minor league career.  He is expected to reach the big leagues some time in 2012.  The Bay...
Ryan Dempster has long been the joker in the Chicago Cubs' clubhouse. There haven't been many signs that side of his personality this spring. Dempster, who is coming off a disappointing 10-14 season with a 4.80 ERA, had his first tough outing of spring training in the Cubs split squad's 12-2 loss to the Arizona Diamondbacks. Dempster gave up three runs in 3 2-3 innings...
The Chicago Cubs are so renowned for their losing ways that were they to miraculously change their ways, the city of Chicago may very well disintegrate before our eyes. That is what they are hoping for with the hiring of former Boston Red Sox general manager Theo Epstein and former San Diego Padres general manager Jed Hoyer. Like he did in Boston, Epstein is trying to bring about...
Back when Chris Carpenter was announced as being sent over to the Boston Red Sox for Theo Epstein, I mentioned that the deal still can't properly be evaluated because there were still 2 players to be named later involved. There was some talk that it was just a logistic move, that the Red Sox had to send a player  to the Cubs besides an executive and the two players would be...
A couple of days ago, Doc Blume wrote an interesting post about the obvious lack of demand for Cubs tickets this year.  There are still tickets available for every game on the schedule, including Opening Day and the Red Sox series.  There are large numbers of tickets available for most of the other games on the schedule.  That is all true, but Doc concludes two things from this...
Where the heck is EAMUS CATULI? Where the heck are the iconic numbers that remind us all how long it's been since our Cubs won it all? AC0366103 (translation: 3 year since we won the Division, 66 years since we won the Pennant, and 103 years since we won a World Series. Ubi Est Eamus Catuli ? Either Theo and the boys didn't like the reminder or this...
Click on photo to read more about the NBA Power Rankings Sweet pick of Kris Humprhies eh? I almost forgot about this guy – I'm starting to think that it was all Kim Kardashian's fault. Without her, he's a nobody and you never hear from him, which is very serene for me. Kim Kardashian so sexy, but such a d-bag. The Press So Randy Moss signed with the 49ers – Is he a good...
Cubs newcomer Chris Volstad pitched three shutout innings for the second straight time this spring and Chicago beat the San Francisco Giants 5-4 Tuesday. Volstad, acquired in January from the Miami Marlins for fellow right-hander Carlos Zambrano, gave up two hits. In his prior outing, he allowed one hit against Seattle. Volstad also singled to lead off the third, went to third...
MLB News

Delivered to your inbox

You'll also receive Yardbarker's daily Top 10, featuring the best sports stories from around the web. Customize your newsletter to get articles on your favorite sports and teams. And the best part? It's free!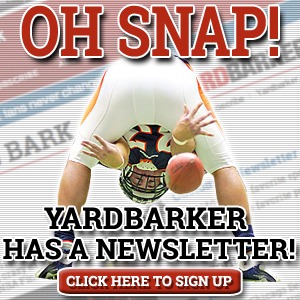 Latest Rumors
The Backyard

Today's Best Stuff

For Bloggers

Join the Yardbarker Network for more promotion, traffic, and money.

Company Info

Help

What is Yardbarker?

Yardbarker is the largest network of sports blogs and pro athlete blogs on the web. This site is the hub of the Yardbarker Network, where our editors and algorithms curate the best sports content from our network and beyond.