Found May 11, 2012 on Fantasy Baseball 365:
OK, so the Orioles hitting three homers in a row to open a game may not be extremely fantasy relevant, but it's neat and hasn't been done before. All said and done, they hit five homers as a team in the first game of the double header. Sure teams have hit more, and Strasburg's 13 K's in 6 innings is more impressive, but I couldn't resist the urge to make a bird poop joke in today's headline. On to the bullets...
As mentioned previously, Stephen Strasburg fanned 13 in 6 innings last night. He gave up 1 earned on 5 hits and three walks. At one point last night, his K:BB was 11:0.
I missed badly on the Beckett recommendation, and for that I apologize. He only made it through 2.1 innings giving up 7 earned on 7 hits. Jason Kipnis picked up his 6th homer of the year off him.
Henderson Alvarez notched his 3rd win on the season. He struck out 2 in his 7 innings, but if you are a reader, you know we don't care about his K's. His Rotowire.com blurb today says that his lack of K's is hurting fantasy teams, but I would beg to differ. Certainly if you are in a league with an innings cap, I would encourage you to look elsewhere for a pitcher, but in Alvarez's last two starts he has a WHIP of 1.06 and an ERA of 0.56. Even with his BB/9 (which at 2.42 is welcome despite it being more than double the mark he posted last year) his WHIP on the year is 1.10 and his ERA is 2.61. Those are numbers that will play despite the lack of K's.
Pitching Match Ups
Norris @ McDonald - Both high upside pitchers in the K department.
Richard @ Worley
Hernandez @ Kuroda
Hellickson @ Eveland
Jimenez @ Buchholz - Sure Buchholz has 3 wins, but his ERA is over 9.00. I'll pass until further notice. I'm sitting Jimenez because I haven't figured him or the Boston offense out yet.
Santana @ Buehrle
Gonzalez @ Leake
Wilson @ Darvish
Garza @ Wolf
Paulino @ Floyd - Paulino dominated the Yanks in his only other start this year. Here's to seeing if he can keep it up.
Drabek @ Blackburn
Minor @ Garcia - Garcia is a gamble today I think, but he generally pitches well at home.
Bumgarner @ Corbin
Porcello @ Milone - Milone has been sub-par his last two starts, and Detroit snapped out of an offensive slump last night. I'm sitting him this one.
Moyer @ Capuano
Original Story:
http://www.fantasybaseball365.com/art...
THE BACKYARD
BEST OF MAXIM
RELATED ARTICLES
Stephen Strasburg put the team on his back last night, pitching them to their first win in three games, and their first road win since April 25. The Nats' ace recorded 13 strikeouts on the night, giving the club an opportunity to claim the 4-2 win over the Pittsburgh Pirates.  What made Strasburg's start all-the-more impressive is that he didn't seem to have his best...
The Pittsburgh Pirates own the major leagues' worst offense, and they strike out enough to whip up small tornadoes through Western Pennsylvania. So it shouldn't surprise anyone that, in their 4-2 loss to the Nationals and Stephen Strasburg on Thursday night, they struck out in 15 of their 30 at-bats. Strasburg, pitching at PNC Park for the first time, had 13 of the K'...
Nationals 4, Pirates 2. The other side of Whiffsburgh: Stephen Strasburg strikes out 13. At one point, he struck out 7 in a row? Buc Commander: Apparently when Adam LaRoche isn't killing deer (see video), he kills baseballs. Thanks be to LaRoche... With 5th inning double, Strasburg looking like a good DH option when Interleague play starts. No way Mike Morse makes...
Make sure to join the Fantasy Fix's $250 FREEROLL on DailyJoust.com today! It's a $1 million dollar roster and it's FREE so... Click to enter.This is why you shouldn't worry about an innings cap on Stephen Strasburg. In six innings against the Pirates on Thursday, the Nationals ace struck out 13 (including seven straight), allowed one run, and picked up a victory...
Stephen Strasburg struck out a season-high 13 over six innings and the Washington Nationals snapped a three-game losing streak with a 4-2 win over Pittsburgh on Thursday night. Roger Bernadina and Adam LaRoche both homered in the sixth off Pittsburgh's Kevin Correia (1-3) to erase a two-run deficit. Henry Rodriguez pitched the ninth for his seventh save. Strasburg improved...
The Pirates are gunning for their first three-game sweep of the season tonight against the Nationals, but they've drawn an awfully difficult task if they're planning on actually pulling it off. The Nats are sending Stephen Strasburg to the mound tonight, and it seems to me that the Pirates' lineup is more or less full of sitting ducks for the righty. Strasburg isn'...
The Thursday Takeaway Merry Strasmas, Nationals fans. With the team coming off a disappointing three-game skid, Stephen Strasburg took the mound against the Pirates and played stopper with results strikingly similar to his major-league debut. Back on June 8, 2010, Strasburg surpassed even the loftiest of expectations by striking out 14 batters without issuing a walk over seven...
I blogged about this when Stephen Strasburg made his debut, but with 19-year-old Bryce Harper now seemingly in a Nationals uniform to stay the situation has become intolerable. Washington has two of the most exciting, talented, compulsively watchable young players in their lineup that the grand old game has had grace its fields in a long time... ...and neither one of them has...
The Pirates missed a chance to pick up an unlikely win (and sweep), as the long ball eventually did them in on Thursday night. The Kevin Correia vs. Stephen Strasburg matchup went better-than-expected for the Bucs early on. Strasburg was his usual filthy self the first time through the Pirate lineup – after Jose Tabata led off with a single, Alex Presley hit into a DP and then...
If the theme of Tuesday's recap was the impossible complexity of baseball and how it creates games that can be both possible and implausible in one fell stroke, the lesson from the last game of this Pirates/Nats series is that sometimes baseball is incredibly easy to figure out. In Wednesday's game, Kevin Correia pitched a great game on the Kevin Correia scale of possible...
MLB News

Delivered to your inbox

You'll also receive Yardbarker's daily Top 10, featuring the best sports stories from around the web. Customize your newsletter to get articles on your favorite sports and teams. And the best part? It's free!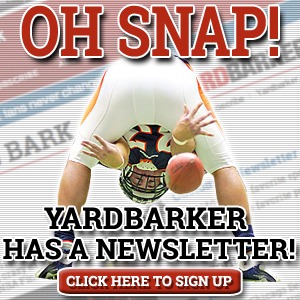 Latest Rumors
Best of Yardbarker

Today's Best Stuff

For Bloggers

Join the Yardbarker Network for more promotion, traffic, and money.

Company Info

Help

What is Yardbarker?

Yardbarker is the largest network of sports blogs and pro athlete blogs on the web. This site is the hub of the Yardbarker Network, where our editors and algorithms curate the best sports content from our network and beyond.