Found July 26, 2012 on Nationals Enquirer:
In case you need more proof that Henry Rodriguez has incriminating photos of Davey Johnson, here's Johnson talking about Henry after the latest #SMH-Rod mess on Wednesday in NY (2 batters faced; 2 BB; 11 pitches, 3 strikes): "With Henry, itā€™s kind of hit or miss. Nobody hits him, but if he doesnā€™t get it over, it doesnā€™t matter. Theyā€™re still going to get on base. Heā€™s got great stuff, a great arm...Thereā€™s another day tomorrow. Iā€™m not afraid to run him out there. Heā€™s been spectacular for us, and at times not so good. Next time out, Iā€™ll probably get spectacular." (Davey Johnson, via Nationals Journal, 7/25/2012) Just keep running him out there, Davey? Befriend Nats Enquirer on Facebook. Follow on Twitter.
Original Story:
http://feedproxy.google.com/~r/typepa...
THE BACKYARD
BEST OF MAXIM
RELATED ARTICLES
During a road trip to New York to take on the Mets, members of the first-place Washington Nationals bullpen showed off their literary skills, reading passages from the popular E.L. James novel "Fifty Shades of Grey." The stunt came about after Nats first baseman Michael Morse admitted his girlfriend had recently been reading the book, correcting a report that he had been...
(Photo via SI.com/Vault) And so the Washington Nationals left New York yesterday with the best record in the National league (needing just one more win to match their 2008 and 2009 win totals). In their wake, they left a reeling Mets team and billions of pixels comparing Davey Johnson's 2012 squad with Davey Johnson's 1984 squad, and the dual-phenom phenomenon of Harper...
"It's just...attack the strike zone, don't nibble, and make them put the ball in play...you want to go out and make your stuff really dirty." (Stephen Strasburg, via MASNSports.com postgame, 7/25/2012) "He's tremendous. My gosh, almighty." (Terry Collins, via MASNSports.com, 7/25, 2012) Nationals 5, Mets 2: Sweep! Nasty, filthy Strasburg...
Even better than Tyler Clippard attempting to play drums at the MLB Fan Cave? Tyler Clippard, Craig Stammen, Sean Burnett, and Ryan Mattheus reading 50 Shades of Grey: Ā  (Via DC Sports Bog and everyone else in the world with a Twitter account and/or blog.) Befriend Nats Enquirer on Facebook. Follow on Twitter.
Stephen Strasburg struck out 11 in seven dominant innings, Michael Morse and Danny Espinosa hit consecutive homers and the Washington Nationals completed a sweep of the free-falling New York Mets on Wednesday with a 5-2 victory. Adam LaRoche hit a two-run homer for a second straight day, and Espinosa doubled and scored on one of the Mets' two errors in the Nationals' fifth...
Stephen Strasburg is pretty tough on himself. He was visibly upset for allowing a ground-rule double to the Mets' Josh Thole in the fifth inning Wednesday. That kind of determination to be very good every game has defined the Washington Nationals' ace. His goal is not just to get outs. He demands more. Strasburg was brilliant in his 20th start, even if he thought he made...
On a night when rookies Starling Marte and Matt Harvey stole the show with amazing debut performances, Washington Nationals center fielder Roger Bernadina made the top web gem with a diving snag in the bottom of the ninth inning. With one out and one on, Nyjer Morgan laced the 2-2 pitch to left center field in what appeared to be an extra base hit. Bernadina ran full speed from his...
When the season began, Washington Nationals fans had a set of expectations. Those expectations varied as much as the people who had them, but it is safe to say that most fans were happy at the idea of a record above .500 for the 2012 campaign before the season began. On July 26, after 97 games, thatā€™s no longer the case. Nats fans expect more now. They expect to win something big...
Nationals 5, Mets 2: Ho-hum, just another series win for the Nats. Gio Gonzalez makes up for last time out against R.A. Dickey, dominates Mets. Sorry, Mr. Met. Gio's line: 7.0 IP, 2 H, 1 R, 2 BB, 4 K, 87 pitches, 53 strikes. Oh deer! Adam LaRoche hits a bomb into the upper deck. Video here. Bryce Harper: 0-4, 3 K vs. Dickey... (Screencap of Mr. Met via @JWerthsBeard...
For their last full series of July, the Washington Nationals (58-39) will travel to Milwaukee, a city filled with the ghosts of their past failures, to face the Milwaukee Brewers (44-53). Success in this city has been elusive for the Nats, as the Brewers swept them the last two times they visited Miller Park, and the Nats haven't won a game there since July 28, 2009. The odds...
The NY Mets took a break from their ERA and OPIs and got some GTL. Nicole ā€˜Snookiā€™ Polizzi visited the team as the Mets took on the Washington Nationals. ā€œI was obsessed in the early 2000s when we had [Bobby] Valentine,ā€ SnookiĀ told MLB.com. ā€œI loved [John] Franco, Robin Ventura, all of them. I was obsessed.ā€ The MTV reality star, who is pregnant, revealed she became...
NEW YORK-Adam LaRoche's two-run homer-the third of five straight two-out hits off R.A. Dickey-broke a tie and started a four-run sixth inning for the Washington Nationals, and Gio Gonzalez allowed an unearned run on two hits over seven strong innings as the Nationals beat the reeling New York Mets 5-2 on Tuesday. The Nationals' fourth straight win improved their National...
Nationals News

Delivered to your inbox

You'll also receive Yardbarker's daily Top 10, featuring the best sports stories from around the web. Customize your newsletter to get articles on your favorite sports and teams. And the best part? It's free!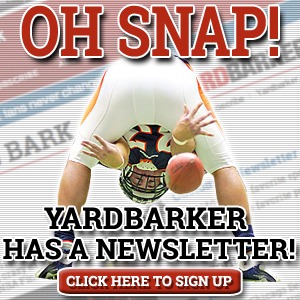 Latest Rumors
Best of Yardbarker

Today's Best Stuff

For Bloggers

Join the Yardbarker Network for more promotion, traffic, and money.

Company Info

Help

What is Yardbarker?

Yardbarker is the largest network of sports blogs and pro athlete blogs on the web. This site is the hub of the Yardbarker Network, where our editors and algorithms curate the best sports content from our network and beyond.