Found June 15, 2012 on The Daily Stache:
Yes, even this All Star 3rd baseman has haters.
A few nights ago after Dickey's stellar performance, the discussion on twitter centered around David Wright's bare handed attempt in the 1st inning. I myself believe it should be ruled a hit, while others thought it was an error. During this conversation, and interesting point emerged.
There are Mets fans out there who still hate David Wright.
While I will not call people out by name, certain  individuals were all over Wright for making an error in the 9th, and not being able to make that play in the 1st. David was called overrated, and some people want him gone. One fan even went as far as saying "He blew this game for us [and Dickey]. I want him gone".
I am not usually one to judge, but hating David Wright makes no sense whatsoever. I respect other people's opinions if there is reasoning and thought behind it, but I do not see how anyone can hate David Wright for what he has done this year and the franchise as a whole.
As of right now, Wright leads all NL third basemen in all-star votes, as he should. Wright's numbers are spectacular this year, as he is sporting a batting average around .350 with 8 home runs so far. In addition, David has a .453 OBP, and has emerged as a leader in the clubhouse more than ever before.
Wright is the heart and soul of this Mets team, and it is not even up for debate. Whether or not there is a C on his jersey is irrelevant, because we all know he is the Captain of this team. Wright wants to be here in NY long term, and he showed it when he gave the Mets a huge hometown discount when he signed his first contract.
One thing that I have always had difficulty grasping is how someone can hate Wright, but then go ahead and stand by another player through good times and bad times. My thoughts are that you should never hate a player on your own team. Sure, there are players that frustrate me, but I root for every player on the Mets to succeed always. I will always have a favorite player, but never a hated player.
Overall, there is no reason to hate the heart and soul of your team. Now of course there will always be fans who will hate David, but we all know it will not be for a good reason. Also, saying David "blew the game for us" is just ignorant, nobody blew anything in a team effort 9-1 win.
As always, I would love to hear your take on David Wright and where he fits in Mets fans minds and hearts. Leave a comment below  or send me a tweet, @tysim19.
Original Story:
http://dailystache.net/archives/1986?...
THE BACKYARD
BEST OF MAXIM
RELATED ARTICLES
Well, today is decision day on the appeal that the Mets filed hoping that MLB would overturn the play that was scored a hit during R.A. Dickey's spectacular start against the Rays. That one hit turned out to be the only one the Rays would get that day, and the masses are split as to whether it was actually a hit or an error by third baseman David Wright, who flubbed the play...
Jason Bay signed a four-year, $66-million contract with the New York Mets on Dec. 29, 2009, and the deal has been a bust since Day 1. Meet Jason Bay, Then And Now Through 11 years as a major leaguer, Bay has established himself as an everyday left fielder – and emergency center fielder – who averages 33 doubles and 29 home runs a year while hitting for a solid average. In 4,890...
Starting Lineup Kirk Nieuwenhuis – CF Jordany Valdespin – DH David Wright – 3B Lucas Duda – RF Ike Davis – 1B Daniel Murphy – 2B Jason Bay – LF Josh Thole – C Omar Quintanilla – SS The Mets go for the three game sweep tonight as they take on the Rays in Tampa. Last night was another tremendous night for this team as Dickey absolutely crushed the Rays and made...
It must be something I give off. I wasn't wearing any Mets stuff early in my day on Wednesday. Yet all I had to do was mention to a couple of other people in the hotel I was staying at that I live in Queens for them to tell me that they were big Mets fans and start talking baseball. Then I got to a restaurant to enjoy a meal while wearing swim trunks and a ratty Eric Clapton...
To borrow a phrase from the great Walt Clyde Frazier, Ike Davis "is starting to percolate". We were all wondering when it was going to come, and it finally may have started. More than 2 months into the season Ike Davis has begun to put together quality at-bats on a nightly basis over the past week or so. Over the last 7 days Ike has begun to heat up. He is 9 for his last 16 and...
Once again, boom goes the dynamite. The Mets offensive barrage against the Tampa Bay Rays leaked into the final game of the series, helping the team secure an interleague sweep in a 9-6 victory. The offense continued to be timely. Kirk Nieuwenhuis and Jason Bay kicked off the game with a pair of solo shots. The jumpstart helped the Mets stay in the game despite the continued struggles...
The New York Mets went more than 50 years and 8,000 games without ever recording a no-hitter, a streak that Johan Santana finally snapped June 1 against the St. Louis Cardinals. If they get their way, they'll suddenly have two in less than two weeks. Prior to his club's 9-6 victory over the Tampa Bay Rays on Thursday, manager Terry Collins said that the Mets have appealed...
New York Mets manager Terry Collins took fault with Johan Santana's most recent outing. Jeremy Hellickson of the Tampa Bay Rays only has himself to blame for his latest performance. Coming off another pitching milestone, the Mets hope Santana can rebound from one of his worst starts of the season when he opposes Hellickson, who goes for his first victory in a month in Thursday...
Yesterday, WFAN's Mike Francesa discussed how Mets broadcasters Howie Rose and Gary Cohen were "out of line" during this past weekend's Subway Series. Francesa said that it's great that the Mets have fans as announcers, but that they sometimes take it too far in rooting for their team, especially against the Yankees. Frankly, I love that Rose and Cohen are as die-hard of...
ST. PETERSBURG, Fla. -- The National League wins co-leader faced the American League wins co-leader Wednesday night, a 98 mph fastballs vs. 80 mph knuckleballs. It was contest. The New York Mets' R.A. Dickey bedazzled the Rays with his knuckler to come within one infield hit of a no-hitter, and the Mets ripped the Tampa Bay Rays 9-1. Rays starter David Price was bludgeoned...
Mets News

Delivered to your inbox

You'll also receive Yardbarker's daily Top 10, featuring the best sports stories from around the web. Customize your newsletter to get articles on your favorite sports and teams. And the best part? It's free!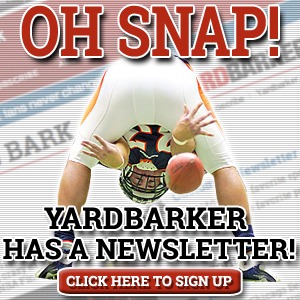 Latest Rumors
Best of Yardbarker

Today's Best Stuff

For Bloggers

Join the Yardbarker Network for more promotion, traffic, and money.

Company Info

Help

What is Yardbarker?

Yardbarker is the largest network of sports blogs and pro athlete blogs on the web. This site is the hub of the Yardbarker Network, where our editors and algorithms curate the best sports content from our network and beyond.