Found March 11, 2013 on Suicide Squeeze:
There's no question that the Yankees are in a world of hurt these days.   First baseman Mark Teixeira is out until at least mid-May after suffering a strained tendon in his right wrist. Centerfielder Curtis Granderson will miss the first 10 weeks of the season after breaking a bone in his forearm on the fifth pitch of spring training. And third baseman Alex Rodriguez – well, who really knows? Between hip surgery and being linked to a PED lab in Florida, he may not play at all.   What's a general manager to do?   Well, if you're Yankees GM Brian Cashman, you beg and plead for two of the best hitters of the last decade to come out of the retirement.   Huh?   Last week Cashman broke his ankle skydiving. Are we sure he also didn't hit his head a little?   According to multiple reports, Cashman confirmed to a trio of reporters that he had asked Derrek Lee and Chipper Jones to put the threads on again and take some hacks for the Yanks.   Lee was said to be "intrigued" by the offer, but Cashman wasn't optimistic he could pry the 15-year veteran out of retirement.   So Cashman then turned his efforts toward future Hall-of-Famer Jones, actually asking the reporters to do his job for him.   Cashman claimed he didn't have a working phone number for Jones' agent B.B. Abbott (how is that even possible? The GM of the Yankees can't get a working number for an agent?), so he asked the three reporters sitting in the dugout with him to use their Twitter accounts to reach out to Jones for him.   "He would be perfect," Cashman said. "I would sign him in a heartbeat."   Jones, through his own Twitter account, respectfully declined Chapman's offer. "Enough with the rumors! While I am flattered about the speculation of being enticed out of retirement, I'm happy with life as a bad golfer!" he tweeted.   Jones just concluded a 19-year career with the Braves that included one Most Valuable Player Award (1999) and one batting title (.364 in 2008). He hit .303 with 468 home runs, 1,623 RBI, and an OPS of .930.   Lee played with the Padres, Marlins, Cubs, Pirates, Braves and Orioles over a 15-year career. He won the 2005 batting championship with a .335 average with the Cubs, and ended his career hitting .281 with 331 homers and 1,078 RBI.  This article has been read (17) times
Original Story:
http://thesuicidesqueeze.com/?p=1012
THE BACKYARD
BEST OF MAXIM
RELATED ARTICLES
Dear Madam or Sir,Jeepers Jeters! It's gotten late, and it's not even early. We've already lost three hitters (Arod, Grandy, Tex) a starter (Hughes), and two bullpen lugnuts (Logan, Rappata). And the china dolls (Gardner, Youk, Joba, Hafner) are awaiting Tweak One. We're talking about pulling Derrick Lee out of retirement. We're penciling Ronnier Mustellier at...
Yesterday, the often-rancorous Yankiverse came together in one rare, unified consensus:Whatever pain-killers Brian Crashman is taking - Dude, I gotta get me some.What happened was this: The Yankees acknowledged the looming disaster that is otherwise known as Opening Day 2013 in a manner that a general manager who is undergoing middle-age life crisis while taking prescription hallucinogenics...
TAMPA, Fla. -- Chipper Jones in a New York Yankees' uniform? Yankees general manager Brian Cashman expressed interest Monday in the retired Atlanta Braves star as New York tries to shore up an injury decimated roster. "He'd be perfect," Cashman said. "I'd take Larry in a heartbeat. I think everybody would." Cashman added he didn't think the...
The Yankees won the World Series in 1996, but it wasn't before the team came close to making a move that would have significantly altered New York's future. Yankees general manager Brian Cashman retold a story to the New York Daily News' Mark Feinsand recently. Apparently, the Bronx Bombers came close to trading away legendary closer Mariano Rivera during spring training in...
The New York Yankees find themselves with a lack of depth at first and third base so Brian Cashman is leaving no stone unturned. Cashman's latest targets include Chipper Jones and Derrek Lee. Cashman spoke to reporters CLICK TO READ MORE!~
I can't recall when last the New York Yankees were this desperate. Yankees general manager Brian Cashman, has put it out there that he would love to sign the recently retired Atlanta Braves great Chipper Jones. The Yankees have been blitzed by injuries to some of their best players and are interested in bringing in a few veterans to fill the holes in their lineup. Cashman even...
New York Yankees captain Derek Jeter thought it was a terrible idea for his club to call up retired Atlanta Braves star Chipper Jones, which he thought was a media-created joke. "Y'all just come up 
Chipper Jones in a New York Yankees' uniform? Yankees general manager Brian Cashman expressed interest Monday in the retired Atlanta Braves star as New York tries to shore up an injury decimated roster. ''He'd be perfect,'' Cashman said. ''I'd take Larry in a heartbeat. I think everybody would.'' Cashman added he didn't think the...
The name of this site is More Hardball, so you know we're all about baseball. Well, since we're not Ruben Amaro Jr. or Brian Cashman, we're not allowed to run a real MLB team, so we'll just have to settle for GMing a fantasy baseball team. That's right, it's time for fantasy baseball!We're going to run two leagues with different scoring options.  One...
It has been a rough week for baseball general managers. First New York Yankees GM Brian Cashman broke his ankle while skydiving, then in a story via Yahoo Sports, Milwaukee Brewers general manager Doug Melvin had to visit the emergency room after a scorpion stung him while at home. Melvin wasn't concerned at first, because he's tough (if not sexy) but he began to worry after...
So just how desperate are the Yankees and their fans to sign warm bodies that may have been good at baseball at some point in the lives? Well, let's just see.On Monday Yankees GM Brian Cashman confirmed that he had reached out to Derrek Lee to gauge his interest on joining the Yankees. Lee, who hasn't played in the majors since 2011, said thanks, but no thanks.Then all of a sudden...
MLB News

Delivered to your inbox

You'll also receive Yardbarker's daily Top 10, featuring the best sports stories from around the web. Customize your newsletter to get articles on your favorite sports and teams. And the best part? It's free!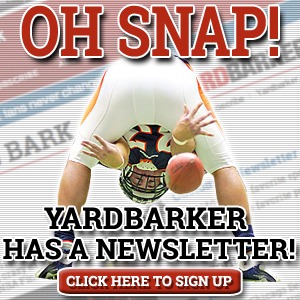 Latest Rumors
Best of Yardbarker

Today's Best Stuff

For Bloggers

Join the Yardbarker Network for more promotion, traffic, and money.

Company Info

Help

What is Yardbarker?

Yardbarker is the largest network of sports blogs and pro athlete blogs on the web. This site is the hub of the Yardbarker Network, where our editors and algorithms curate the best sports content from our network and beyond.