Found January 28, 2013 on isportsweb.com:
Welcome to part 2 of my 'burning questions' segment as the Detroit Tigers offseason moves toward spring training. For part 1, published last Friday, click here. On to the questions and answers: Can another AL Central team overtake Doug Fister and the Tigers? Who will challenge the Tigers for the AL Central crown? The Twins are still in a rebuilding mode and are already out of contention as we sit here in January. Few rosters across baseball are more intriguing to me than the Kansas City Royals. My fear with them is that despite the acquisitions of James Shields, Wade Davis, Ervin Santana, and the retention of Jeremy Guthrie, their pitching will be their undoing once more. They will hit but won't record enough clean innings for it to parlay into a true pennant contending team. To me, the Tigers are a clear favorite to win the division, but they were last year too and needed a late surge and corresponding meltdown from the White Sox to clinch. Anything can happen (except the Twins winning!). The Sox will be solid again and are probably the most likely bridesmaid in 2013. They will need some career years out of several players on their roster to push the Tigers to the brink. The Indians have retooled their roster in a big way with the additions of Nick Swisher, Mark Reynolds, Drew Stubbs, Bret Myers, and Trevor Bauer. Even with that, their roster has a lot of holes. Unless new manager Terry Francona can get these guys playing well above their heads, especially the pitching staff, they are destined for a middle of the pack finish in the Central. Clear that October calendar Tigers fans. Is anything exciting brewing in the minor leagues that might impact the Tigers this year? Perhaps the biggest indictment of the Dave Dombrowski era has been his inability to steadily draft players that become impact big leaguers. The Tigers have by and large been built via trade and free agency. Dombrowski has hit a few home runs, but where he has largely failed is drafting infield talent. Is Danny Worth really the best middle infielder to make it to the bigs that he has drafted? The GM's struggles in this department are exactly why the Jhonny Peralta debate rages on and Omar Infante had to be brought in last season. In less than a year the Tigers have traded away several of their top rated young players: Jacob Turner, Rob Brantly, Andy Oliver, and Brian Flynn. And this occurred when they didn't have much to begin with. Nick Castellanos is rated as MLB.com's 6th best outfield prospect and might crack the roster late in the season. As we saw at the end of 2012, Avisail Garcia is all but ready. The problem remains that the Tigers don't have an obvious opening for them in the regular lineup. Detroit wants full-time at-bats for them so to the minors they will likely go. Bruce Rondon will almost certainly break camp on the 25-man roster so he will no longer be deemed a prospect, but a legit big leaguer. Some names to remember, but not get too excited about include relievers Melvin Mercedes and Kyle Lobstein, as well as utility man Jeff Kobernus. 2B/SS Hernan Perez got a tiny cup of coffee with the Tigers last year and is probably their best middle infield prospect. Casey Crosby is still battling his control at AAA, and if Rick Porcello ever gets traded, might be first in line to fill in for an injured starter. How torturous will the Tigers defense be this year? One simple truth is this: ol' tippy toes Delmon Young will not play a single inning for the Tigers this year and that alone ramps up the overall team defense. Adding Torii Hunter is going to be huge. He is one of the most talented outfielders in the history of the big leagues. And if you happened to catch him manning Comerica Park's right field in an Angels uniform last year, you saw that if he's lost anything, it's not much. He is a monumental defensive upgrade over Brennan Boesch and his shaky hands and unsure routes. Lining up Andy Dirks in left on a hopefully semi-permanent basis, along with budding star centerfielder Austin Jackson, will give the Tigers an athletic and stout outfield. Omar Infante represents the only change from last year's Opening Day infield look and will get every start he can handle at 2nd base. No more Brandon Inge. No more Ryan Raburn. These are good things for the infield. Miguel Cabrera, Prince Fielder, and Jhonny Peralta might be confused for offensive linemen on occasion, and will never be confused for being fleet of foot or particularly agile. But much like the Jose Valverde argument in part 1 of this series, the Tigers made it all the way to the World Series with this trio last year logging all kinds of innings. They are not impressive, but they are certainly capable of holding down the fort. Overall, the outfield defense should be very strong and the infield passable. To receive an email each time a new Tigers article is published, fill out the Email Notification Form [Follow me on Twitter @isportsJoe]
Original Story:
http://feedproxy.google.com/~r/isport...
THE BACKYARD
BEST OF MAXIM
RELATED ARTICLES
The 2011 and 2012 American League Most Valuable Players, Justin Verlander and Miguel Cabrera, were two of four Tigers players who rode around in luxury cars during North American International Auto Show this past weekend. After the parading around completed, Cabby, JV, Phil Coke and Torii Hunter took the stage for a little Q&A with Fox Sports Detroit's Rod Allen. The highlight...
DETROIT -- Torii Hunter Jr. might be ready to play for Notre Dame next season after all. Speaking at TigerFest Saturday, Torii Hunter Sr. said his son is progressing ahead of schedule after breaking his left femur during practice for the U.S. Army All-American Bowl at the beginning of January. "He's doing a lot better," Hunter Sr. said. "He's on crutches...
Dave Dombrowski realizes the offseason is never over until opening day. That was certainly the case last year, when the Detroit general manager brought slugger Prince Fielder to the Tigers in late January. This offseason has been quieter in Detroit, but Dombrowski keeps his ears open for possible acquisitions even now, with spring training set to start in a couple weeks. The biggest...
From the moment the Detroit Tigers re-signed right-hander Anibal Sanchez to an $80 million, five-year contract this offseason, Rick Porcello has had a lot to prove. The top four spots in Detroit's rotation are now set, with Justin Verlander, Max Scherzer, Doug Fister and Sanchez locked in. That leaves Porcello and Drew Smyly as candidates for the last opening. Porcello is a...
Detroit Tigers ace Justin Verlander recently stated that he would like to spend his entire career in the Motor City and earn Hall of Fame honors in the process.  What is the likelihood of this happening? According to baseballreference.com career leaders for WAR (wins above replacement), of the Top 50 pitchers of all-time only Walter Johnson, Bob Gibson, Carl Hubbell, Jim Palmer...
DETROIT -- Miguel Cabrera could be moving back to first base, but it wont be for long or with the Tigers. It appears Cabrera will be playing a good deal of his old position for the Venezuelan national team during the World Baseball Classic in March. For Venezuela, its as simple as WBC manager Luis Sojo putting his best team on the field. Venezuela currently lists five infielders...
DETROIT -- Detroit Tigers pitcher Rick Porcello has spent the offseason on the rumor mill. The Tigers nearly made the Justin Upton trade between the Arizona Diamondbacks and Atlanta Braves a three-team deal by involving Porcello, according to Ken Rosenthal of FOXSports.com. Now the Diamondbacks have lost interest in Porcello after picking up Randall Delgado from the Braves. And...
This last baseball season we had one of the oddest, most unpredictable MVP races in memory. 20-year old Mike Trout exploded onto the scene and dominated the game in a way which no one could have predicted for the rookie. Miguel Cabrera – one of the greatest hitters of our time, if ever – actually had a down year by his standards, however with the whole league seemingly in a funk...
Tigers News

Delivered to your inbox

You'll also receive Yardbarker's daily Top 10, featuring the best sports stories from around the web. Customize your newsletter to get articles on your favorite sports and teams. And the best part? It's free!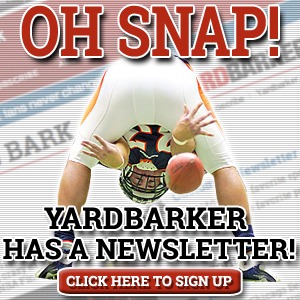 Latest Rumors
Best of Yardbarker

Today's Best Stuff

For Bloggers

Join the Yardbarker Network for more promotion, traffic, and money.

Company Info

Help

What is Yardbarker?

Yardbarker is the largest network of sports blogs and pro athlete blogs on the web. This site is the hub of the Yardbarker Network, where our editors and algorithms curate the best sports content from our network and beyond.