Found October 26, 2012 on isportsweb.com:
The Detroit Tigers are down 2-0 in their best of 7 World Series against the San Francisco Giants. And this is an act we've seen all too often this year. From the fans, from the team, from everyone involved. What has become clear throughout 2012 is that the Tigers can quickly fall into an offensive funk. Said funk can last a few days or a few weeks. We watched it happen all year long. If and when they will shake out of it is anyone's guess. Another point of clarity driven home throughout 2012 is that Tiger fans could happily sleep at night with a 10-8 loss (so long as it wasn't a blown save by Jose Valverde). But to lose 2-0, while only mustering 2 hits, in the most important game of the season no less, is entirely indigestible. It's time for these two to carry the offense It makes sense. Teams are supposed to rise to the occasion when playing for the sport's most coveted prize. The Tigers, for two games at least, have appeared to shrivel up into an offensive ball that can't seem to get rolling downhill. Doug Fister's masterpiece went by the wayside in Game 2 as the Tigers flailed at seemingly hittable Madison Bumgarner offerings all night long. This brings us to yet another point of contention, this one spanning much more than just the 2012 season. The Tigers have a dirty habit of making average pitching look elite. They did it in Game 1 against Zito. He barely threw any of his breaking balls for strikes. Why? Because he didn't have to. The Tigers were swinging and missing at offerings out of the zone all night. Game 2 featured much of the same. Bumgarner was throwing a flat fastball at about 90 MPH, rarely pounding the strike zone. The Tigers didn't force him to do so. So Bumgarner stayed way away, or way down and way in, and the Tigers obliged to the tune of 2 measly hits. In my series preview, especially for Game 1, it was noted that the Tigers must show extreme patience and make Zito come into the strike zone with his soft arsenal. Instead, they let the 34-year old lefty dictate the tempo all night long. And Bumgarner followed suit in Game 2. And now the Tigers are in a hole that many fans feel they simply cannot climb out of. They should know better. The Giants themselves were down by 2 games in each of their two National League rounds of play, yet here they are. Momentum can swing at a moment's notice. One big fly by Prince Fielder or one diving catch by Quintin Berry (who will start in left and bat 2nd in Games 3 & 4) could turn the whole show around. Remember this: the Tigers went 50-31 at home during the regular season and are 4-0 at Comerica Park this October. All of that swagger the A's brought into the building meant nothing. The Yankees were hopeless. Is this Giants team so much better? Maybe. They do look awfully good. But the Tigers are pretty darn solid too. The weather will be chilly in Motown this weekend but the Tigers must heat up the bats. They will feel more comfortable with their traditional lineup of Delmon Young at DH and Berry in left, with Andy Dirks hitting 7th and playing right. Anibal Sanchez, the trade dealine hire from the Marlins, will be tasked Saturday night with drawing the series closer. Doug Fister proved that the feisty Giants can be shut down by good pitching and Sanchez is throwing his best ball of the season. He will oppose Ryan Vogelsong, who has been lights out for the Giants this postseason. Then Game 4 will be a marquee matchup with Max Scherzer taking on ace Matt Cain. But take heart Tiger fans, remember what Detroit did to the Yankees' ace, CC Sabathia, in Game 4 in Detroit? Maybe they just prefer hitting upper echelon pitching. The next 3 games will be played in Detroit. The hometown fans need to take a page out of the Giants' playbook and bring the pandemonium to make life tough on Bruce Bochy's crew. And the players, quite simply, need to battle during every at-bat, play to their potential, and take nothing for granted. Do that and this thing will be back to the Bay in no time.
Original Story:
http://feedproxy.google.com/~r/isport...
THE BACKYARD
BEST OF MAXIM
RELATED ARTICLES
Personally, I didn't think that Detroit Tigers slugger Prince Fielder would ever hang out with rapper Eminem but I would be totally wrong. Check out this video of Prince hanging out at Eminem's studio at Eight Mile Road courtesy of the folks over at Windows Phone: Since the Tigers are now down 2-0 to the Giants, maybe Jim Leyland should pitch Marshall Matth (Courtesy of NESN)
Umpire Dan Iassogna deserves credit for making the correct call on a difficult play to judge at home plate during Game 2 of the World Series on Thursday. Detroit Tigers first baseman Prince Fielder was trying to score from first on a double down the left field line by Delmon Young in the second inning. Left fielder Gregor Blanco threw in to home as Prince Fielder was rounding third...
California is certainly no stranger to earthquakes, and that certainly includes San Francisco baseball fans, who felt the ground rumble beneath their feet just prior to the 1989 World Series. Well, the Richter Scale surely moved again during this Fall Classic in the City by the Bay, but this time it had nothing to do with tectonic plates. During the fourth inning...
Detroit Tiger Prince Fielder raced home from first on a Delmon Young double in the top of the second inning last night, but Marco Scutaro's relay throw is in time as Buster Posey applied the tag --... Full story at Bob's Blitz ~ http://www.bobsblitz.com
  The Detroit Tigers took on the San Francisco Giants in game 1 of the World Series Wednesday night. Earlier in the week, Detroit's own Eminem caught up with Tigers Prince Fielder. That's a pretty sheer shirt there Prince. Game 1 went to the Giants 8-3. Game 2 is tonight back in San Francisco.   [...]
This hasn't been the best October for baseball's 200 million men. Alex Rodriguez (275 million) batted .120 in the postseason, was benched or pinch-hit for six times, and, despite 647 career home runs, now represents the most odious player investment in North American professional sports. Albert Pujols (240 million) had three fewer hits than A-Rod in this postseason, because...
Detroit's Prince Fielder was thrown out at the plate trying to score on Delmon Young's double, pitcher Doug Fister remained in the game after getting hit on the head by a line drive and the Tigers and San Francisco Giants were tied 0-0 after three innings of World Series Game 2 on Thursday night. Following San Francisco's 8-3 win in the opener, the Tigers sent Fister...
This is going to be a very hairy World Series. Giants outfielder Hunter Pence is looking seriously scraggly. Same goes for teammate Sergio Romo, whose facial fuzz has its own Twitter account. Tigers slugger Prince Fielder goes for a double - dreadlocks and an overgrown beard. And not to forget injured San Francisco closer Brian Wilson. His dyed, jet-black thicket inspired a '...
Detroit Tiger 1st baseman Prince Fielder lays out and just misses Hunter Pence's foul popup. By 4-6 feet. Your browser does not support iframes. Good effort. Good effort. **Follow us on... Full story at Bob's Blitz ~ http://www.bobsblitz.com
SAN FRANCISCO -- The Tigers are supposed to win the World Series. Now they trail the Giants, two games to none, and their fans want to know whom to blame. Lets take a look at the candidates, shall we? Theres Justin Verlander. He had a lousy Game 1 and Pablo Sandoval didnt. Theres Gene Lamont. The Detroit third base coach controversially waved home Prince Fielder on Delmon Youngs...
You think of the Tigers and first and foremost you think of Justin Verlander, Prince Fielder, and Miguel Cabrera. You think of the Tigers on a day that Verlander isn't pitching and you think of Fielder and Cabrera. There are other guys on the roster — lots of them! — and some of them are good, but Fielder and Cabrera are the big offensive guns. They're the players the Tigers...
When voting for the American League Most Valuable Player award is announced Nov. 15, Los Angeles Angels outfielder Mike Trout will learn where he stands with the baseball writers, who select the MVP. Trout already knows how the AL front-office executives view him, as he was the only unanimous selection in voting for a postseason All-Star team. The Sporting News polled 30 general...
Tigers News

Delivered to your inbox

You'll also receive Yardbarker's daily Top 10, featuring the best sports stories from around the web. Customize your newsletter to get articles on your favorite sports and teams. And the best part? It's free!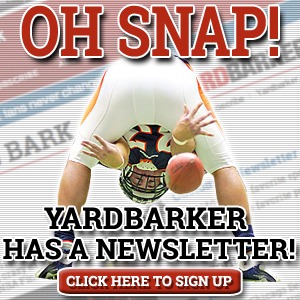 Latest Rumors
Best of Yardbarker

Today's Best Stuff

For Bloggers

Join the Yardbarker Network for more promotion, traffic, and money.

Company Info

Help

What is Yardbarker?

Yardbarker is the largest network of sports blogs and pro athlete blogs on the web. This site is the hub of the Yardbarker Network, where our editors and algorithms curate the best sports content from our network and beyond.