Found February 29, 2012 on Detroit Sports 360:
Delmon Young had 112 RBI's in 2010 (Twins) ** Writer's Note ** – This article is the first of what I will call My "Player Predictions Preview". Each article will take a different Tiger who will be on the roster out of Spring Training and attempt to predict their season. Obviously not all 25 spots are shoe ins at this point in time, so expect those last bullpen spots, fifth starter, and position bench spots to be a little later. Delmon Young finds himself  in a very interesting position this season.  A position that makes the extremely high majority of MLB players jealous.  No, I'm not talking about the fact that this is a contract year for the 26 year old former #1 pick.  He gets to play the snake in the grass this year, ready to strike at competition not giving him much thought. Thanks to Detroit's Dinger Duo (or the Bruiser Brothers, haven't made up my mind yet) hitting in front of Da Meat Hook's younger bro, Delmon will be licking his chops all season long. Partner that with Brennan Boesch in the two hole, and a very legitimate question must be asked; Will any man in baseball have more RBI opportunities than Delmon Young this year? There is certainly a lot of pressure to get the big boys home, but DY has established himself as a serious RBI threat, coming off a 112 RBI performance just 2 years ago.  Also adding to the fact that he had 32 RBI in 40 games with the Tigers after coming over late last year, and we have a guy extremely capable of holding his own in the five hole.  While I don't think we should expect 120 RBI from him this year (which is what he would get if he duplicated his RBI% of 80 from his Tiger stint last year multiplied by 150 games), his numbers certainly will not be an eye sore. REGRESSION: – Fastballs.  DY pounded on the fastballs pitchers were forced to throw him last year, due to who was hitting behind him. With the Tigers heaviest hitters in front of him (literally and figuratively, I guess), pitchers now have the luxury to pitch to him differently.  But not much. With hopefully an improved Jackson, a healthy Boesch, Cabrera and Fielder, the bases will be occupied in some form or fashion a considerable amount, so the fastballs will still come a plenty.  We should just not expect as much. -  Time in the outfield. This is something all Tiger fans are excited for, as it was spotted early on that Delmon is not the most comfortable out in the grass.  With Victor Martinez going down for the year, the DH spot opens up.  Jim Leyland seems to like the flexibility his roster presents, and has made it clear, without necessarily making it clear, that a number of guys will be penciled in as DH this year.  The leader out of the clubhouse has to be Young however, as his defensive liabilities partnered with his offensive potential makes him a prime candidate to receive the bulk of time at DH. - Home Run and RBI Rate – Like I before mentioned, Young averaged .8 RBI per game with the Tigers last year, which would equate to 120 over a 150 game span. Young also averaged .2 HR per game, which would equate to 30 bombs over a 150 game span. While those numbers are monstrous and would be loved by all of Michigan (and let's not forget the faithful in Toledo), we cannot expect those kind of numbers for a full season.  I see Young being much closer to 30 HR than 120 RBI (genius call there, I know), but not quite approaching that number either.  Still, at the end of the year, health permitting of course, these two categories should be quite hearty. PROGRESSION:  RBI opportunities – Might as well start off with the obvious, right?  All signs point to Jim Leyland selecting Young to occupy the 5 hole and do his best with all the RBI opportunities he will be presented with.  Looking at his career numbers, Tigers fans should be pleased with this selection, as Young is a career .315 hitting with RISP.  Partner than average with how often Young will bat with men on base, and his RBI will be hefty. Batting Average – Young hit .274 in 40 regular season games with the Tigers, an average that indeed is very respectable.  But in 34 playoff at bats, Young struggled (besides Cabrera and Inge, who didn't?), hitting .235.  Combine the regular season and playoff numbers, and in 202 at bats in a Tigers uniform, Young has hit .267.  Given Young's place in the lineup and his skill set (career .288 hitter), expect his batting average to be closer to his career numbers than the one he posted last year. // < ![CDATA[ // < ![CDATA[ google_ad_client = "ca-pub-2050928829510309"; /* erics */ google_ad_slot = "8665250378"; google_ad_width = 468; google_ad_height = 60; // ]]>
// < ![CDATA[ // < ![CDATA[</p> <p>// ]]>
On Base Percentage – We have all figured out by now that Young is a free swinger.  Walks are not in his vocabulary.  In fact, in the 729 games he has played in his career, he has 125 walks.  Ho. Ly. Hell.  With his brief stint with the Tigers, his regular season OBP was only 24 points higher than his batting average, coming in at .298.  That's just unheard of. I am not here saying his walk rate is going to go up (given his position in the lineup and consistently having men on base in front of him, pitchers will be forced to pitch to him.  So in fact, his walk rate might even decrease, if that is even possible), but I am saying because his career batting average, and his career average with RISP, his on base percentage will begin with the number 3. Bold Statement – This will be the fourth season in his career Young records more doubles than walks. Prediction – .286/.329/.473 23 HR 90 RBI 34 2B 30 BB 85 SO Related Tigers Links  Tigers Home Page - Stats, Free Agent Rumors, Custom Tigers Profiles for Detroit fans  Tigers Roster - See Tigers Roster and Current Salary  Free Agent Tracker - To track all the free agents and who is left  Tigers Article: Brandon Inge: Man in the Mirror – Eric S – Fan Submission Tigers Article: The Tigers are good, Inge is not, let's all move on! – By Dave Danese     DS360 Tags: Delmon Young, Detroit Tigers, Jim Leyland
Original Story:
http://feedproxy.google.com/~r/Detroi...
THE BACKYARD
BEST OF MAXIM
RELATED ARTICLES
(Eds: Updates.) Detroit Tigers manager Jim Leyland has a pretty good idea who his four top starters are going to be this season. Cy Young winner Justin Verlander, of course. Rick Porcello, Max Scherzer and Doug Fister sure seem likely to make the cut, too. That leaves one spot, but don't ask Leyland about it. He bristled when he was asked about it Wednesday. ''I'...
Twins left-hander Francisco Liriano threw his third live batting practice of the spring on Tuesday, and is scheduled to make his Grapefruit League debut on Sunday.
(Eds: Updates. With AP Photos.) The last thing that Detroit Tigers outfielder Austin Jackson wants to do is to get a leg up on the season. Jackson is making a change in his swing, forcing himself to keep his front leg down. Jackson said the change would not be drastic, but he struck out 181 times last season as a leadoff hitter and both he and the Tigers are eager for a change....
Phil Coke Phil Coke of the Detroit Tigers had himself an odd year in 2011. Starting the season in the rotation, Coke produced terrible numbers. In 14 starts, he threw 74.2 innings (an average on only 5.1 IP per start) with an ERA of 4.82, 37 SO (which produces a horrendous K/9 rate of 4.46), 30 BB (which equates to a terrible BB/9 rate of 3.63), and a 1-8 record. Ladies and gentlest...
(Eds: APNewsNow. With AP Photos.) By JON KRAWCZYNSKI AP Baseball Writer The Minnesota Twins signed Josh Willingham to do two things - hit home runs and play right field. The homers shouldn't be an issue. He hit 29 last season with Oakland and has plenty of power to reach the seats in spacious Target Field. The transition to right field will be a little trickier. Willingham...
There is a buzz once again in the Motor City as baseball fans anxiously anticipate the upcoming season with the unexpected signing of local legend Prince Fielder. Yes, the 27 year old Prince has already reached legendary status in the Detroit area and actually did it many years ago. As a 12 year old, Prince
The former shortstop couldn't secure that position last season, but the Twins hope his new spot will allow him to blossom.
Add Max Scherzer to the list of Tigers starters who began throwing earlier than usual this offseason. His reasoning for it, however, was a little different.
FORT MYERS, Fla. (AP) Justin Morneau isn't going to sugarcoat his concerns over recurring concussions and how they could affect his playing career.
Justin Morneau is on the mend with the Minnesota Twins and says he hopes to play in the team's first exhibition game Saturday.
The start of the exhibition season Saturday will mark the launch of Austin Jackson trying out his new batting stance against big-league pitching.
Miguel Cabrera hits home runs that leave a trail of smoke, and line drives that land whenever they choose, and not a moment before. He seems like a superhero. Maybe that is why so many people still don't really understand him. The myth obscures the man.
MLB News

Delivered to your inbox

You'll also receive Yardbarker's daily Top 10, featuring the best sports stories from around the web. Customize your newsletter to get articles on your favorite sports and teams. And the best part? It's free!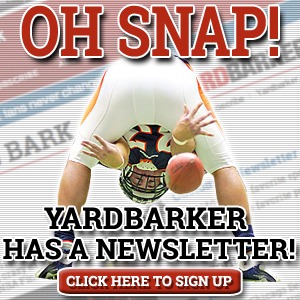 Latest Rumors
Best of Yardbarker

Today's Best Stuff

For Bloggers

Join the Yardbarker Network for more promotion, traffic, and money.

Company Info

Help

What is Yardbarker?

Yardbarker is the largest network of sports blogs and pro athlete blogs on the web. This site is the hub of the Yardbarker Network, where our editors and algorithms curate the best sports content from our network and beyond.