Found December 03, 2012 on isportsweb.com:
As the powers that be amongst Major League baseball gather for the annual winter meetings, the Detroit Tigers will be in the conversation, as always. Detroit enters December with one primary trade chip and that is shortstop Jhonny Peralta. A number of teams are interested in his services as a full-time 3rd baseman. He is signed for just one year at $6M, which makes him an attractive piece to just about anyone looking. Below is a list of the most recent updates and potential happenings as the month of December springs into action across MLB. Potential to Leave As stated above, Peralta is a very likely trade option. Detroit is still inquiring into the services of shortstop Stephen Drew. The Tigers want him on a short-term deal, as do most other teams. Drew is entering his age 30 season and would love to have some additional security, but he must know that if he takes a short contract, even just one year, and tears it up, that teams will be throwing all kinds of money his way a year from now. Have Detroit Tigers fans seen the last of Jhonny Peralta in Motown? To Tigers fans, the Drew rumors seem to have cooled off a bit, which is usually just about the time that GM Dave Dombrowski pounces. Stay tuned. Detroit only non-tendered one of their arbitration eligible players and that was lefty reliever Daniel Schlereth. It was more who they did tender that was of note though, and that included outfielder Brennan Boesch. Don't take the Tigers offering Boesch a contract as a guarantee that he'll be with the club in spring training. The Tigers have a logjam in left field with Boesch, Andy Dirks, and Quintin Berry. All 3 of these players are very doubtful to break camp on the roster together. Other teams have been calling on Boesch and the Tigers will listen, but only if the price is right. Boesch still has a ceiling that he hasn't hit and if his confidence can be restored, along with his ability to hit average fastballs, then he could be one of those players that comes back to bite the Tigers if they let him go. Unlikely to Leave A bunch of teams have been blowing up Dombrowski's phone about Rick Porcello's availability. As of now Dombrowski is saying that he isn't taking offers to heart, but that could change. The main reason the Tigers would ship off Porcello is if they somehow reacquire Anibal Sanchez. More on that in a minute. Another player rumored as a potential trade piece from the Tigers is Andy Dirks. With his ability to play left and right field and solid credentials against left-handed pitching, he seems like a guy who will remain with the club for the time being. For now, Dirks is slated to play left on a mostly everyday basis. Not Happening Experts and prognositcators far and wide continue to rumor just about every available closer in the Tigers' direction. Dombrowski repeatedly refutes these rumors, indicating instead that Detroit will give rookie-to-be Bruce Rondon a legitimate shot at the gig. Keep in mind that the Tigers already have about $10M tied up next year in the names of Joaquin Benoit and Octavio Dotel. In my opinion, Detroit would be financially foolish to throw a huge contract at a Rafael Soriano or the like. Give Rondon first crack at it. If he falters, the Tigers have enough depth with Benoit, Dotel, Phil Coke, Al Alburquerque, etc. to get the job done. Happening? Keep your eyes and ears open for the Peralta trade. That could happen as soon as this week if Detroit locks in on Drew. This is the most likely take away from the winter meetings for the Tigers. But doesn't that just seem kind of bland for a Tigers offseason? With Dombrowski's creativity in mind, don't be surprised to see something wild and 'out of the blue' take place. Such a deal could involve Porcello or Boesch, or both. [Follow me on Twitter @isportsJoe or subscribe to our Detroit Tigers Feed] One thing most fans would rather not see is a move that would compromise the depth of the Tigers' minor league system. With so little in the way of top-end prospects, Detroit needs to hold tight on guys like Avisail Garcia and Nick Castellanos. Despite his lofty goals of 6-7 years and $90-100M, the Tigers haven't completely given up on signing Anibal Sanchez. I simply don't see Detroit giving him anything north of a 5-year deal though. If Sanchez wants to assure himself of the privilege of playing on a championship-caliber team like Detroit, then he might have to make a few concessions along the way. It will be interesting to see how this situation plays out. The Tigers certainly aren't the odds-on favorites to get Anibal, but stranger things have happened. Remember, the goal in the regular season is to be at least good enough to make the playoffs. As we saw just a few months ago, from there anything can happen. As it sits right now, the Tigers are easily the team to beat in the AL Central once again. A major overhaul is not required. Shoring up the middle defense and getting some better on-base skills in the batting order should just about do it. To receive an email each time a new Tigers article is published, fill out the Email Notification Form
Original Story:
http://feedproxy.google.com/~r/isport...
THE BACKYARD
BEST OF MAXIM
RELATED ARTICLES
The gap in what Anibal Sanchez wants and what the Tigers are willing to pay likely means the right-handed starter will wind up elsewhere. Continue reading →
Baseball's annual winter meetings begin today in Nashville, Tennessee and the Detroit Tigers have the luxury of having their major shopping largely finished. Still, this is often times the most exciting time of year in the offseason no matter team … Continue reading →
With the Winter Meetings underway, here is the latest surrounding the Dave Dombrowski and the Detroit Tigers… Danny Knobler of CBSSports.com tweets that the Tigers are telling other teams that Brennan Boesch and Andy Oliver could be had in a trade. No surprise, Tigers telling teams Brennan Boesch, Andy Oliver available in trade — DKnobler (@DKnobler) December 3, 2012 Knobler...
The Tigers enter this year's Winter Meetings having already made a big splash to this off-season, signing free agent outfielder Torii Hunter to a two-year deal. With the Tigers major need addressed, the Tigers are still involved with many discussions on free agents and potential trade partners. Despite that, it could well be a quiet week for the Tigers in Nashville.
The Tigers signing Torii Hunter to a two-year $26 million contract earlier this offseason was pretty big news.  And it seemed to come out of nowhere as Hunter called the Tigers and invited himself into town for a visit. The Tigers made another move today – one that was a long time coming.  They're moving Gene Lamont from his post in the third base coaching box to the bench...
Talk of the Detroit Tigers pursuing a shortstop may have been overblown. The team cooled on free agent Stephen Drew due to his desire for a multi-year contract and has not discussed a trade for the Indians Asdrubal Cabrera, according to a source with knowledge of the clubs thinking. Instead, the club is focused on adding a left-handed reliever and finding a right-handed platoon...
Triple Crown winner Miguel Cabrera is going to play for Venezuela in the upcoming World Baseball Classic. Cabrera was among the first 32 players -- 12 major leaguers -- to commit to playing in the tournament that begins March 2 with games hosted by two-time defending champion Japan and Taiwan. The Mets' David Wright and Minnesota's Joe Mauer will play for the United States...
Its a coincidence really but its appropriate. In a confluence of cultures, baseballs winter meetings are smack dab in the middle of the Christmas shopping season. Its the time when baseball fans become 5-year-olds. They develop some uncharacteristic brat. The universal whine becomes Gimme! There's a wish list without much consideration into what Mom and Dad can afford. Usually...
Triple Crown winner Miguel Cabrera is going to play for Venezuela in next March's World Baseball Classic. Cabrera was among the first 32 players - 12 major leaguers - to commit to playing in the tournament that begins March 2 with games hosted by two-time defending champion Japan and Taiwan. The Mets' David Wright and Minnesota's Joe Mauer will play for the United States...
It appears to be no secret that Detroit would be open to moving Boesch -- he fell out of the rotation in the outfield last season and does not appear to have much of a role heading into 2013. Continue reading →
The Red Sox have already helped out their lineup by reportedly signing Mike Napoli to a three-year deal. Now, it appears that Ben Cherington is setting his sights on shoring up the starting rotation. The Sox are interested in Kyle Lohse and, to a lesser extent, Anibal Sanchez, according to multiple reports from Tuesday's winter meetings. However, Sanchez's asking price might...
Tigers News

Delivered to your inbox

You'll also receive Yardbarker's daily Top 10, featuring the best sports stories from around the web. Customize your newsletter to get articles on your favorite sports and teams. And the best part? It's free!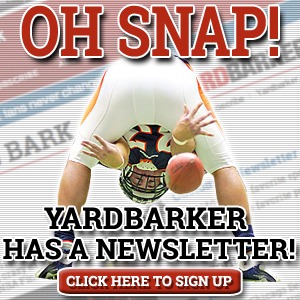 Latest Rumors
Best of Yardbarker

Today's Best Stuff

For Bloggers

Join the Yardbarker Network for more promotion, traffic, and money.

Company Info

Help

What is Yardbarker?

Yardbarker is the largest network of sports blogs and pro athlete blogs on the web. This site is the hub of the Yardbarker Network, where our editors and algorithms curate the best sports content from our network and beyond.