Found December 23, 2011 on SF Giants Nirvana:
PLAYERS:
Carlos Beltran
,
Aubrey Huff
,
Prince Fielder
,
Angel Pagan
,
Melky Cabrera
,
Jeremy Affeldt
,
Javier Lopez
,
Matt Cain
,
Tim Lincecum
,
Aaron Rowand
,
Buster Posey
,
Brandon Belt
,
Pablo Sandoval
,
Gary Brown
TEAMS:
New York Mets
,
San Francisco Giants
,
Milwaukee Brewers
,
Miami Marlins
The Cardinals signed Carlos Beltran today to a two-year $25MM deal. It's an extremely reasonable contract, and one that has the potential to be a bargain if Beltran manages to stay healthy. But even if he doesn't (which is obviously the more likely scenario), even if he misses 100+ games over the next two years, it's a pretty solid contract. The Giants had talks with Beltran but they didn't pursue him very hard, which is naturally frustrating — considering that the Giants had a historically weak offense in 2011, and that they have the resources to facilitate such a signing: It's Aubrey Huff money, not Prince Fielder money. The organization gave up its top pitching prospect for Beltran, still fell eight games short of winning the division, then made no kind of serious effort to re-sign him.
As it stands now, this offseason looks like somewhat of a mess; Wendy Thurm discussed this at length in a recent Fangraphs article. The Giants entered the offseason with one major need: hitting, hitting, hitting. And while the Angel Pagan and Melky Cabrera acquisitions do a little bit to address this, they're hardly solutions. The team has spent little this winter, and what little they've spent has mostly gone to the pair of Jeremy Affeldt and Javier Lopez. The vast majority of their free agent spending has gone to a pair of relievers.
But let's focus on what this is all about: Matt Cain and Tim Lincecum. As of this moment in time, it's hard to conceive why Cain wouldn't want to test the free agent market. Worse pitchers have been cashing in on lucrative long-term contracts of late, and Cain is a special case in that he becomes a free agent at a relatively young age. Why wouldn't he want to maximize his potential earnings (and sign with a team that would provide better run support, for that matter)? The same goes for Lincecum, who is set to hit the free agent market a year after Cain. However, this is an area where the Giants know better than anyone else what their odds are of retaining the two. They are, after all, basing their future plans on securing the rotation.
The storyline today is something like this:
The Giants, who sold out every single home game this season, weren't willing to shell out an extra $10MM for 2012 in order to retain a hitter that would have substantially improved their offense — a hitter for whom they gave up their top pitching prospect. Instead, they chose to allocate most of their funds toward retaining a pair of LOOGYs. 
This is a gross oversimplification, but that's largely how it's been perceived. Maybe that'll be the case once Opening Day comes around. Maybe it won't. If the Giants extend both Lincecum and Cain, they effectively extend their window of opportunity. Huff and Aaron Rowand come off the books in 2013, and the Giants will conceivably have a solid hitting core formed by that point in Buster Posey, Brandon Belt, Pablo Sandoval, and Gary Brown. Again, it's hard to see both Lincecum and Cain settling on extensions before hitting free agency, but the team seems to have structured their plans on retaining the two, so they must feel confident in their abilities to do so. For the time being, I'm willing to give the organization the benefit of the doubt.
Original Story:
http://feedproxy.google.com/~r/Splash...
THE BACKYARD
BEST OF MAXIM
RELATED ARTICLES
Once upon a time the Giants had an awesome hitting prospect, he had all the tools one could ask for, he had good power, made contact well and by all accounts was a very good fielder. At each minor league level against inferior pitching he looked like the second coming of Babe Ruth, a real can't miss prospect that was the envy of every scouting director and general...
The big bat on just about every Giants fan Christmas list just signed with the Cardinals for a very reasonable 2 year $26 million deal. When the news of the years and money involved broke over twitter, a justified freak out session broke out among Giants fans, why couldn't the Giants swing this deal? It would have been understandable if the Giants didn'...
Marc Topkin handicaps the chances of Carlos Beltran joining the Rays. According to Topkin, Carlos is looking for $36 to $39 million for three years. At that price, the Rays would likely get a good deal and a very good bat in the middle of their lineup.
Carlos Beltran agreed to a two year deal worth 26 million with the Cardinals last night, making him the third major OF to sign within the last two weeks (the others being Willingham and Cuddyer). For Carlos, he goes to a National League team, avoiding his fear about being regulated to the DH and he [...]
To all of you drafting 2012 Blue Jay projected lineups with Carlos Beltran hitting cleanup,  wrong color bird. So today's lesson is simple:World Series rings are a great recruiting tool.
ST. LOUIS - Carlos Beltran and the World Series champion St. Louis Cardinals have agreed to a two-year contract...
Carlos Beltran may choose his next team by the weekend and he has many suitors to consider. The Cardinals, Blue Jays, Red Sox, Rays and Indians are all "seriously in the mix" for Beltran, according to Scott Miller of CBSSports.com. Here's the latest on Beltran, who's open to DHing part-time... The Cardinals intensified their talks with Beltran last night and into...
Carlos Beltran and the World Series champion St. Louis Cardinals agreed to a two-year contract pending results of a physical, a move that would fortify the team's lineup after the departure of Albert Pujols. The team disclosed the agreement Thursday night and said it expects to make a formal announcement shortly after the holidays.
They say a good way to help yourself get over a breakup is to date someone new. And the slugger St. Louis Cardinals fans will be seeing for the next two seasons is pretty hot. Rather than sulk over the loss of Albert Pujols, the Cardinals went out and bought outfielder Carlos Beltran, one of the best hitters on the free agent market. Derek Goold of the St. Louis Post-Dispatch broke...
Gio Gonzalez is going to the Nationals, for prospects (!).Andrew Bailey rumors are still flying.Carlos Beltran will meet you in St. Louis. No pressure there.ST. LOUIS (AP) – Carlos Beltran and the World Series champion St. Louis Cardinals agreed to a two-year contract pending results of a physical, a move that would fortify the team's lineup following the departure of Albert...
The Cardinalsdid a good job of compensating for Albert Pujols' free-agent defection by signing outfielder Carlos Beltran to a two-year contract worth $26 million.
It was a short eight days ago, that I had an epiphany: the Indians should be waiting out the Carlos Beltran sweepstakes. At age 35 coming off his best year in a while, there could be a concern giving him big money and a long term commitment. With Josh Willingham taken off the board by the Minnesota Twins, my rationale then as to why the Tribe and Beltran could work: if the years...
MLB News

Delivered to your inbox

You'll also receive Yardbarker's daily Top 10, featuring the best sports stories from around the web. Customize your newsletter to get articles on your favorite sports and teams. And the best part? It's free!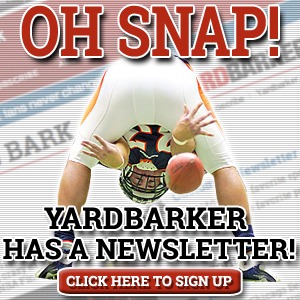 Latest Rumors
Best of Yardbarker

Today's Best Stuff

For Bloggers

Join the Yardbarker Network for more promotion, traffic, and money.

Company Info

Help

What is Yardbarker?

Yardbarker is the largest network of sports blogs and pro athlete blogs on the web. This site is the hub of the Yardbarker Network, where our editors and algorithms curate the best sports content from our network and beyond.