It seemed little coincidence that manager Mickey Callaway and owner Fred Wilpon both lingered on the same back field Saturday morning, watching the proceedings at Mets camp. Yes, Matt Harvey was throwing live batting practice and that's always a draw. But for the Mets, there was perhaps no more welcome sight than Michael Conforto digging into the left-handed batter's box.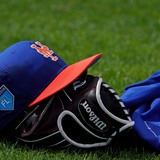 The latest from around the NL East… The Mets had Bud Norris "on their board" before the veteran right-hander signed with the Cardinals, The Athletic's Marc Carig reports (Twitter link).  Norris' versatility as both a reliever and a potential swingman or spot starter intrigued the Mets, who may or may not be still looking for rotation depth. Juan Lagares' name has surfaced in some...
Anthony DiComo of MLB.com tweeted a video of Michael Conforto long-tossing down in Port St. Lucie — A most welcomed sight. Conforto, 24, dislocated his left shoulder at the end of the 2017 season and underwent major surgery. Previous estimates put him back at Citi Field around May 1st. There have been no reports as of yet that he has swung a bat. The outfielder broke out in a big...
While it is up for debate whether Michael Conforto is better suited at leadoff or in the middle of New York's batting order, there is no denying that Conforto thrived batting first last season. In 68 games as a leadoff hitter, Conforto hit .281 with a .947 OPS, 20 home runs and 53 runs scored.
The New York Mets had an up-and-down season offensively in 2017, due in large part to a plethora of injuries plaguing the hitters at the heart of the order. However, with a healthy roster, the Mets have players who could put up massive numbers during the 2018 season and provide consistency to an offense that sorely needs it. Batting Average: Michael Conforto Projected 2018 Statistics...
New York Mets outfielder Michael Conforto held a Q&A with fans on Monday, and stated that he still has no timeline for when he will be fully recovered from his left shoulder surgery.
Michael Conforto is set to undergo shoulder surgery in the coming days, which will put his availability for the start of the 2018 season in question.MLB.com's Anthony DiComo first reported the news about Conforto, who has not played since leaving an Aug. 24 game with a shoulder injury. Conforto hurt his shoulder on a swing and was later diagnosed with a dislocation. An MRI also revealed...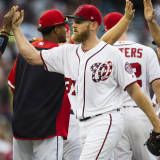 Welcome to this week's edition of Three Up, Three Down — your weekly catch-up of the three best highlights (and lowlights) from around the league. We're here for all of the cheers and the jeers, because it's baseball. You can't have a winner without someone losing along the way.Up: The donnybrook in Detroit Last week, the Yankees and Tigers engaged in what was easily the most bizarre...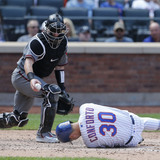 Star New York Mets outfielder Michael Conforto went down in a ton of pain after a swing and miss against the Arizona Diamondbacks on Thursday.Conforto was forced from the game, and almost immediately afterward, the Mets diagnosed him with a dislocated shoulder (more on that here).Unfortunately, that was not the extent of the outfielder's injury. An MRI later confirmed that he suffered...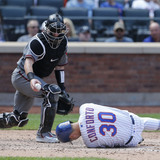 The New York Mets' season cannot end soon enough. Here's a team that currently has nine of its original 25-man roster on the disabled list.We can now likely add a 10th player.Up-and-coming outfielder Michael Conforto appeared to suffer a serious shoulder injury in Thursday's game against the Arizona Diamondbacks.It was bad. Really bad. Here's a better slow-motion view of the injury...
MORE STORIES >>
Mets News

Delivered to your inbox

You'll also receive Yardbarker's daily Top 10, featuring the best sports stories from around the web. Customize your newsletter to get articles on your favorite sports and teams. And the best part? It's free!