Found June 30, 2012 on Fox Sports West:
PLAYERS:
RA Dickey
,
Elian Herrera
,
Juan Rivera
,
Don Mattingly
,
Phil Niekro
,
Tim Wakefield
,
Tony La Russa
TEAMS:
Los Angeles Dodgers
,
New York Mets
,
Boston Red Sox
,
St. Louis Cardinals
,
New York Yankees
LOS ANGELES, Calif. A perfect storm of unfriendly constitution blew into Dodger Stadium Saturday night, whisking away a struggling offenses ability to right itself amidst the ineffective cacophony of flailing bats and battered hope. R.A. Dickey, now two starts removed from back-to-back one hitters, allowed three hits over eight scoreless innings and struck out 10 batters while winning his Major League-leading 12th game as part of a 9-0 victory over the injury-depleted Dodgers Friday night. Every team goes through little ruts here and there, Dickey said before the series opener. Weve certainly been through our own, and I certainly know that weve been swept, and then weve turned around and swept people. So theyre not to be taken lightly by any stretch of the imagination, regardless of whos in the lineup. For Los Angeles, Dickey was probably the pitcher in the National League theyd be least encouraged to face with one win in their 10 previous games entering Fridays action and with one homerun in their last 15 games following their fourth shutout in five games. Theyve lost six in a row. The Dodgers have been held scoreless in 47 of their last 48 innings at the plate, their lone success coming on an Elian Herrera RBI triple and Juan Rivera RBI single that accounted for all of their scoring in a 3-2 loss to the Mets Thursday night. The question at this point is what effect Dickeys mastery will have on a Dodger team setting new lows for offensive futility. If it has been suggested at times that facing a knuckleballer can throw off a hitters mechanics and comfort at the plate, could this serve as a double negative? Could the L.A. offense be shocked into production? I dont know if theres ever a good time, really, manager Don Mattingly said about facing a knuckleballer. With a guy like him, obviously were not the only club at this point hes given trouble to. For us not really seeing him, To me, if youre in the east, and you see this guy three, four times, maybe you could come up with a little better game plan, how you want to deal with him. Its tough to kind of look at tape and say, how are we going to attack this guy? and know what youre dealing with. Dickeys knuckleball is thrown with a greater velocity than that of previous major league knuckleballers. Sitting in the mid-to-upper 70s and often reaching the low 80s, Dickey has the ability to change up speeds with the pitch. On Thursday, he said the lowest the pitch had ever been clocked was at 59 miles per hour, and that hes received plenty of advice from former major league knuckleballers Phil Niekro, Tim Wakefield and Tom Candiotti. That may be a difference between me and the Jedi counsel of knuckleballers, well say, Dickey said of the extra velocity on his pitch. Those guys who have poured into me in a real generous way have all taught me something that Ive been able to use. Everybodys got a very unique personality, and part of my personality with the pitch is that I throw it a little bit harder. So Ive tried to work off that and figure out whats comfortable as far as being able to throw strikes with it and working off that pitch. Its worked out well, and well just keep rolling with it. Rolling with it, he has. Bouncing back from a six-inning, five-run outing against a potent New York Yankees lineup on national television last Sunday, Dickey continued to dominate opposing batters to the tune of a 12-1 record and a 2.15 ERA. Its success that he anticipated prior to the start of the season. I tell people all the time I have a pretty big imagination, so I visualize myself with this pitch being successful. Now, to what degree? That may have taken me by surprise somewhat. But I feel like Im not doing anything differently than I have the past couple of years, he said. With an All-Star appearance a certainty, will Tony LaRussa choose him as the National Leagues starter come July 10 at Kansas Citys Kauffman Stadium? I think every little boy imagines playing in an All Star Game, so in that regard, it would be a real honor, obviously. I mean, thats the clich, Dickey said. I think, more than that, it would give a real legitimacy to what I do as a knuckleball pitcher. I think there are camps of people out there who dont view it as a very legitimate thing. A gimmicky thing, if you will. And I think if Im fortunate enough to make the All-Star Team, it would give some legitimacy, I think. That was of little concern to the Dodgers, whose lineup had difficulty going deep in counts or getting any type of rhythm going until perhaps the eighth inning. Dickey didnt throw more than 17 pitches in any inning against L.A. Usually when youre getting to a guy like that, you can get in some counts where hes having trouble throwing the ball over the plate, Mattingly said. Usually when those guys get it over, theyre pretty good, and tonight he didnt really walk anybody. We didnt really do much with him.
Original Story:
http://www.foxsportswest.com/06/30/12...
THE BACKYARD
BEST OF MAXIM
RELATED ARTICLES
R.A. Dickey bounced back from one of his worst starts of the year to lead the New York Mets over the Los Angeles Dodgers 9-0 on Friday night.  Dickey tossed eight scoreless innings, allowing just three hits, with ten strike outs, en route to his MLB leading 12th victory and winning his career-best 10th decision in-a-row: Dickey cruised through the first six innings retiring 17...
R. A. Dickey is the best starting pitcher on the Mets staff. How many people can honestly say they thought that would ever come out of their mouths? I can't say I was one of them, and I'm sure nether can you. As Mets fans we started to build an affection for the knuckleballer that came out of nowhere back in 2010 when he burst onto the scene. Dickey's multifaceted personality has...
DICKEY IN JUNE: R.A. Dickey went 5-0 with a 0.93 ERA (five earned runs/48.1 innings) in six June starts. Dickey allowed 21 hits, eight walks and had 55 strikeouts. SHUTOUTS: The Mets posted their ninth shutout of the year last night. The Mets are third in the majors with nine shutouts, one behind the Angels and Giants, who have 10 shutouts. WELCOME TO THE CLUB: R.A. Dickey became...
Before the seventh inning of last night's game against the Dodgers, the only hit R.A. Dickey had allowed was a fly ball to left-center field that should have been caught by the centerfielder Andres Torres. As legendary Dodgers broadcaster Vin Scully put it during the broadcast, "The Dodgers have been flailing away at R.A. Dickey. That's the best word I can come...
LOS ANGELES (AP) -- R.A. Dickey allowed three hits over eight innings to become the major leagues' first 12-game winner, Daniel Murphy drove in five runs and the New York Mets sent the Los Angeles Dodgers to their season-worst sixth straight loss with an 9-0 victory Saturday night. The Dodgers' only hit over the first 6 1-3 innings was by opposing pitcher Aaron Harang, a...
LOS ANGELES -- R.A. Dickey needed little run support on Friday night but the New York Mets provided it anyway, drubbing the Los Angeles Dodgers 9-0 at Dodger Stadium for their third straight win. Dickey (12-1) pitched eight scoreless innings and allowed just three hits to become the first pitcher in the major leagues with 12 wins. Dickey walked one and struck out 10, the fifth...
It seems like the first two games in Chicago are just a blimp on the Mets memories these days as they continue to knock around the Dodgers. After a close game on Thursday, the Mets went back to one-sided ball games with an offensive explosion and another great start from R.A. Dickey. R.A. Dickey continues to put up big bids on being the All-Star Game starter, and tonight is no different...
Starting Lineup Andres Torres – CF Ruben Tejada – SS David Wright – 3B Ike Davis – 1B Lucas Duda – RF Daniel Murphy – 2B Kirk Nieuwenhuis – LF Josh Thole – C R.A. Dickey – RHP It is hard to understate the importance of last night's game as the Mets won a game where the bullpen played a pivotal roll. The Mets look to build off that momentum as they take on the...
It's very rare that the outcome is proportional to the probable pitchers for that night. I can't even begin to tell you how many times I look at a matchup for a Mets game and think "sure win", and the Mets get clobbered. It happens the other way as well. Usually those pesky outside factors get in the way.But when I saw that Aaron "Lemon" Harang was pitching...
The stage is set for Game 2 of this four game set between the New York Mets and the Los Angeles Dodgers. Once the headlining team in the National League this year, the Dodgers have lost their best players to injury, currently trying to make do without Matt Kemp and Andre Ethier. Right now, the Mets can kick the while their down to make up ground on the Washington Nationals and to...
The New York Mets continue to have success on the field and as part of our free MLB picks (like Thursday night). Can they continue those winning ways this weekend in Los Angeles, and beyond? With three games already in the win column and being on the verge of a four-game sweep of the Dodgers in Los Angeles for the first time EVER, the answer is a resounding yes. Coming into this...
MLB News

Delivered to your inbox

You'll also receive Yardbarker's daily Top 10, featuring the best sports stories from around the web. Customize your newsletter to get articles on your favorite sports and teams. And the best part? It's free!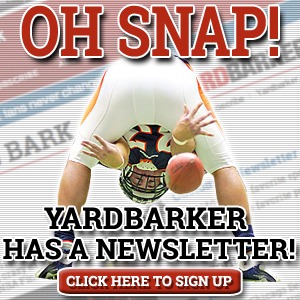 Latest Rumors
The Backyard

Today's Best Stuff

For Bloggers

Join the Yardbarker Network for more promotion, traffic, and money.

Company Info

Help

What is Yardbarker?

Yardbarker is the largest network of sports blogs and pro athlete blogs on the web. This site is the hub of the Yardbarker Network, where our editors and algorithms curate the best sports content from our network and beyond.