Found March 11, 2013 on Fox Sports Florida:
PLAYERS:
David Price
,
Felix Hernandez
,
Zack Greinke
,
Justin Verlander
,
James Shields
,
Wil Myers
,
Evan Longoria
TEAMS:
Tampa Bay Rays
,
Seattle Mariners
,
Los Angeles Dodgers
,
Detroit Tigers
,
Kansas City Royals
,
Boston Red Sox
,
New York Yankees
PORT CHARLOTTE, Fla. Existing as the Tampa Bay Rays requires foresight with a healthy dose of optimism to make their challenges appear manageable. Theyre one of the major leagues' greatest success stories since 2008, a franchise that has evolved from an American League East also-ran to a contender, but each year presents new tests of their ability to preserve this standard. Two issues will go far in determining the Rays direction in coming years, both on the field and on their bottom line. First, there's the future of left-hander David Price, who will make 10,125,000 this season and remains under Tampa Bays control through the 2015 campaign; he's aware of both starting pitching's rising cost and the Rays limitations because of a small-market reality. Second, the future of their home in the Tampa Bay region, whether its in St. Petersburg or nearby Hillsborough County or elsewhere, despite a lease that binds them to the maligned Tropicana Field until 2027. So it was little surprising that Rays principal owner Stuart Sternberg, in a visit to Charlotte Sports Park on a bright Sunday afternoon, spent the better part of a 10-minute question-and-answer session addressing the looming clouds ahead. Creativity has been the Rays strongest attribute since he gained control of the franchise in October 2005. With Prices future and the stadium situation unclear, he will be required to use such a trait again. On Price: There is no question that we could handle a contract like Davids, but what are you able to put around him? Right now, correctly, David is focused on this season. Were focused on this season, and I think, speculatively, it really is way too early for people to be focused on what is three years from now, four years from now. On the stadium: The mayor (St. Petersburg's Bill Foster) and I had a meeting. It was a nice, cordial conversation, and well see. Im optimistic. Nobody wants to hear me talking about stadium things, so well let the mayor and I try to handle that and everybody else can focus on whats important, which is baseball. The amount of baseball success the Rays experience this season, of course, will be determined partly by how well Price grows on the mound. Both Rays management and the returning American League Cy Young Award winner have expressed a desire to keep their union strong, if only dollar signs werent part of their equation. Yet this is a high-stakes, high-rewards industry, and Price doesnt work for orange slices. He and the Rays will continue to compare his value among some of the games wealthiest arms: Seattle Mariners right-hander Felix Hernandez inked a seven-year, 175 million extension in February; right-hander Zack Greinke signed with the Los Angeles Dodgers last December for 147 million over six years; and Detroit Tigers right-hander Justin Verlander agreed to a five-year, 80 million extension in 2010. Appropriately, Price will be measured against the games greats throughout this season. Could he become baseballs first 200 million pitcher? Its possible. His value will rise if he matches or exceeds last season's 20-5 record with a 2.56 ERA in 31 appearances. Consequently, Tampa Bay could be presented with the difficult choice of either retaining the young star or trading him to receive maximum value. The Rays packaged workhorse right-hander James Shields last December in a six-player deal that served as a bet that promising talents, outfield prospect Wil Myers and right-hander Jake Odorizzi, will produce in time. Last November, the club made a six-year, 100 million extension work for third baseman Evan Longoria. But Sternberg admitted Sunday those figures were gargantuan and extraordinary for any team. Price, for his part, wants fair payment. He likely wont choose sentimental over true value. And why would he, especially if he progresses as one of the sports best arms? I do understand what all is going on in the realm of baseball, Price said Sunday. I do know what the going rate for starting pitching is these days. I dont want to sell myself short. That may be the case, but how many people will watch Price work on his home mound? Attendance remains a sour subject in the Tampa Bay market. It led to a strong statement from Major League Baseball in January that highlighted a discrepancy: Despite a 90-72 record in 2012 the Rays third consecutive season with at least 90 victories Tampa Bay finished last in attendance with 1,559,681 fans drawn. (The league average was about 2.5 million.) The total suggests a number of things about a complex environment: The Rays can contend time and time again, but unless the status quo changes, even a team that has produced three playoff berths in the past five years wont attract turnstile figures fitting for its performance in the standings. Theres possible blame on Tropicana Fields location, about a 30-minute drive from the regions population center in Hillsborough County.Theres possible blame on the building itself, one of the most criticized in the major leagues. Theres possible blame on the regions demographics, a melting pot of potential customers with many holding rooting interests New York Yankees, Boston Red Sox, etc. grounded elsewhere. The attendance, everyone knows the number, Sternberg said. Last is last so were anticipating an improvement on that. We really dont have any goals. We dont try to set any goals. We wanted to be average in attendance and well above average in on-field performance, and were right now settling for well-above average in on-field performance, and thats the most important thing. For now it is, even with new tests to solve. For now, as theyve done before, the Rays will continue to work to win then wonder about what comes next. You can follow Andrew Astleford on Twitter @aastleford or email him at aastleford@gmail.com.
Original Story:
http://www.foxsportsflorida.com/03/11...
THE BACKYARD
BEST OF MAXIM
RELATED ARTICLES
The announcement was little surprise, but a familiar face will take the mound for the Tampa Bay Rays on Opening Day. Left-hander David Price, the returning American League Cy Young Award winner, was on Tuesday named the starter for the Rays season opener against the Baltimore Orioles on April 2. This will be the second Opening Day start for the 27-year-old, following a four-run,...
Tampa Bay Rays pitcher David Price attempted to throw another strike from the mound today. He almost succeeded. Price is working with the "Bowl For Kids' Sake" Program and attempted to throw a bowling ball from the pitching mound. Funds raised from Bowl For Kids' Sake will allow the agency to pair more children with carefully screened volunteers, as well as provide professional...
Evan Longoria's WAG is now a MILF too.
PORT CHARLOTTE, Fla. Joel Peralta sifted through his locker, his mind prepping for another day of spring training but his heart more than 1,000 miles away. On Sunday morning, the Tampa Bay Rays reliever continued his routine: changing from a dark-blue T-shirt into uniform for a game against the Boston Red Sox, holding court with teammates in a corner of a Charlotte Sports Park clubhouse...
The Tampa Bay Rays have trimmed their spring roster to 54 players by optioning five pitchers to the minor leagues and reassigning three others to minor league camp. Right-hander Alex Colome and left-handers Mike Montgomery and Frank De Los Santos were optioned to Triple-A Durham on Monday. Left-hander Enny Romero was optioned to Double-A Montgomery and lefty Felipe Rivero was optioned...
PORT CHARLOTTE, Fla. (AP) -- AL Cy Young Award winner David Price has been selected as Tampa Bay's opening-day starter against AL East rival Baltimore. Rays manager Joe Maddon made the announcement Tuesday before a spring training game against the New York Yankees. The three-time All-Star went 20-5 with a 2.56 ERA in 31 starts in last year, when he edged Detroit's Justin...
Considering their limited payroll, the Tampa Bay Rays are ultimately expected to trade left-hander David Price rather than sign him to a lucrative long-term extension. However, owner Stuart Sternberg told reporters, including Roger Mooney of The Tampa Tribune, that the Rays can "absolutely" afford Price's next contract and the team hasn't discussed trading the reigning...
The Tampa Bay Rays have a heck of a talent in pitcher David Price. Dude is so good he gets the ball over the plate even if its a dang bowling ball! Price is actually participating in the 'Bowl for Kids' Sake' charity event to benefit the Big Brothers Big Sisters program in Tampa Bay. [RaysIndex]
The Tampa Bay Rays have been the darling of MLB since they dropped the "Devil" out of their name. They have done a great job of developing young players who have made the team not only competitive, but up there with the likes of the best teams in the AL East division. They have made the playoffs 3 of the last 5 seasons, and managed to go 90-72 last season under manager Joe Maddon...
PORT CHARLOTTE, Fla. (AP) -- Evan Longoria had a pair of run-scoring doubles and a Luke Scott hit his first home run of the spring for the Tamp Bay Rays, who squandered a ninth-inning lead Monday night and lost to the Minnesota Twins 6-4 in 10 innings. Ray Olmedo had an RBI triple in the 10th and Clete Thomas doubled and scored the go-ahead run for Minnesota. Twins designated hitter...
PORT CHARLOTTE (AP) Sure, Desmond Jennings wants to see more pitches per at-bat. Yes, he'd like to take more walks this season. And maybe this is the year he finally masters the bunt. But the Tampa Bay Rays center fielder and leadoff man sees his job as a simple one: get on base. He did that two more times on a Monday night, but the Minnesota Twins rallied to tie it in the...
MLB News

Delivered to your inbox

You'll also receive Yardbarker's daily Top 10, featuring the best sports stories from around the web. Customize your newsletter to get articles on your favorite sports and teams. And the best part? It's free!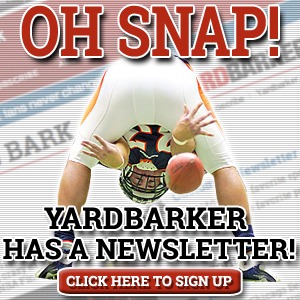 Latest Rumors
The Backyard

Today's Best Stuff

For Bloggers

Join the Yardbarker Network for more promotion, traffic, and money.

Company Info

Help

What is Yardbarker?

Yardbarker is the largest network of sports blogs and pro athlete blogs on the web. This site is the hub of the Yardbarker Network, where our editors and algorithms curate the best sports content from our network and beyond.