While I was sleeping yesterday (of course), the Dodgers did indeed finalize a trade with the Cubs for right-handed reliever Carlos Marmol, cash, and international bonus pool money for Matt Guerrier. I didn't write about it immediately because I figured my article on why he might be of interest to the Dodgers was sufficient. Plus, the breakdown of the details was a bit confusing, but luckily Eric Stephen of True Blue LA did a great job, as usual. The No. 92 international bonus slot is worth $209,700, which gives the Dodgers more money to spend on bonuses for international amateurs. Tuesday is the first day of the international signing period, which runs through June 15. The Dodgers' new international cap is $2,322,600. With 90 days left in the season, Marmol ($9.8 million) is due approximately $4,819,672 the remainder of the season, while Guerrier ($3.75 million) is due approximately $1.844,262. In other words, the Dodgers paid roughly $500,000 for an extra $209,700 of international cap space. Subtract the roughly $240,000 of a minimum-salaried player (Chris Withrow?) whose roster spot Marmol will take and the Dodgers paid about $260,000 for $209,700, a better deal than paying the 75% overage tax. The fact that the Dodgers basically lose nothing of value and got international bonus pool space makes this a win already. Marmol is the wild card here, and if he could be a useful bullpen arm, that would be a bonus. Ned Colletti said the team staff thinks they can make adjustments with him. "We know he had a rough go of it this season, but he's not on the downside [age]," Colletti. "Perhaps he needs a change of scenery and an adjustment with his delivery. He's certainly worth taking a chance." The Dodgers were hoping Marmol would agree to a brief Minor League assignment to work on his mechanics, but there was no indication Tuesday that he would. He has 72 hours to report and he was said to be in the Dominican Republic at the time of the trade. The Dodgers believe they might solve an arm-slot flaw in Marmol the way they tweaked the delivery of Brandon League after his acquisition a year ago. "We have good pitching coaches that can really dissect a delivery and we feel there are a couple points in his delivery that, with adjustments, could bring him back," said Colletti. So yeah, it does look like they think they can fix him, and they are looking at his arm slot. Not sure if they're seeing what I did, but the plan seems in place at least. As a bonus, since that article was written, Keith Law of ESPN reported that Marmol will indeed report to the minors. —– This trade is already a total win, as far as I'm concerned. The only way the Dodgers can end up hurting from this is if it's self-inflicted. Unless they do fix him and sign him to a three-year deal like Brandon League or he doesn't get fixed and they leave him in to blow close games, Colletti has done excellent here.
Original Story:
http://feedproxy.google.com/~r/ChadMo...
MORE FROM YARDBARKER
MLB News

Delivered to your inbox

You'll also receive Yardbarker's daily Top 10, featuring the best sports stories from around the web. Customize your newsletter to get articles on your favorite sports and teams. And the best part? It's free!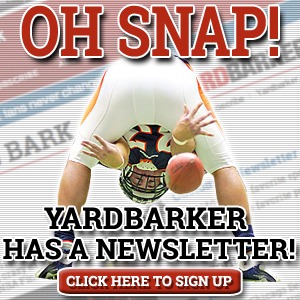 Latest Rumors
Best of Yardbarker

Today's Best Stuff

For Bloggers

Join the Yardbarker Network for more promotion, traffic, and money.

Company Info

Help

What is Yardbarker?

Yardbarker is the largest network of sports blogs and pro athlete blogs on the web. This site is the hub of the Yardbarker Network, where our editors and algorithms curate the best sports content from our network and beyond.