Posted September 15, 2012 on AP on Fox
PLAYERS:
Luis Cruz
,
Shane Victorino
,
Trevor Rosenthal
,
Joe Kelly
,
Andre Ethier
,
Hanley Ramirez
,
Mike Matheny
,
Adrian Gonzalez
,
Matt Holliday
,
Shawn Tolleson
,
Chris Capuano
,
Yadier Molina
,
Matt Carpenter
,
Carlos Beltran
,
Don Mattingly
,
Mark Ellis
,
Nick Punto
,
David Freese
,
Bobby Abreu
,
Chris Carpenter
,
Kenley Jansen
,
Ted Lilly
,
Jerry Hairston jr.
,
Scott Van Slyke
TEAMS:
Los Angeles Dodgers
,
St. Louis Cardinals
Luis Cruz wasn't a significant piece of the Los Angeles Dodgers' roster until third baseman Jerry Hairston Jr. went down for the rest of the season in mid-August with inflammation in his left hip. Since then, the four-year veteran has done more than his share to help keep his team in the postseason hunt. Cruz greeted St. Louis reliever Edwin Mujica with a first-pitch, three-run homer in the sixth inning Friday night, and the Dodgers tightened up the NL wild-card race with an 8-5 victory over the Cardinals. ''It was very uplifting,'' said Dodgers left fielder Shane Victorino as LA moved withing a game of the wild-card lead. ''In this game, confidence it very big. But to me, he's always been a great player, I played against him, and he's never gotten has his opportunity to really go out there and shine. Then it took Jerry getting hurt to get him his opportunity. And when he got it, he shined. ''He's one of those guys on this team that nobody talks about, but yet he's come up with big hit after big hit and played great defense. He's playing consistently at a high level, and I'm very happy for him,'' Victorino said. Trevor Rosenthal (0-2) inherited a 4-3 lead from fellow rookie Joe Kelly after five innings and gave up a leadoff single by Andre Ethier, who got the Dodgers back into the game in the third with a two-run homer. Rosenthal hit Hanley Ramirez on a 1-0 count two outs later and manager Mike Matheny made the switch to Mujica - who has given up 17 runs and six homers in 21 1/3 career innings against the Dodgers. ''I felt a little out of my timing today, so before that at-bat I just told myself to take a pitch, just to see if he was thinking about pitching me inside,'' Cruz said. ''But I was relaxed, and I saw it just hanging there. So I just reacted and hit it. But I wasn't trying to hit a homer.'' Mujica had allowed one run in 19 innings over his 20 previous appearances with St. Louis after he was acquired in a trade with Miami on July 31. The Dodgers had a similar come-from-behind victory over the Cardinals on May 20 at Dodger Stadium, when pinch-hitter Scott Van Slyke hit a go-ahead three-run homer off Mark Rzepczynski in the seventh inning. ''It was one pitch,'' Matheny said. ''We got him into trouble by putting a couple of guys on base, and that usually adds some tough outs. But he's been terrific for us. Joe was struggling, and it was one of those days for the bullpen to come in and pick up the starter in those middle innings. We all know very well that it's hurt us, and it continued to do so tonight.'' Adrian Gonzalez made it 8-4 with a two-run double in the seventh off the glove of a diving Matt Holliday. ''Tonight we scored some runs and played the game right,'' Cruz said. ''It's our time now. And from now on we're going to keep playing hard every day. We've got to keep fighting. We're never going to give up, and I think we're going to come through and win a wild card spot.'' Rookie Shawn Tolleson (2-1) pitched 1 1/3 innings of hitless relief for the victory after the Dodgers got starter Chris Capuano off the hook. Capuano was charged with four runs -- two earned -- and six hits in four innings, including second-inning solo homers by Yadier Molina and Matt Carpenter and a two-run shot in the third by Holliday. The temperature was 96 degrees when Capuano threw his first pitch, and the 34-year-old left-hander grew even hotter under the collar in the second inning when Molina drove an 0-2 pitch to left-center for his 19th homer and Carpenter added his sixth of the season two batters later. It was the 12th time Capuano allowed two homers in an inning during his eight big league seasons. The Dodgers, averaging only 1.6 runs over their previous eight games, got on the board in the bottom half when Gonzalez led off with a double and scored on a groundout by Cruz. But the Cardinals extended their lead to 4-1 in the third when Carlos Beltran reached on a two-out throwing error by shortstop Ramirez and Holliday cashed it in with his 27th home run. The Dodgers, who snapped a four-game skid, responded in the bottom half when Ethier got the green light from manager Don Mattingly on a 3-0 pitch and drove his 18th homer deep into the pavilion seats in right-center after a two-out walk to Victorino -- back in the leadoff spot for the first time since Aug. 27 with second baseman Mark Ellis getting the night off. ''Dre's home run on a 3-0 green light was huge,'' Mattingly said. ''He's dangerous and especially aggressive when you let him go on 3-0. This was a good time for those home runs. It's a two-game swing. I'm just glad I don't have to talk about another loss.'' Second baseman Nick Punto, starting his third game with the Dodgers since he was acquired on Aug. 25 in the nine-player trade with Boston, slid head-first into first base each of his first two times up on slow bouncers to third baseman David Freese. He was out the first time and safe the second time, but was picked off by catcher Molina in the fifth with pinch-hitter Bobby Abreu batting and the Dodgers down 4-3. Kelly allowed three runs and four hits in five innings with two strikeouts and two walks. Notes The crowd of 40,167 pushed the Dodgers home attendance total to 3,022,468. Last year they failed to reach 3 million for the first time in a non-strike season since 1992. ... RHP Chris Carpenter is scheduled to throw 90 pitches in a simulated game on Saturday with the hope of making his season debut for the Cardinals by next week. He was shut down during spring training because of thoracic outlet syndrome and underwent surgery July 19. ... Los Angeles closer Kenley Jansen, sidelined since Aug. 28 because of an irregular heartbeat, was given clearance to the team's medical staff to pitch again for the Dodgers as early as next Tuesday. ... Dodgers LHP Ted Lilly, who hasn't pitched for the Dodgers since May 23 because of shoulder inflammation, was shut down for the rest of the season and will undergo surgery on Sept. 21. He finished 5-1 with a 3.14 ERA in eight starts. ... Molina had no RBIs in 24 at-bats this season against the Dodgers prior to his homer.
Original Story:
http://msn.foxsports.com/mlb/story/lo...
THE BACKYARD
BEST OF MAXIM
RELATED ARTICLES
Both Ned Colletti and Don Mattingly will return to the Dodgers in 2013. Colletti's extension is according to Jon Heyman of CBS Sports, though no details have been released yet. Dodgers GM Ned Colletti and the team have a new deal to keep Colletti in the role he's held since late 2005, CBSSports.com has learned. ...
Luis Cruz and the Los Angeles Dodgers are showing the kind of spunk and tenacity that hasn't been seen around Chavez Ravine for quite a while, and now the playoffs aren't such a far-fetched possibility after all. Far from it. Cruz came up with his second clutch hit in two nights, a tying two-out RBI double in the ninth inning, and pinch-hitter Juan Rivera followed with a...
The Dodgers start arguably their toughest stretch of the season today against the Cardinals at Chavez Ravine. After being dealt a relatively easy early season schedule, things now get ugly down the stretch. From September 13th to September 27th, the Dodgers play the Cardinals (.524) for four, then play the Nationals (.622), Reds (.604), and ...
Los Angeles Dodgers pitcher Ted Lilly gave a valiant effort for over three months, trying to come back from a shoulder injury that has sidelined him since May. But on Friday that quest to return ended as he was shut down for the season. Lilly will have arthroscopic surgery on his left shoulder Sept. 21, performed in Los Angeles by team physician Dr. Neal ElAttrache. The procedure...
LOS ANGELES (AP) -- Luis Cruz came up with his second clutch hit in two nights, a tying two-out RBI double in the ninth inning, and pinch-hitter Juan Rivera followed with a run-scoring single to lift the Los Angeles Dodgers to a 4-3 victory over the St. Louis Cardinals on Saturday night. Jason Motte (4-5) came in trying to protect a 3-2 lead for Jaime Garcia and retired his first...
DO THE HUSTLE
There are embarrassing plays in baseball that demonstrate either a person is lazy and apathetic, or, perhaps as a free pass, may not be quite so fleet of foot, and then there are embarrassing plays that leave you scratching your head and almost feeling sorry for a guy. Los Angeles Dodgers pitcher Josh Beckett being retired at [...]
Your browser does not support iframes. Welcome back to the National League, Josh. Those of you who somehow missed all the stuff about pitchers pounding beers and hawking down fried chicken in Boston last year may not know this, but Josh Beckett isn't exactly a model of fitness. Watching him swing a bat during interleague play when he was with the Red Sox was always entertaining...
The Dodgers and Ned Colletti have agree to a contract extension, Jon Heyman of CBS Sports reports. The new deal will be for either two or three years. Colletti's current deal included a mutual option for next season. Colletti is best known for the great signings of Jason Schmidt, Juan Pierre, Andrew Jones that didn't work out, along with working out trades for Andre Ethier...
Los Angeles Dodgers general manager Ned Colletti has a new multiyear deal in place to remain with the team, CBS Sports reported Saturday. Colletti, who has been the Dodgers general manager since 2005, said Friday that Don Mattingly would return but nothing official about his own status. Colletti's new contract could be for up to three years, while other sources told CBS Sports...
Hanley Ramirez may have been a problem in Miami, but he was not the problem. If he was truly a malcontent in the clubhouse and was hurting the team off the field, the Marlins did the right thing in getting rid of him. On Thursday, Marlins team president David Samson told MLB.com the following when asked why Ramirez was traded to the Dodgers. "We just realized we couldn't win...
LOS ANGELES (AP) -- Allen Craig drove in Shane Robinson with the go-ahead run in the seventh inning, and the St. Louis Cardinals extended their NL wild-card lead over Los Angeles to two games with a 2-1 victory over the struggling Dodgers on Thursday night. Lance Lynn (15-7) pitched six innings of five-hit ball to earn his first win since July 27 for the Cardinals, striking out...
LOS ANGELES (AP) -- Allen Craig drove in Shane Robinson with the go-ahead run in the seventh inning, and the St. Louis Cardinals extended their NL wild-card lead over Los Angeles to two games with a 2-1 victory over the struggling Dodgers on Thursday night. Lance Lynn (15-7) pitched six innings of five-hit ball to earn his first win since July 27 for the Cardinals, striking out...
MLB News

Delivered to your inbox

You'll also receive Yardbarker's daily Top 10, featuring the best sports stories from around the web. Customize your newsletter to get articles on your favorite sports and teams. And the best part? It's free!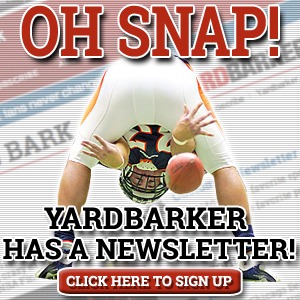 Latest Rumors
The Backyard

Today's Best Stuff

For Bloggers

Join the Yardbarker Network for more promotion, traffic, and money.

Company Info

Help

What is Yardbarker?

Yardbarker is the largest network of sports blogs and pro athlete blogs on the web. This site is the hub of the Yardbarker Network, where our editors and algorithms curate the best sports content from our network and beyond.