There were some eye-popping performances in the Dodgers minor-league system the last couple weeks. I got to see three of the Rancho Cucamonga Quakes games in person, which was awesome. There are some guys below folks should keep eyes on this season. They could establish themselves as legitimate prospects with solid performances in 2013. —– Triple-A Albuquerque Isotopes (4-2 and 5-2) Player Of The Week 4/22 Scott Van Slyke – 1B .480/.536/.800/1.336, 2 HR, 6 RBI, 2 2B, 7 R, 1 SB, 3 BB, 4 K Van Slyke is absolutely mashing the ball right now. Maybe he has a chip on his shoulder from being designated for assignment in the winter, maybe it's his improved physique. Whatever it is, he's doing everything right so far in Triple-A. Player Of The Week 4/29 Tim Federowicz – C .571/.583/1.238/1.821, 3 HR, 3 2B, 1 3B, 8 RBI, 6 R, 2 BB, 4 K Federowicz was the Pacific Coast League player of the week and posted some ridiculous numbers. Those numbers, coupled with Ramon Hernandez's struggles, helped Federowicz get recalled to the Dodgers on May 8. Pitcher Of The Week 4/22 Chris Withrow – RHP 2 IP, 1 H, 0 R, 0 BB, 4 K, 2 SV Withrow, a failed starter, is having some success with the Isotopes. While he's still walking too many hitters (6.4 BB/9), he's still getting strikeouts (12.1 K/9). He's on the 40-man roster and could get the call if the Dodger bullpen continues to falter. Pitcher Of The Week 4/29 Steve Ames – RHP 4 IP, 3 H, 0 R, 1 BB, 1 K, 1 SV Ames has been decent, but unspectacular this season. His strikeout rate is way down (10.2 last season, 5.2 this season) and he's giving up a lot of hits (15 in 12 innings), but he did spend some time on the disabled list. He's also on the 40-man roster, so a call-up could be in his future. —– Double-A Chattanooga Lookouts (2-3 and 1-5) Player Of The Week 4/22 Blake Smith – OF .300/.364/.450/.814, 1 HR, 1 RBI, 2 BB, 6 K Smith has struggled a bit this season in his second go-round in the Southern League. He's played a lot of left field because of Yasiel Puig's presence and prototypical right field profile. Player Of The Week 4/29 Joc Pederson – OF .300/.323/.533/.856, 2 HR, 1 2B, 2 RBI, 1 BB, 7 K Pederson is enjoying a fantastic start to his 2013 in the Southern League. There's some chatter he could be the outfielder the Dodgers recall ahead of Puig, should the situation present itself. I wouldn't be opposed to that. Pitcher Of The Week 4/22 Rob Rasmussen – LHP 5 IP, 2 H, 0 R, 2 BB, 8 K Rasmussen was acquired for John Ely this winter and has done a nice job at the back of the Lookouts' rotation. He's not going to overpower hitters, but he'll get his fair share of outs. Pitcher Of The Week 4/29 Rob Rasmussen – LHP 12 1/3 IP, 10 H, 4 R, 3 ER, 3 BB, 10 K Rasmussen was the pitching star for the Lookouts. He's small in stature, but he's off to a great start in the Southern League so far. He's a player to keep an eye on going forward, especially with Chris Reed and Andres Santiago struggling a little. —– High-A Rancho Cucamonga Quakes (3-3 and 4-2) Player Of The Week 4/22 Jonathan Garcia – RF .400/.429/.700/1.129, 1 HR, 3 2B, 2 RBI, 4 R, 1 SB, 0 BB, 4 K Garcia is repeating the California League after a dreadful 2012. So far, he's handling the league pretty well. He's spent a lot of time as the team's No. 3 hitter, but he was recently moved out of that spot. He has some decent raw power, but he swings and misses too much. He'll need to improve that this season. Player Of The Week 4/29 Darnell Sweeney – SS .333/.379/.556/.935, 2 2B, 2 3B, 2 RBI, 4 R, 3 SB, 2 BB, 7 K Sweeney has been a nice surprise since being drafted in the 13th round last year. He's now hitting third in the Quakes' lineup after hitting leadoff most of the season. His fielding leaves a lot to be desired, though. Pitcher Of The Week 4/22 Duke Von Schamann – RHP 7 2/3 IP, 3 H, 1 R, 1 ER, 2 BB, 7 K The 2012 15th-rounder is throwing well so far this season. He's an inning-eating starter a Class-A team desperately needs. And with Ross Stripling being promoted, von Schamann is the ace of the staff. Pitcher Of The Week 4/29 Garrett Gould – RHP 6 IP, 3 H, 0 R, 0 BB, 8 K Gould was named California League Player of the Week, although this honor could have gone to Jarret Martin (6 IP, 0 ER, 8 K). I actually saw Martin's start in person, but it's hard to argue against Gould's performance. The Quakes lost Martin's start but won Gould's. —– Low-A Great Lakes Loons (3-4 and 1-6) Player Of The Week 4/22 Corey Seager – SS .350/.350/.550/.900, 2 3B, 1 RBI, 3 R, 0 BB, 5 K Seager did most of his damaging a Loons' doubleheader sweep on April 21, but he did collect seven hits this week. He's off to a slow start (.236/.323/.364), but he's a few days shy of his 19th birthday. This is a tough, aggressive assignment for a teenager, and he'll be just fine going forward. Player Of The Week 4/29 Tyler Ogle – C/DH .269/.345/.423/.768, 1 HR, 1 2B, 2 RBI, 2 BB, 4 K There wasn't much offense in Great Lakes, but Ogle one of the most veteran hitters the Loons have and he had a decent week. He's been splitting time with Eric Smith at catcher and DH. Pitcher Of The Week 4/22 Lindsey Caughel – RHP 6 IP, 2 H, 1 R, 1 ER, 0 BB, 6 K Caughel has been the most consistent Loons' pitcher this season. He was recently promoted to Rancho Cucamonga, and it'd be a surprise if he were to pitch in Midland again this season. Pitcher Of The Week 4/29 Carlos Frias – RHP 6 IP, 4 H, 0 R, 2 BB, 5 K Frias led the Loons pitching staff and is making his first appearance with Great Lakes in his career. He's pitched at Ogden and, surprisingly, Rancho Cucamonga. So far, he's having success in the Midwest League. ===== Dustin Nosler is the founder of the site Feelin' Kinda Blue. He also co-hosts the weekly podcast Dugout Blues. Follow him on Twitter @FeelinKindaBlue or like his site on Facebook.
Original Story:
http://feedproxy.google.com/~r/ChadMo...
MORE FROM YARDBARKER
MLB News

Delivered to your inbox

You'll also receive Yardbarker's daily Top 10, featuring the best sports stories from around the web. Customize your newsletter to get articles on your favorite sports and teams. And the best part? It's free!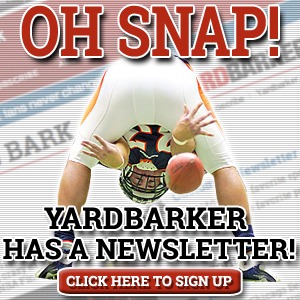 Latest Rumors
Best of Yardbarker

Today's Best Stuff

For Bloggers

Join the Yardbarker Network for more promotion, traffic, and money.

Company Info

Help

What is Yardbarker?

Yardbarker is the largest network of sports blogs and pro athlete blogs on the web. This site is the hub of the Yardbarker Network, where our editors and algorithms curate the best sports content from our network and beyond.