Found March 07, 2013 on The Southpaw:
The Dusty Edition! Now with no lambchops (thank the gods, I much prefer the new look).Yes as you might imagine, THE big story for me this week is the rekindling of the elusive dream of watching a healthy Dustin McGowan take baseball by storm. Yes, I know I know the odds have to be astronomical, but as long as HE believes, I believe. The Jays are saying, obviously, that his opportunity for now is in the bullpen, and that's new territory for McGowan in terms of the physical demands. But, while I'm assuming there will be a 15-day stint on the DL to open the season (to give him time to catch up AND to see who in the bullpen proves himself unworthy (I'm looking at you, Jefress) I'm going to go ahead and pencil McGowan in as the long man and theoretical #7 starter.This means that Jefress, options or no, has an uphill battle (I hope I don't have to explain why the Jays would rather lose HIM on waivers as McGowan). It also means Brad Lincoln is that much more likely to be the Bison's closer rather than be in the majors on opening day. What has not yet been said, but which I believe to be true, is that if the jays had relatively long term injuries in the rotation, McGowan would be no worse than the second option (behind JA Happ) to step in, even if it meant he had to be stretched out "on the job."In other news - cue the Chicken Little crowd, Sergio Santos has mild tricep soreness. Keep calm for now.Item: Colby Rasmus is a complex dude. He offered a negative review of  John Farrell's choices; he noted that he tried too hard to get out of the slump (understandable, and part of the maturation process to recognize the error of that); and he notes that he's probably more comfortable being "just another guy" out of the spotlight instead of a high-profile cog (which given what we've learned of his personality makes perfect sense). Along with Morrow and Lawrie, he's the guy i expect to really step up to the next level this year. Item: there as a minor kerkuffle ofmedia noise about Bautista's supposed anger issues at the plate. meh. i don't careto give that any thought.Item: a bit more buzz around Aaron Loup than seems warranted given the crowded situation for middle relievers.  Loup is pitching very well so far, but combine AA's "I've learned not to make decisions based on ST" with the reality that you have to find a way to deal with an out of options guy if he sticks, combined with his relative age and inexperience, combined with the potential that McGowan might somehow hold together...I just don't see it. Speaking of relief pitchers, the common cliche is that if Jeremy Jefress (for example) doesn't make the team, they would likely lose him on waivers since he's out of options. But i don't think so. My guess is that by the third week of March Alex will have fielded multiple offers on the three OOO guy sand be prepare to pull the trigger on whomever doesn't make the cut.None of them will be "lost" to a simple waiver claim, IMO.Item: more and more you see the stories praising both DeRosa and Blanco as Magical Mystery Players who bring serendipity and success to those around them even when they don't contribute much at the plate. I guess we'll find out.Item: making an exception to the "why bother with links?" principle again - it's worth your time to check out this update at DJF because it includes a section on the Centennial college writers who are doing features on interesting Jays prospects. That's refreshingly different. Item: in the ex-Jay department, Shi Davidi has a nice piece on Aaron hill that reinforces what we all should know but sometimes forget - there's so very much mental about the game that you simply can't assume that any statistical based projection system is going to give you a definitive idea of how good a player will be this year. It's the best we've got, but there's so much it can't adjust for. I remember many a conversation in 2011 about how Hill was clearly done, one of the worst 2B in the game, and Kelly Johnson was far superior.Even though I was a Hill supporter in that conversation, the experience taught me to try and not be so adamant about my views. There's so much more the team knows than what we know that to assume you KNOW the team made a mistake is irrationally foolish.
Original Story:
http://thesouthpawbaseball.blogspot.c...
THE BACKYARD
BEST OF MAXIM
RELATED ARTICLES
It's fair to say that Dustin McGowan is due a bit of good fortune but it remains to be seen as to whether the 31-year old can break back into the Toronto Blue Jays' pitching rotation this season. The former first-round pick is back from his latest injury setback and he has started pitching again in the hope of earning a chance for the Jays this season as long reliever. Neck and...
The Toronto Blue Jays will be without Brett Lawrie for a few weeks this spring.  Perhaps more importantly, Team Canada will be without him for the entire World Baseball Classic.  Lawrie felt a tightness in his side during a prep game for the WBC and has since been shut down for 2-3 weeks. According to Gregor Chisholm of MLB.com, Lawrie strained his left rib cage.  He will...
Many big-name pitchers found reason to say no to the World Baseball Classic. R.A. Dickey was an automatic yes. The knuckleball master, winner of the NL Cy Young Award with the New York Mets last season now plying his unorthodox trade with Toronto, made it known before anyone asked him that he wished to play. Now he will start for the United States in its WBC opener Friday night...
Roberto Alomar With a week to go in the 1990 regular season, the Toronto Blue Jays led the A.L. East by 1.5 games over the Boston Red Sox. Eight games and several heartbreaks later, the Jays found themselves on the outside looking in, as the " Boys from Beantown" hoisted the American League East crown. During the off-season that followed, the Jays management did what they felt...
I'm a big advocate of the Independent League baseball and always love to read about when someone works their way through the ranks. Whether it is back to minors or they're finally getting their opportunity, it shows just how hard it is to even get that chance.  In late December I wrote a piece on Tony Davis, a left-handed reliever for the Independent Quebec Capitales of...
Blue Jays News

Delivered to your inbox

You'll also receive Yardbarker's daily Top 10, featuring the best sports stories from around the web. Customize your newsletter to get articles on your favorite sports and teams. And the best part? It's free!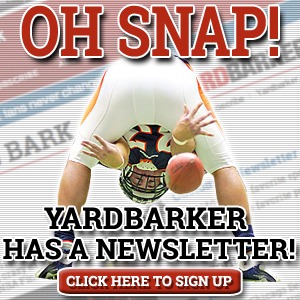 Latest Rumors
Best of Yardbarker

Today's Best Stuff

For Bloggers

Join the Yardbarker Network for more promotion, traffic, and money.

Company Info

Help

What is Yardbarker?

Yardbarker is the largest network of sports blogs and pro athlete blogs on the web. This site is the hub of the Yardbarker Network, where our editors and algorithms curate the best sports content from our network and beyond.