Found January 27, 2012 on Pirates Prospects:
PLAYERS:
Joel Hanrahan
,
Clint Barmes
,
Rod Barajas
,
Pedro Alvarez
,
Garrett Jones
,
Casey McGehee
,
Matt Hague
,
Chris Resop
,
Evan Meek
,
Starling Marte
,
Alex Presley
,
Tony Sanchez
,
Jose Tabata
,
Charlie Morton
,
James McDonald
,
Kyle McPherson
,
Jeff Locke
,
Brad Lincoln
,
Rudy Owens
,
Andrew McCutchen
,
Prince Fielder
,
Neil Walker
,
Jared Hughes
,
Duke Welker
,
Justin Wilson
TEAMS:
Pittsburgh Pirates
,
Detroit Tigers
Yesterday I looked at the 2013 payroll in a way-too-early projection. It's hard getting an estimate for the 2012 payroll, and that's only a few months away. The 2013 payroll seemed impossible due to all of the variables that can take place between now and the start of the 2013 season. So the 2014 payroll would be impossible to project. But we're not looking for accuracy here. We're just looking to get an idea of where the payroll will end up. Here is the 2014 projected payroll, as well as notes on what went in to the projection.
Some notes before we go on:
-All projections were made with the assumption that the player played on the same level as the 2011 season. I didn't want to make any assumptions on breakout years, or major declines.
-Guaranteed contracts are in bold.
-The Pirates will have Joel Hanrahan, Clint Barmes, Jeff Karstens, and Rod Barajas eligible for free agency following the 2013 season. I didn't include them on this list.
-Pedro Alvarez has an option year which he can decline if he's otherwise eligible for arbitration. I'm projecting that he will be eligible.
Now, let's break down the payroll projection.
The Prospects
I ran in to a situation when trying to estimate who would be on the 25-man roster. I had two choices. I could either keep the current roster, and add prospects in the open spots. Or I could remove some players that I didn't think would still be around, and replace them with prospects that I figured would be in the majors by this point.
Rather than continue the Garrett Jones/Casey McGehee platoon at first base, I removed both players from the list and estimated that Alex Dickerson would be in the majors by this point. Whether that's Dickerson, Matt Curry, or Matt Hague starting at first, it won't really make much of a difference from a payroll perspective, since all three would be making near the league minimum. I went with Dickerson because he's the top rated first baseman in the system.
I also removed Chris Resop and Evan Meek due to a lack of spots on the pitching staff. I don't think either player would remain for year three of arbitration, especially with Gerrit Cole and Jameson Taillon both expected to be in the majors by the 2014 season.
Starling Marte was projected as a starter in the lineup. Alex Presley is also on this list. I figure that he'd make a great fourth outfielder while he's a league minimum guy. The "will they trade Tabata or Presley" question will come up in the 2015 projection.
I projected Tony Sanchez at the catching position and Chase d'Arnaud in the shortstop position. Again, in either case the actual player doesn't matter from a payroll standpoint, since a guy coming from within is going to be making near the league minimum. As for Sanchez and d'Arnaud, I could see them arriving before the 2014 season, so don't read anything in to their omission from previous estimates.
The Pirates are in a situation where they project to have a lot of talented prospects on the team by the 2014 season. Obviously prospects aren't guarantees. There's no guarantee that Cole, Taillon, Dickerson, Sanchez, and d'Arnaud will all live up to their potential and become starting candidates at each position. If the Pirates run in to a situation where a lot of these positions can't be filled internally by 2014 — either by the players mentioned, or by some of the alternatives — then they've got a bigger issue to worry about than payroll.
Guaranteed Contracts
The Pirates have one guaranteed contract. That is Jose Tabata, making $3 M in 2014.
Third Year Arbitration Eligibles
Charlie Morton is the only third year arbitration eligible player in 2014.
Making Payroll Space
I could see Morton traded by this point. The rotation candidates at this point would be Cole, Taillon, Morton, James McDonald, Kyle McPherson, Jeff Locke, and Brad Lincoln. Those are just the guys I had on the 25-man roster in this estimate. Other candidates could include Rudy Owens, Nick Kingham, Colton Cain, Zack Von Rosenberg, Zack Dodson, etc. Going back to the common theme, I didn't put too much thought in to which league minimum player would be on the roster, since the focus here is payroll. However, with a lot of possibilities, and with Cole and Taillon headlining the rotation, the Pirates wouldn't need to pay over $6 M to Morton. They should have a cheaper alternative, which would allow them to spend elsewhere, if needed.
Second Year Arbitration Eligibles
The second year arbitration players will see a bulk of the payroll. The big spending will come with Andrew McCutchen. In McCutchen's case I tried keeping his value similar to that of Prince Fielder. Obviously the two players are far from being similar, although from a value standpoint I think they're similar, thus the similar contracts (Fielder had $6.5 M and $10.5 M in his first two years of arbitration. I've got McCutchen at $6 M and $10 M in his first two).
Neil Walker and James McDonald are the other two on the list. They combine for $10.5 M, meaning that these three players represent 46% of the total payroll.
Making Payroll Space
Just like Charlie Morton, the Pirates could cut payroll with McDonald if enough prospects are ready. If the Pirates were able to cut those two out of the payroll, they'd be down to about $34 M in payroll, giving them a lot of room to work with to support the rest of the team.
First Year Arbitration Eligibles
The big arbitration decision here will be Pedro Alvarez. It's really hard to estimate what he could make, since he's coming off a horrible year. If he doesn't rebound, he probably won't be on the team at this point. If he does rebound, it's a question of how well he does. If he manages to live up to his potential, he could make at least $6 M in his first year of arbitration, if not more.
Leroux and McCutchen are both first year arbitration eligible. Their amounts might seem high, although they're both innings eaters in the bullpen, which should increase their value.
Making Payroll Space
I don't expect Leroux and McCutchen to be around at this point, unless Leroux could make the transition to a starter or a late inning reliever. Again, the pitching depth could play a role here, as the Pirates would project to have Jared Hughes, Duke Welker, and Justin Wilson in the minors. All three should be ready to step in long before this, making it so that the Pirates could deal bullpen arms away before they start making seven figures.
Estimated 2014 Payroll
The estimated payroll above is $46 M. If the pitching depth comes along as expected, the Pirates could easily trim that down to the $32 M range. That gives them a lot of room to spend, either in the 2013-2014 off-season, or earlier if the right deal comes along. They could afford two players making $10 M, in addition to the $10 M that McCutchen is estimated to get, and still be in the low-$50 M range.
The most important thing in this estimate is the farm system. A big reason the Pirates would have that flexibility would be because of the current prospects who project to be in the majors by that point. The best players in this scenario project to be the lowest paid players, which would allow the Pirates to add talent to that group.
If some of these prospects don't work out, then the Pirates will have to use that flexibility to fill some of those holes on the roster. As mentioned above, the most important spots will be on the pitching staff. If the Pirates can produce some talented pitchers from the farm system, all making the league minimum, it will allow them to deal away some of the more expensive pitchers, which in turn will allow them to use that money on other areas of need.
Original Story:
http://feedproxy.google.com/~r/BuccoF...
THE BACKYARD
BEST OF MAXIM
RELATED ARTICLES
The organization has some true star power at the top of its minor league depth chart but things begin to peter out after the Top 3 prospects and the cupboard is rather bare by the end of the Top 15. The downside to the system is that the majority of the high-ceiling talent is currently in A-ball or lower so it will be a little while before the fan base begins to reap the benefits...
What else can baseball fans do in January but dream of October? In You May Say I'm a Dreamer, the Outside Corner staff will imagine the route to a World Series in 2012 title for all 30 teams. "Same Old Pirates." For a long time, every single glimmer of hope on Pittsburgh's North Shore was followed with that phrase. A good trade followed by an injury. A promising...
Six former Pittsburgh Pirates born on this date and we start with Emil Yde, a starting pitcher for the 1925 Pirates team that won the World Series. He spent three seasons in the minors before making his debut with the 1924 Pirates. Yde had gone 28-12 in 47 games and 339 innings for the Oklahoma City Indians of the Western League in 1923. The Pirates acquired him for minor league...
Only one former Pittsburgh Pirates player born on this date and no major transactions so Otis Clymer, right fielder for the 1905-07 Pirates, takes center stage today. He was born in 1876 and didn't make his major league debut until 1905 when the Pirates signed him away from the Buffalo Bisons of the Eastern League. His minor league career up to that point consisted of just that...
Follow me on Twitter @jim_krug Good morning.  Through my sources, I have acquired what appears to be a rejection letter from the United States Patent and Trademark Office, sent to a "Mr. Williams."  I can only assume this refers to a frequent Pittsburgh Pirates' contributor of the same name, but I could be mistaken.  Read on, and decide for yourself: Mr. Williams Patent...
It's hard to avoid the conclusion at this point that the Pirates won't be making any more significant upgrades to their rotation. In the last few weeks two guys they seemed to have targeted this winter based on prior connections to Clint Hurdle -- Aaron Cook and Jeff Francis -- both signed minor league deals with contenders. Former Pirate Paul Maholm signed a very reasonable...
The Mexican Pacific and Puerto Rican Leagues are just waiting for the Caribbean Series (which begins on Feb 2nd), while the Venezuelan and Dominican Leagues are still in their championship series.   Just a few Pirates' players and friends are still in action:   DOMINICAN LEAGUE    (best of 9 series) Aguilas Cibaenas  8,  Leones del Escogido  5 Four runs in the top of the...
Looking in on Pirates' players and friends in Saturday's winter league playoff games:   DOMINICAN LEAGUE Leones del Escogido  5,  Aguilas Cibaenas  2 Los Leones again took the lead in this best-of-9 series, with this win over Los Aguilas.  Los Leones now lead 4 games to 3, and need one more win to take the championship.  Los Aguilas were first onto the scoreboard with 2...
Jenifer Langosch examines the Bucs signing Erik Bedard, but not Paul Maholm, who would close if Joel Hanrahan was hurt, and more in her final Pirates Inbox.
MLB News

Delivered to your inbox

You'll also receive Yardbarker's daily Top 10, featuring the best sports stories from around the web. Customize your newsletter to get articles on your favorite sports and teams. And the best part? It's free!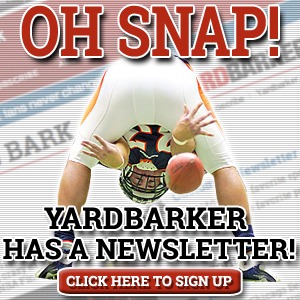 Latest Rumors
The Backyard

Today's Best Stuff

For Bloggers

Join the Yardbarker Network for more promotion, traffic, and money.

Company Info

Help

What is Yardbarker?

Yardbarker is the largest network of sports blogs and pro athlete blogs on the web. This site is the hub of the Yardbarker Network, where our editors and algorithms curate the best sports content from our network and beyond.