Found August 02, 2012 on Pirates Prospects:
ERIK TURGEON

RIGHT HANDED PITCHER
Born:
 March 25, 1987
Height:
6'0″
Weight:
170
Bats:
 Right
Throws:
Right
Drafted:
25th round, 764th overall, 2008 (Mets)
How Acquired:
 Minor league free agent
College:
University of Connecticut
Agent:
N/A
WTM'S PIRATE PLAYER PROFILES
Turgeon is the son of Dave Turgeon, who manages State College in the Pirates' system.  At the time he was drafted, Turgeon threw an 89-91 mph fastball and a good curve.  He's been used exclusively as a reliever so far.  The Pirates signed him to a minor league deal at the beginning of August.
2008
R+:  1-0-2, 4.05 ERA, 1.35 WHIP, 6.2 IP, 0.0 BB/9, 10.8 K/9
A-:  0-1-1, 2.76 ERA, 1.16 WHIP, 16.1 IP, 2.8 BB/9, 12.7 K/9
Turgeon served as a short reliever in his debut and struck out a lot of batters.
2009
A-:  1-0-1, 3.60 ERA, 1.60 WHIP, 15.0 IP, 4.2 BB/9, 6.6 K/9
A:  1-1-3, 3.18 ERA, 1.59 WHIP, 11.1 IP, 8.7 BB/9, 9.5 K/9
Splitting his time between short and full season ball, Turgeon wasn't as effective, largely due to control problems.
2010
A:  3-2-1, 1.46 ERA, 1.03 WHIP, 37.0 IP, 1.7 BB/9, 7.3 K/9
A+:  2-2-4, 3.56 ERA, 1.39 WHIP, 30.1 IP, 3.9 BB/9, 9.5 K/9
AA:  1-0-0, 3.86 ERA, 1.82 WHIP, 9.1 IP, 5.8 BB/9, 9.6 K/9
Turgeon started back in low A, but by the end of the year made his way to AA.
2011
AA:  5-4-7, 5.33 ERA, 1.54 WHIP, 72.2 IP, 2.6 BB/9, 6.4 K/9
AAA:  0-0-1, 27.00 ERA, 3.00 WHIP, 0.1 IP, 0.0 BB/9, 0.0 K/9

In AA, Turgeon mostly struggled, including some modest gopher ball problems (10 in 72.2 innings).
2012
AA (NYM): 1-3-0, 7.40 ERA, 2.26 WHIP, 24.1 IP, 4.4 BB/9, 8.1 K/9

Turgeon missed the first month of the season with a leg injury, then pitched only sporadically after that in AA.  He struggled when he pitched and the Mets released him in late July.
The Pirates assigned Turgeon to Bradenton, where he'll probably be an organizational reliever.
STATS
Baseball Reference–Minors
Fangraphs
MiLB.com
CONTRACT INFORMATION
2012:
Minor league contract
PLAYER INFORMATION
Signing Bonus:
 N/A
MiLB Debut:
2008
MLB Debut:
N/A
MiLB FA Eligible:
2014

MLB FA Eligible:
N/A
Rule 5 Eligible: Eligible
Added to 40-Man:
N/A
Options Remaining:
3
MLB Service Time:
0.000
TRANSACTIONS
June 6, 2008:
Drafted by the New York Mets in the 25th round, 764th overall pick.
July 27, 2012: 
Released by the New York Mets.
August 2, 2012:
Signed with the Pittsburgh Pirates as a minor league free agent.
Original Story:
http://feedproxy.google.com/~r/Pirate...
THE BACKYARD
BEST OF MAXIM
RELATED ARTICLES
What is the one thing aside from Jason Bay that really gets Mets fans in an uproar?  All the Mets fans are screaming "the bullpen!!!"  Well Mets fans, I have figured out what the Mets have to do to get this bullpen back on its feet. There is only one player that can save the Mets bullpen and bring us back to the glory and dominance that was experienced in the mid 1980s.  The...
Last night versus the S.F. Giants, New York Met starter Jonathon Niese needed 105 pitches to get through 7 masterful innings, allowing 1 ER while striking out five improving his record on the year to 8-5.  Niese bounced back from his worst start of the season to toss an absolute gem, telling reporters the following after the contest: "That's the beauty of this game, is that...
Could McHugh Be A September Call-Up? Welcome back for the second installment, and first Friday Edition of the brand new, MMO Mets Minors Beat. I'm your host, Petey Pete, and I'll be going over the transactions reports and box-scores everyday, scanning the team reports, talking to the players and coaches, pouring over reams of scouting reports and statistics. Analyzing, crunching...
It took two innings of free baseball to do it, but the Binghamton Mets won the rubber match of their series against the Harrisburg Senators on Thursday night at NYSEG Stadium by a score of 4-3. Dustin Martin's one out single in the bottom of the twelfth inning scored Raul Reyes from second base leading the B-Mets to their 53rd win of the season. Cory Mazzoni was on the hill for...
Catching up on some roster moves that took place yesterday in the farm system: **2012 compensation pick Barrett Barnes was placed on the 7-day disabled list. No reason was given in the press release, but I've learned that he's out with a lower leg stress related injury. He'll be out for a few days, and then the Pirates will reevaluate him and determine what type of return to...
Unlike when Luca met his demise, the Mets usually see it coming "Luca Brasi sleeps with the fishes". The Famous line from the movie The Godfather seems somewhat fitting for how the Mets looked in July. They looked like they were dead in the water. Now as the calendar has turned to August it seems as though they have come up for air and are beginning to steady the ship. The starting...
St. Lucie 2, Clearwater 5 Angel Cuan struggled behind and some poor defense a poor relief outing by Jack Leathersich aided in a 5-2 loss to the Clearwater Treshers. Cory Vaughn and Alonzo Harris had RBI on the day and the  S.Mets struggled to get runners in  position to score Key Players: Alonzo Harris – 2 for 5, 1 RBI, 1 SO Cory Vaughn – 0 for 4, 1 RBI 1 SO Blake Forsythe...
When I was a small child, the Mets were contenders every year. From age four through age eleven – with the slight blip of 1974 – the Mets were always in the hunt for the division, almost guaranteed to finish over .500. Everyone knew why: pitching, of course. Tom Seaver, Jerry Koosman, and Jon Matlack at the top of the rotations, complemented at points by Nolan Ryan, Gary...
The New York Mets planned to activate closer Frank Francisco from the 15-day disabled list before Friday's series opener against the San Diego Padres, ESPN New York reported. Francisco went on the DL with a left oblique strain June 22 against the New York Yankees. Before the game, he created a stir by calling the Yankees "chickens." He said he is still bothered...
Hello and welcome to another tantalizing day of Mets baseball. Tonight, the Mets play the San Francisco Giants for the third time in a row after splitting the first two games in the series. Last night, Tim Lincecum led the Giants to victory with a dominating performance. A solid start from Matt Harvey was encouraging, but not enough to get the Mets a victory. Tonight, it's Matt...
Carlos Quentin scored the go-ahead run in the seventh inning when he knocked the ball out of catcher Josh Thole's glove, and the San Diego Padres denied R.A. Dickey his 15th victory with a 3-1 win over the New York Mets on Friday night. Clayton Richard (8-11) limited New York to one run and eight hits in seven-plus innings. Dickey (14-3) held the Padres to one run and one hit...
Garrett Olson had a phenomenal outing, but the Bisons offense and a late-inning error doomed the Bisons in their 2-0 series opening loss. Garrett Olson had his best outing of the season, going seven innings allowing one run on two hits, walking one and striking out seven. Olson was consistently coaxing weak contact and getting the strikeout when he needed it. Robert Carson came out...
MLB News

Delivered to your inbox

You'll also receive Yardbarker's daily Top 10, featuring the best sports stories from around the web. Customize your newsletter to get articles on your favorite sports and teams. And the best part? It's free!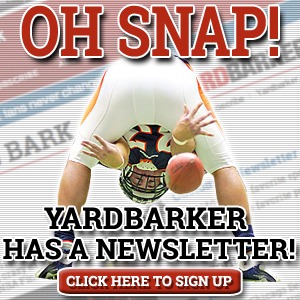 Latest Rumors
Best of Yardbarker

Today's Best Stuff

For Bloggers

Join the Yardbarker Network for more promotion, traffic, and money.

Company Info

Help

What is Yardbarker?

Yardbarker is the largest network of sports blogs and pro athlete blogs on the web. This site is the hub of the Yardbarker Network, where our editors and algorithms curate the best sports content from our network and beyond.