Found May 17, 2012 on Fox Sports Kansas City:
KANSAS CITY, Mo. The Orioles are a dramatist's dream and a copy desk's nightmare. They're deadline-killers in cleats, a late-night thrill ride, three-and-a-half games up on the Yankees and two games back of Jay Leno. They sleep for the first two hours of the ballgame, only to awaken like a hungry bear and spend the next half-hour going medieval on the furniture. Baltimore has hit 26 home runs in the seventh inning or later, the most of any club in Major League Baseball. Almost half the Orioles' long balls 43.3 percent have come after the sixth inning. When the O's come to town, the final three frames turn into the last two minutes of an NBA playoff game. If you love free baseball, these are the Birds for you. If you cherish a good night's sleep, well, not so much. "I think everybody's trying to find the reason that we're doing so well," first baseman Chris Davis said before Baltimore rallied from a 3-1 deficit to snatch a 4-3, 15-inning victory from the Royals late Wednesday night. "I think it's a lot of different things." In truth, the basic formula is ancient, tested and true: A little long ball here, a little clutch hitting there, and great pitching all over the place. It's like Earl Weaver never left. "You know, those are the things that make a good team great," Davis said. "When you can pitch and play defense and get some timely hits, it works out for you." As the baseball season nears its quarter mark 40 games the Orioles (24-14) headed into early Thursday morning tied for first place in the relentless American League East, one of the biggest surprises in The Show. With its cadre of young arms and Joe Maddon pushing the buttons, Tampa Bay was expected to hang around the penthouse for a while. But Baltimore? And yet, every time they announce last call, the Birds belly that much closer to the bar. With the Yankees missing Mo Rivera and the Red Sox's three-ring circus picking up steam, a little Buck Showalter and a lot of belief just might keep this ship afloat. "I mean, most people were like, 'Oh, they will fade out,' and they just played the Yankees and they played them really good," offered Royals pitcher Bruce Chen, who was on the O's roster from 2004-06. "So I think that, even though we played a good series against Texas, this (Orioles) team is dangerous, too." Before hitting Kansas City, Baltimore was coming off a 15-game baptism of fire that included two series with New York and one apiece with Boston, Texas and Tampa Bay. The Orioles went 9-6, and won eight of its 11 meetings with the Yanks, Rays and Red Sox. The O's are 13-4 in games decided by two or fewer runs. (The Royals are 8-10.) Baltimore is 5-2 in extra-inning contests. (The Royals are 0-3.) They've already won six games in which they were trailing after seven frames; 25 percent of their victories have stemmed from rallies in the seventh inning or later. Fortune is a fickle mistress in this game; nobody's certain how long they'll stick around. But they sure as heck don't plan on going away anytime soon. In the meantime, everybody seems to enjoying the ride. A few hours before Wednesday's contest, several Baltimore players were nestled into one corner of the visitor's clubhouse at Kauffman Stadium, watching the raunchy comedy "Super Troopers," and laughing their tails off. "We've got some leadership on this team with some older guys, at least for me, being a rookie, guys I can look up to and watch and kind of see how they go about their business," rookie infielder Ryan Flaherty noted. "A lot of our guys are loose, but at the same time, they're getting their jobs done." This two-game set is the first time Baltimore's turned up at The K with a winning record since 2005. The Royals had won seven of their last 10, teeming with mojo after a 4-1 road trip and a two-game sweep of Texas, breathing down the necks of the third-place White Sox. The finish line is eons away, sure, but this one actually had a little juice to it. For both sides. "Both teams, we're looking for recognition," Chen continued. "We're looking (at) establishing our name." Both teams tout fan bases starved for a pennant chase the Orioles haven't put together a winning campaign in 14 years. Both teams carry young pitching staffs with roughly the same average age (27.5). Both teams have gotten stellar work, for the most part, out of their bullpens. Of the lineups trotted out Wednesday, three of Baltimore's first five hitters were home-grown; Kansas City countered with five among its first six. The Royals may not live on the same block as the Orioles, but at least they share a zip code. "You think about the Rangers (four) years ago, they were barely at .500," Davis said. "And then a couple years down the road, they had some younger guys who came up to the big leagues and got some experience, and had some guys who won in the minor leagues that were at the big-league level at the same time. Now they've been to two World Series, back-to-back. So it definitely gives teams like us hope. "And then for us to turn around and start winning with not a bunch of superstars, but just a bunch of guys that are just really good baseball players, I think it gives other teams hope. It shows you that you don't have to have an 180-thousand-million payroll to compete with these teams." You don't. Although a little caffeine couldn't hurt. You can follow Sean Keeler on Twitter @seankeeler or email him at seanmkeeler@gmail.com
Original Story:
http://www.foxsportskansascity.com/05...
THE BACKYARD
BEST OF MAXIM
RELATED ARTICLES
Tuesday, Rany Jazayerli wrote an article for Grantland wondering if the Orioles are finally a winner in 2012. He has his doubts and begins by listing the multiple "teases" the O's have given their fans in the 21st century. Most of those comparisions are not really teases, at least not like the ride the Birds have taken us on this year. Most of examples Jazayerli points...
I wrote about the position players yesterday; Adam Jones is clearly playing over his head (we don't know by how much, but I'd wager that he doesn't end the year with 50 home runs), but otherwise things seem relatively reasonable overall. There will be some drop-off there, but maybe not a huge amount. It's on the pitching side where I think more people are holding...
I wrote this for MASNSports.com last week. *** As we are seven weeks into the 2012 season, the Orioles are flying high with a 19-11 record, and are a half-game out of first in the American League East. Baltimore's fast start has given players like Matt Wieters, Adam Jones and Chris Davis some national attention. However, one name that I don't see mentioned a lot happens...
On Tuesday, Adam Jones took a 1-0 fastball from CC Sabathia in the second inning and launched it out to left field. On Wednesday, in the 15th inning, he destroyed a curveball from Nate Adcock, breaking a 3-3 tie and giving the Orioles a go-ahead run that led to their extra inning win. Yesterday, the victim was Luke Hochevar, whose 4th inning slider didn't break far enough out...
Wei-Yin Chen pitched seven innings of four-hit ball, Adam Jones homered and the Baltimore Orioles beat CC Sabathia and the New York Yankees 5-2 Tuesday night. J.J. Hardy drove in two runs for Baltimore, which earned a split of the two-game series and improved to 1-4 at home against New York. Chen (4-0) allowed two runs, struck out four and walked two in a masterful performance...
Adam Jones homered with one out in the 15th inning, lifting the Baltimore Orioles to a 4-3 victory over the Kansas City Royals on Wednesday night. Jones was hitless in six at-bats before connecting for his team-leading 12th home run - nine of them tying the game or giving the Orioles a lead. Jones sent a 2-2 pitch from Nate Adcock (0-1), the fifth Kansas City pitcher, far over the...
Look what was waiting for WTOP radio station mobile app users in the D.C. area this morning. Backstory: RGIII was on Jay Leno last night doing some beatboxing. Blah, blah, blah. Of course nobody cares what happens on Leno at midnight. What we care about is the headlines dropped the next morning by some underpaid producer who gave us this "RG III beat off on Leno," gem. By the...
KANSAS CITY, Mo. (AP) -- Adam Jones homered with one out in the 15th inning, lifting the Baltimore Orioles to a 4-3 victory over the Kansas City Royals on Wednesday night. Jones was hitless in six at-bats before connecting for his team-leading 12th home run -- nine of them tying the game or giving the Orioles a lead. Jones sent a 2-2 pitch from Nate Adcock (0-1), the fifth Kansas...
This belongs in the Unfortunate Headline Hall of Fame (via @danielmbrewer1 via Kissing Suzy Kolber). Previously: RGIII Appears On The Tonight Show With Jay Leno
Well, if you're good at something might as well show it off. Redskins QB Robert Griffin III was on the Tonight Show with Jay Leno last night, but he wasn't showing off his masturbatory skills as WTOP 103.5, Washington's only all-news radio station, would have you believe with the above headline.  No, RG3 flashed his winning smile, "Go Catch Your Dream" custom socks with...
MLB News

Delivered to your inbox

You'll also receive Yardbarker's daily Top 10, featuring the best sports stories from around the web. Customize your newsletter to get articles on your favorite sports and teams. And the best part? It's free!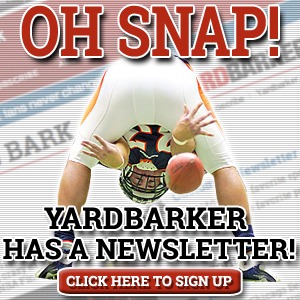 Latest Rumors
The Backyard

Today's Best Stuff

For Bloggers

Join the Yardbarker Network for more promotion, traffic, and money.

Company Info

Help

What is Yardbarker?

Yardbarker is the largest network of sports blogs and pro athlete blogs on the web. This site is the hub of the Yardbarker Network, where our editors and algorithms curate the best sports content from our network and beyond.