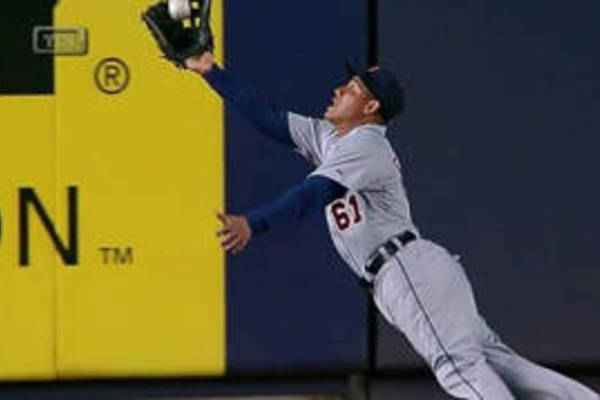 With the bases loaded and nobody out in the bottom of the 3rd inning, a deep fly to the left-center corner off the bat of Jacoby Ellsbury was absolutely robbed by Ezequiel Carrera, the rookie lefty who is platooning with Rajai Davis now that Austin Jackson has been traded to the Seattle Mariners as part of the David Price deadline deal. It surely would've earned an OHHHH CARRERA! from Rod Allen. Decent catch. http://t.co/iw4wFNkWOG — SB Nation GIF (@SBNationGIF) August 5, 2014 What a catch! pic.twitter.com/FajTNQzej2 — MLB Fan Cave (@MLBFanCave) August 5, 2014 If Carrera doesn't come down with this ball, all three runs might score. Instead, Max Scherzer only gave up two runs in the inning. You'll see this snag in the highlight reels for the rest of the season and beyond. ESPN said it was one of the best catches you'll ever see and even got a "Wow" from the great Derek Jeter.
Read the rest of this story...
MORE FROM YARDBARKER
MLB News

Delivered to your inbox

You'll also receive Yardbarker's daily Top 10, featuring the best sports stories from around the web. Customize your newsletter to get articles on your favorite sports and teams. And the best part? It's free!