Found January 04, 2013 on Philly Sports Live:
Phillies fans are quite used to general manager Ruben Amaro making the blockbuster big ticket move.  And, it's no wonder.  The Phillies pack the stadium every night at Citizen's Bank Park.  Last year, it's consecutive sellout record finally came to a halt at 257 games.  Although, quite frankly, there were times when I sat in…
Original Story:
http://phillysportslive.com/fantasy-b...
THE BACKYARD
BEST OF MAXIM
RELATED ARTICLES
Would Charlie be fired midseason? Our Phillies Nation contributors got together to give you their boldest prediction for 2013. What will Ryan Howard do? Could the Phillies really trade Halladay or Lee? How well will Cole do? Read our thoughts, then let us know what your bold prediction for the upcoming year is in the comments section. Charlie goes? -Brian Michael: The Phillies struggle...
As a youngster I grew up watching the Clay Dalrymple show before each Phillie game. My heroes back then were Johnny Callison, Wes Chamberlain, Tony Gonzales, Tony Taylor, Bill White, Johnny Briggs, Bobby Wine, Jim Bunning, Chris Short, and of course the man who would hit a shot off the wall in right field and only leg out a single, Clay Dalrymple. His show was brought to us by Tastycake...
Buster Olney of ESPN has produced a pretty fun series of articles this week. Day by day, Olney has posted on his Insider blog Top 10 lists for infield, outfield, rotation, line-ups, and Top 10 overall teams. Olney's rankings are comprehensive but can be confusing; for instance, the teams with the two highest ranked line-ups, the Angels and Brewers, are not in the overall Top 10...
The last big move for the Phillies this off-season is to get themselves a corner outfielder. With most of the big names and some small ones (Cody Ross) off the board, the Phillies have one option left, Alfonso Soriano. The $20 million outfielder who the Cubs have been shopping around would be a perfect fit for the Phillies. Last season Soriano belted 32 home runs and knocked in...
What can the Phillies expect from Roy Halladay in 2013? Wins, ERA, Complete Games Listen to the Philly Baseball Beat live at 8pm only on MTR Radio tonight. Are you missing baseball? Get your fix on the ONLY show dedicated fully to the Philadelphia Phillies!
Baseball players love to play pranks on each other, but this prank set up by Brett Myers on Kyle Kendrick kind of goes over the edge.  Charlie Manuel and Ruben Amaro Jr. are in on the prank as Kendrick is told that he's been traded to a Japanese baseball team. S/O: Fantasy Baseball Blog
As the off season winds down the Philadelphia Phillies still aren't happy with their outfield situation. They've got Domonic Brown, John Mayberry Jr., Darin Ruf, Laynce Nix and Ben Revere do you notice whats missing? A veteran presence and that's what general manager Ruben Amaro Jr is still searching for. "We've had several talks with free agents, although they're limited...
Listen to the Philly Baseball Beat live at 8pm only on MTR Radio tonight. Are you missing baseball? Get your fix on the ONLY show dedicated fully to the Philadelphia Phillies!
Talk Philadelphia Phillies, Eagles and more with Steve and Connie Mack. Join our discussion on Facebook throughout the show from 9pm to 10pm tonight on MTRRadio.com!
From the official Twitter account of the Crosscutters, the Phillies have filled one of their last Minor League coaching vacancies: Nelson Prada @nelyprada57 named manager of the Crosscutters. Spent last 8 seasons managing in Twins organization #GoCutters — Cutters Baseball (@crosscutters) January 3, 2013 Prada played four years, 1995-1998, in the Twins organization, reaching High...
Mike Adams' First Phillies Appearance Could Be on ESPN The Phillies will open the 2013 with a little bit extra exposure. The Phillies and the Atlanta Braves will open on Monday, April 1 at 7:00 p.m. in Atlanta. The game will be carried on ESPN2 as part of a four-game...
Things are slow in Phillsville, so what is a blogger to do? Well, this guy looks for fun pictures of anything Phillies related and in my quest came upon this gem. Scott Rolen is a villain in Philly, but damn that boy could pick it at 3rd.
Phillies News

Delivered to your inbox

You'll also receive Yardbarker's daily Top 10, featuring the best sports stories from around the web. Customize your newsletter to get articles on your favorite sports and teams. And the best part? It's free!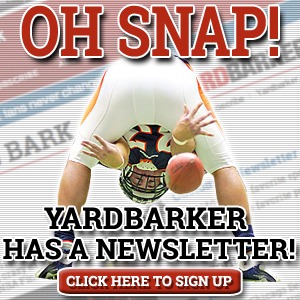 Latest Rumors
Best of Yardbarker

Today's Best Stuff

For Bloggers

Join the Yardbarker Network for more promotion, traffic, and money.

Company Info

Help

What is Yardbarker?

Yardbarker is the largest network of sports blogs and pro athlete blogs on the web. This site is the hub of the Yardbarker Network, where our editors and algorithms curate the best sports content from our network and beyond.