Found August 22, 2012 on NESN.com:
Breathe easy, Mariners fans. The King isn't relocating his castle any time soon. Of course, that's if you believe Felix Hernandez, who made a promise to Mariners fans that he'll be sticking around for the foreseeable future. "I'm not going anywhere," Hernandez told Mitch Levy of Sports Radio KJR-950. The right-hander then said,"I promise," when pressed on the issue further. That's certainly music to Mariners fans' ears, as was Hernandez's insistence that Seattle has the potential to win a championship at some point. However, this should hardly be taken as a legitimate promise. Not only did Hernandez seem somewhat uncomfortable...
Original Story:
http://www.nesn.com/2012/08/felix-her...
THE BACKYARD
BEST OF MAXIM
RELATED ARTICLES
Fans, analysts and general managers around baseball cannot seem to accept that Felix Hernandez may stay with Seattle. The fact that King Felix is the best young pitcher in the game and recently threw a perfect game does not neccessarily guarantee he will be pitching in a mega-market like Boston or New York at some point in the near future. The Mariners have their ace under control...
Mariners right-hander Felix Hernandez is regarded as one of the best pitchers in baseball. That means he'll be most expensive to re-sign when his contract expires at the end of the 2014 season. But Hernandez was convincing in an interview with Sports Radio KJR on Tuesday in a spot that focused mostly on his recent perfect game. Hernandez said he had only one other no-hitter...
Normally when a team has won six in a row at home, that's the story going into game No. 7. This isn't normally. Felix Hernandez, coming off the first perfect game in Seattle Mariners history, makes his first start since the perfecto Tuesday. The Mariners are making it a holiday of sorts, giving away 34,000 T-shirts to commemorate the game. Normally, 800-1,000 or so...
Last Wednesday, Felix Hernandez crafted his own place in the baseball history with just the 23rd perfect game in MLB history. As the city of Seattle watched their ace shoot himself into the record books, many businesses planned for a spike in their own books. The publicity and sense of Mariner pride brought out by this rare and spectacular performance reflected in sales; the businesses...
Another gem for the King The Headline: timely offense and a Felix Hernandez gem were all the Mariner's needed for this win. Seattle Mariners 5, Cleveland Indians 1 When: 10:10 ET, Tuesday, August 21, 2012 Where: Safeco Field, Seattle Temperature: 67 Umpires: Home — Chris Conroy, 1B — Mark Carlson, 2B — Wally Bell, 3B — Ed Hickox Attendance: 39,204 Love 'em 1. Felix How's...
Felix Hernandez was as good as can be the last time he took the mound, tossing the majors' third perfect game this season and the first in Seattle Mariners history. He was anything but perfect the last time he faced the Cleveland Indians. Hernandez looks to help Seattle win its season high-tying seventh straight game while running his personal unbeaten streak to 13 and avenging...
Felix Hernandez's perfect game against the Rays last week was one of the best sports moments of the year. One of the premier pitchers in baseball reaching hallowed ground? Yes please. Hernandez followed up his dominance last week with an oustanding performance last night, albeit one that wasn't perfect. In a 5-1 Mariners win over the Indians, Hernandez allowed just one run...
Felix Hernandez wasn't perfect. He was still dominant. Hernandez allowed one run in 7 2-3 innings in the first start following his perfect game, Jesus Montero hit a three-run homer in Seattle's four-run seventh inning, and the Mariners won their seventh straight beating the Cleveland Indians 5-1 on Tuesday night. Greeted by a crowd of more than 39,000, most of them in yellow...
June 2nd, 1990—that's a date that a lot of Mariners fans remember. Randy Johnson threw the first no-hitter in the franchise's history. Now 22 years later, on the 35th anniversary of Mariners baseball, and on the year that Johnson was inducted into the Mariners Hall of Fame, Felix Hernandez threw the Mariners' first Perfect Game. It seems only fitting that Johnson's battery...
Perfection never looked so good Finally it has happened. After 34 and a half years of Seattle Mariners baseball, one of our own has thrown a perfect game. Felix Hernandez faced 27 Tampa Bay Rays batters last Wednesday afternoon, and he sent them all back to the dugout without reaching base. Including 12 via the strikeout. Felix went on to win the AL Player of the Week award for...
At 6 p.m. EDT on Wednesday, Aug. 15, as El Dookie was signing books and slamming down Pineda coladas with the literati at the Colgate Inn, Felix Hernandez was mowing down 27 consecutive Tampa Bay Rays at Safeco Field in Seattle. The game the Yankees gained on the Rays that day could turn out to be big for the Bombers, but it's likely the last gift King Felix ever gives them (unless...
September is a short ten days away. Meaning as playoff races thicken, so do award races. Here is who I think will take home the big ones come November.   AL Cy Young Felix Hernandez- With a 2.54 ERA and a 12-5 record he doesn't seem to be many peoples first choice. But he has put new life in to this Mariners squad who has the best record in baseball since the All Star break....
Mariners News

Delivered to your inbox

You'll also receive Yardbarker's daily Top 10, featuring the best sports stories from around the web. Customize your newsletter to get articles on your favorite sports and teams. And the best part? It's free!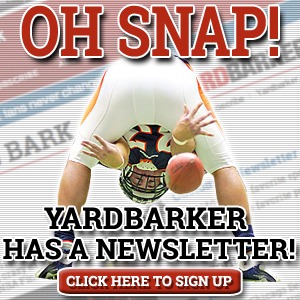 Latest Rumors
Best of Yardbarker

Today's Best Stuff

For Bloggers

Join the Yardbarker Network for more promotion, traffic, and money.

Company Info

Help

What is Yardbarker?

Yardbarker is the largest network of sports blogs and pro athlete blogs on the web. This site is the hub of the Yardbarker Network, where our editors and algorithms curate the best sports content from our network and beyond.