Found April 04, 2013 on Suicide Squeeze:
Morning Kids, Just waiting for the game to start and playing a little catch up on things. This is the last of the opening game series with the Royals. Gavin Floyd makes his first 2013 start on the mound with Tyler Flowers his catcher for today. Will walk you through the lineup as the game progresses. Just checking the league standings, we are currently sharing first place with the Cleveland Indians as the Detroit Tigers lost to the Minnesota Twins 3-2. The Seattle Mariners make their first visit of the season to The Cell for the start of a three game series before a day off on Monday and then its time to pack the bag kids it's the first road trip of the season. OK, off to make a coffee and will be back with you at the start of the game. Settle in Kids, Its game time…….. Here we come in the bottom of the first, Alejandro De Aza, Jeff Keppinger, Alex Rios. No ducks on base so it's a simple three up and three down inning. Bottom of the second sees, KC with a guy stranded at second and Adam Dunn heading to lead of the inning with Paul Konerko on deck and Dayan Viciedo in the hole. Bottom of the third and Gavin is looking really good, strong and settled in fairly quick in my book, holding K.C to just one hit and at the plate sees, Alexei Ramirez, on deck is Tyler Flowers (first duck on the pond with a walk)  and Gordon Beckham (Single and moves Tyler to third)  once again will round out the batting order for today. Two left on the corners and its off to the fourth inning. Top of fourth, Gavin has thrown 60 pitches to this point, he's looking solid and getting the job done with very little work. Still no score and I have a feeling it might be a long afternoon. Lost my audio so it's really TOO quiet. Rios with a single to center, and he was left on base to close the inning Fifth Inning sees Gavin's pitch count heading over 70, just issued his first walk of the game. Miscommunication between Gavin and Tyler allows a base hit and ducks on the corners. The walk just bit Gavin and K.C has their first run off the out at first. It's another run thanks to an E-8, runner at second so that's a 2-0 K.C lead. Another single has made it a 3-0 lead. Finally out of the inning but the damage is done for now. Time for the boys to take it up a notch and get those runs back. Tyler just walked so we have another duck on the pond. Gordon hits a single and sends Tyler to third, come on and make some NOISE. De Aza gets on the pond and Tyler heads for home making it a 3-1 game. Sixth Inning Three up and three down, Rios with a single, One duck left playing on the pond as we head to the seventh inning still down by 2. Seventh Inning – sees Gavin done for the day and moving on to the mound is Hector Santiago. Hector got out of a jam finally finding the strike zone. Stretch time kids. We have ducks at first and second and one out. Tyler is on third and Gordon is still at first. NO luck kids, and we are off to the eighth inning. Eighth Inning – First double play of the game in our favor, need two to tie and three to go ahead. That is three up and three down. Ninth Inning – ok Kids, its do or die here, we need two to send it to extra innings or three will win it. Tyler on base thanks to a walk, Beckham at the plate, and hits single to get on, that is his fourth single of the day. NO LUCK kids and that is the ball game. Time to wave so long to the Kansas City Royals  and await the arrival of the Seattle Mariners. Pitching was good and solid but I think once again it was simple mistakes that cost us.  It's a 7:10 p.m Chicago Start, 10:40am Saturday morning here in Australia. I will not be able to be with you for the Saturday game due to other commitments. OK, Have a super day and I will see you on the field CricketThis article has been read (3) times
Original Story:
http://thesuicidesqueeze.com/?p=1259
THE BACKYARD
BEST OF MAXIM
RELATED ARTICLES
This photo occurred during the 3rd inning between the Kansas City Royals and Chicago White Sox.  Thankfully, this will not be the last time we see a photo like this during the 2013 MLB Season.  When Kansas City Royals' 2nd baseman Chris Getz reaches first base this year, his first base coach Rusty Kuntz will be there to welcome him.  Occasionally we will be lucky enough to have...
by John Viril—Off-season acquisition Ervin Santana took the mound today in his first start for the Royals. He struggled through six innings in Wednesday's 5-2 loss to the White Sox in Chicago, displaying all of the red flags that skeptics used to criticize the trade that brought him to Kansas City. Santana's fastball fluctuated between 92 and 90 mph—showing that he had not...
KANSAS CITY, Mo. -- Absolutely, it is far too early to panic if youre a Royals fan. Getting overly emotional now, after a 0-2 start, is the NFL equivalent of tossing a shoe through your TV just because your team had to punt on its first series of the first game of the season. But, lets not forget that the Royals need to get off to a good start this season, or, at the very least...
by John Viril—While watching Kansas City roar back from an early 4-0 deficit against the Philadelphia Phillies in the 13-4 win on Friday, it occurred to me that the Royals roster is very well constructed for National League play, The Royals boast a deep bullpen full of young power arms. With no DH allowed in National League parks, they have a bench with right and left-handed pinch...
Your browser does not support iframes. Alex Gordon nearly had the catch of the year after climbing the wall in an attempt to rob Dayan Viciedo of a home run Wednesday. Viciedo was up with a runner on first, two outs, and his Chicago White Sox up 2-1 in the fourth when he belted a tailing fastball to left. Gordon was already playing deep and decided to climb the wall. He hopped on...
PHILADELPHIA (AP) Alex Gordon and Chris Getz each hit bases-loaded triples and the Kansas City Royals rallied to beat Philadelphia 13-4 Friday, spoiling the Phillies' home opener. The interleague matchup was a rare one between teams that first met in the 1980 World Series - the Royals' only other visit to Philadelphia came in 2004. After getting a total of 17 hits in their...
by John Viril—When I read that the Texas Rangers committed $131 million over the next 10 years to 24-year-old SS Elvis Andrus, I could not help compare this deal to the current contract the Royals have with their own Alcides Escobar. Royals GM Dayton Moore got a screaming bargain. The Royals control 26-year-old Escobar for the next five seasons (3 under contract with two club options...
Jeremy Guthrie struck out nine and gave up one run in six innings, and the Kansas City Royals snapped a two-game losing streak to start the season, beating the Chicago White Sox 3-1 Thursday afternoon. Guthrie (1-0) scattered five hits and walked one for Kansas City, which took its first lead of the season with three runs in the fifth inning and made it stick. Chicago right-hander...
Alex Gordon and Chris Getz each hit bases-loaded triples and the Kansas City Royals rallied to beat Philadelphia 13-4 Friday, spoiling the Phillies' home opener. The interleague matchup was a rare one between teams that first met in the 1980 World Series - the Royals' only other visit to Philadelphia came in 2004. After getting a total of 17 hits in their first three games...
Phillies (1-2) v. Kansas City Royals (1-2)Matchups: Friday - 4:05 - Oh no, it's KK v. Wade DavisSaturday - 7:05 - John Lannan v. Luis MendozaSunday - 1:35 - OGP v. Big Game JamesRoyals Pitching:The Royals turned heads this offseason when they sent highly touted hitter Wil Myers to the Rays for James Shields. While Shields is good, IF Wil Myers is as good as advertised, this will...
Our Palehose were unable to complete a series sweep this afternoon, falling to the Royals 3-1 in a game where all of both team's runs crossed the plate in the fifth inning. While the White Sox were able to defeat KC the first two games, this one looked all too familiar to the ones against the Royals last season, starting with the man on the mound ... "Cy" Guthrie...
It's only two games. It's early in the season. It's Chicago cold and damp compared to the hot, dry air of Arizona. Yes, there's reasons to not worry about the Royals 0-2 start. But It's the way they've lost those two games which cause concern, even this early in the season. Opening Day in Chicago. James Shields pitched well, striking out six and giving up eight hits...
MLB News

Delivered to your inbox

You'll also receive Yardbarker's daily Top 10, featuring the best sports stories from around the web. Customize your newsletter to get articles on your favorite sports and teams. And the best part? It's free!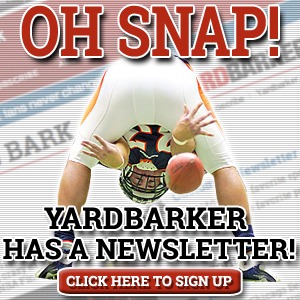 Latest Rumors
The Backyard

Today's Best Stuff

For Bloggers

Join the Yardbarker Network for more promotion, traffic, and money.

Company Info

Help

What is Yardbarker?

Yardbarker is the largest network of sports blogs and pro athlete blogs on the web. This site is the hub of the Yardbarker Network, where our editors and algorithms curate the best sports content from our network and beyond.