Found April 16, 2013 on Pirates Prospects:
PLAYERS:
James McDonald
,
Clint Hurdle
,
Jason Bay
,
Francisco Liriano
,
Jose Contreras
,
Alex Presley
,
Stolmy Pimentel
,
Tony Sanchez
,
Kris Johnson
,
Jameson Taillon
,
Brett Carroll
TEAMS:
Pittsburgh Pirates
,
Seattle Mariners
All of the warning signs are there for a James McDonald injury. – Image Credit: David Hague After the first start of the year from James McDonald, I got a question. "What is up with his velocity? Is he injured?" McDonald's velocity was down in the first game of the year. He ranged from about 87-92 MPH, but averaged 89 MPH with his fastball. Looking at this chart from FanGraphs, it was the first time in the last three seasons that he's averaged below 90 MPH in a game. He's only averaged 90 once. That start came last year, in his second outing of the season. He was normal the rest of the year. I didn't want to speculate an injury. It was one start, and it was cold. It wouldn't have been out of the ordinary for him to have a lot velocity, just like he did in the second start last April. Then the second start came this year, and again his velocity was low. This time it didn't have a wide range, averaging about 91 MPH and sitting 89-92. Tonight was his third start, and once again the velocity was low. He was 88-91 MPH with his fastball, and mostly sitting 89-90 MPH. Two years ago McDonald was averaging 92.7 MPH on his fastball. Last year that dropped to 91.8 MPH. Heading into this game he was at 90 MPH, and that probably won't change with this start. After the game, McDonald was asked questions about his health. Tom Bragg has the details in his game story. McDonald didn't want to answer the questions, and Clint Hurdle more or less avoided it by saying he hasn't talked to McDonald about his health. This is the third start where McDonald has struggled out of the gate. The first time the Cubs didn't capitalize, and he settled down after a few rough innings. In the second start he was hit for a few runs early, but rebounded against the Diamondbacks and went five innings. This time around he was shelled early, knocking him out of the game and preventing any bounce back after his early inning struggles. As noted above, his velocity has also been down. He doesn't have the stuff he's had in the past. Last year he had a 7.95 K/9 and a 3.63 BB/9 ratio. The year before it was a 7.47 K/9 and a 4.11 BB/9. So far this year he has a 5.93 K/9 and a 5.27 BB/9. He's throwing a first pitch strike 43.8% of the time, down from 55% the last two years. He's in the strike zone 42% of the time, down from 45-48% from 2009-2012. He's not fooling batters, with a 5.4% swinging strike ratio. The last three years he's been around 8.5%. Batters aren't swinging at his stuff as much in general. He has a 39.9% swing percentage, which is down from 45-48% the last few years. The velocity was down for the third start in a row. The ratios aren't normal. Batters aren't being fooled by his stuff, he's not throwing as many strikes, and he's not generating as many swings. McDonald might not want to answer the injury question, but all of these things are red flags that usually point to an injury. When you see decreased velocity, it's usually followed with an injury. When you see decreased velocity and a loss in command, that makes an injury more likely. You don't hope that a player is injured. However, in a case like this, eventually finding out that a player is injured is a sigh of relief. If it turns out that McDonald is injured, then that's the answer. His lost velocity, the lack of control, the lack of opponents swinging at his pitches, the lack of throwing strikes — they can all be explained away with an injury that can hopefully be fixed. The alternative is that McDonald is not injured. The alternative is that for an unknown reason he just tanked after the All-Star break last year, then lost velocity this year and got worse across the board. An injury provides an easy solution. There's no easy solution if McDonald is healthy. I'm not going to be surprised if McDonald eventually goes on the disabled list. All of the warning signs are there. I like McDonald. I've always liked his upside, even before he came to the Pirates. I still believe he can be a good starter in the majors when he's got his normal stuff. I don't believe this is his normal stuff. I don't hope that he's injured, but I do think there's a good chance he is injured. What I do hope is that there's a simple solution to these struggles, which would allow McDonald an easy route to get back to being more like the pitcher he was in the first half last year, and more like the pitcher I've thought he could become since the summer of 2008 when I wanted the Pirates to trade for him in the Jason Bay deal. Unfortunately, the only simple solution would be an injury. If I'm wrong about McDonald most likely being hurt, then those warning signs look much worse, because they point to a problem that has no obvious solution. Links and Notes **The 2013 Prospect Guide and the 2013 Annual are both available on the products page of the site. If you order them together, you'll save $5. Thanks for all of you who ordered the books yesterday. Unfortunately I couldn't hit up Sweetberries for the comeback win by the Pirates, since I was three hours away watching Francisco Liriano and Jose Contreras throwing in Jupiter. Pirates **Alex Presley Promoted, Irwin Demoted. **Pirates Pregame: McDonald Still Searching for Consistency. **Francisco Liriano Looks Sharp in Rehab Start; Contreras Shows Good Stuff. **McDonald Hit Hard in Pirates Loss to Cardinals. Prospects **Top Performers: Stolmy Pimentel is Helping to Make the Hanrahan Trade Look Good. **Top Performers: Stetson Allie's Power Wasn't the Most Impressive Thing This Week. **Prospect Notebook: Tony Sanchez, Kris Johnson and Victor Black. **The Prospect Notebook is undergoing a change starting this week. Each day will cover a different team, with each team getting one article per week. Monday will have Indianapolis features. Tuesday will be Altoona. Wednesday will be Bradenton. Thursday will be West Virginia. Friday will be the extended Spring Training notebook. When Jamestown, the GCL, and the DSL start up, we'll add those to the mix. Check out today's Indianapolis notebook above, with notes from John Fredland, who covered the team this weekend. Tomorrow John Eshleman will have an Altoona themed notebook. **Video Breakdown: Jameson Taillon's 10 K Outing. **Prospect Watch: Liriano Perfect, Holmes Impressive In Shutout. **Minor League Schedule: 4/16/13. **Stetson Allie and Brett Carroll Win Player of the Week Honors. **Draft Prospect Watch: Week Nine Recap, The Rise Of Moran.
Original Story:
http://feedproxy.google.com/~r/Pirate...
THE BACKYARD
BEST OF MAXIM
RELATED ARTICLES
He's caught over 300 foul balls, but no one ever thinks to pan a camera over on him to get it on video. Cardinals outfielder Carlos Beltran looks like he though he could've caught this one, but it was well out of his reach. Oh well. Here's to you, Mr. giant glove wearing man…
Garrett Jones is one of the biggest pull hitters in baseball. (Photo credit: David Hague) The Pirates did not need much help to hit into outs over the first week of the season, they were doing a good job all by themselves. Cubs manager Dale Sveum decided to make life a little more difficult for one of the Bucs' best hitters, Garrett Jones. On Opening Day, Sveum shifted his infield...
MLB News: The Pittsburgh Pirates purchased the contract of Vin Mazzaro from Tripla-A Indianapolis on Tuesday. His role on the club is expected to be middle relief. Fantasy Ramifications: None. The post Pittsburgh Pirates Purchase Contract Of Vin Mazzaro appeared first on Fantasy Sports Player Rankings - Baseball and Football - FFLockerRoom.com.
Below are the top Runs Created* totals in the Pittsburgh Pirates' farm system from the last week. The rankings include every hitter who had an at-bat for a Pirates' minor league affiliate, not including DSL teams, and with no limitations on whether the hitter has prospect eligibility. Players who spent time at different levels are counted multiple times, once for each level,...
Top prospect Gerrit Cole gets his third start of the season tonight, hoping to go at least five innings for the first time. Casey Sadler looks to win his third straight game. For a look at the possible starters over the next few weeks, please check out our Probable Pitchers Chart. A full recap of yesterday's action can be found here. Gerrit Cole was removed early from his second...
The Pittsburgh Pirates finally scored some runs for A.J. Burnett in his most recent outing, and their offense seems to have turned the corner since that victory. St. Louis' Shelby Miller could be capable of turning it right back around. Miller looks to build on the best outing of his brief career Wednesday night while Burnett hopes for another offensive boost as he tries to...
Your browser does not support iframes.Believe it or not, some fans still bring their glove when attending a Major League Baseball game. Because you just never know when you might get a chance to snare a souvenir.Well, the effort paid off for this Pittsburgh Pirates fan (shown above) on Monday, as he managed to engulf a foul ball hit down the first base line using one of the biggest...
Here is something you may have missed on Monday, as Pittsburgh Pirates fan made a huge catch. And when we say huge, we mean HUGE. Check out the grab, or the glove this Pirates fan used to haul in a foul ball off the bat of Climt Barnes I'm not positive what the MLB rule book states on the size of gloves for outfielders, but I would advise all of them to get similar to this guy...
Michael McKenry hit a huge 2 run home run to propel the Pirates to a sweep of the Reds The Pittsburgh Pirates finished off an impressive 3 game sweep of my dark-horse favorites to contend for the World Series, the Cincinnati Reds. The series provided a spark for the Pirates and it is looking as if the bats are about the come to the level the pitching has been at to open the...
Backup catcher Michael McKenry had the first two-homer game of his four-year major league career and Starling Marte hit a tiebreaking two-run drive in a six-run eighth inning Sunday, helping the Pittsburgh Pirates rally from a five-run deficit for a 10-7 win over the Cincinnati Reds. Cincinnati has lost five straight, its longest slide since last Aug. 5-9. The Pirates swept the...
When starting pitcher Corey Kluber struck out Jerry Sands to open the top of the seventh inning of Sunday afternoon's game at Huntington Park, the Columbus Clippers appeared to have seized the high ground over the Indianapolis Indians. Five Clippers' tallies over the fourth and fifth innings had cooled off hot Indianapolis starter Andy Oliver. Columbus' 5-2 lead presented a...
We are going to lose a Jonathan Sanchez start?  Nooooooooo! Wow. There isn't much in the world that sums up the 1980s quite like that. Last night's game will be rescheduled and it will start over. Sorry Pedro Alvarez, no hit for you. Imagine how different life would be if A.J. Burnett would have signed…
MLB News

Delivered to your inbox

You'll also receive Yardbarker's daily Top 10, featuring the best sports stories from around the web. Customize your newsletter to get articles on your favorite sports and teams. And the best part? It's free!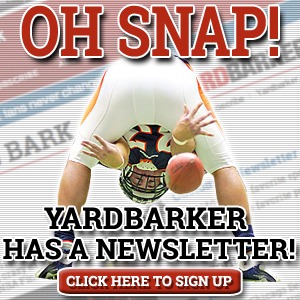 Latest Rumors
Best of Yardbarker

Today's Best Stuff

For Bloggers

Join the Yardbarker Network for more promotion, traffic, and money.

Company Info

Help

What is Yardbarker?

Yardbarker is the largest network of sports blogs and pro athlete blogs on the web. This site is the hub of the Yardbarker Network, where our editors and algorithms curate the best sports content from our network and beyond.