There's a phenomenon when it comes to prospects. It's called the "shiny new toy" syndrome. This syndrome is also the heart of the technological economy. The next cell phone you buy will be the greatest phone ever, and way better than the last phone you bought, which was the greatest cell phone ever. An iPad 3 coming out in March? Your iPad 2 is probably fine, but that's not going to stop you from wanting the next big thing. And with all of it, the item stops being the "greatest thing ever" not long after you bought it. Either the next big tablet comes out, or you get mad because you realize that you can't make it until 3:00 in the afternoon without throwing your phone on the charger. It's the same deal with prospects. It was only a year ago that Stetson Allie was rated a top 100 prospect. The scouting reports were all the same: a lot of upside, but very raw and bad command. Allie had yet to throw a professional pitch, yet his upside and potential was enough to make him one of the top guys in the game. Then he came out and lived up to the scouting reports. He still has the upside, but we confirmed that he was raw. The shiny new toy syndrome wore off. The saying goes "it's better to try and fail than to have never tried at all". That's not true in baseball when it comes to prospects. In fact, it's the exact opposite. It's better to have never tried at all. The Pirates placed four players on the Baseball America top 100 this year. Gerrit Cole, their top prospect, has never thrown a professional pitch. Jameson Taillon has 92.2 career innings. Josh Bell hasn't had a professional plate appearance. The only one with a lot of experience is Starling Marte, who represents the other end of the spectrum in prospect grades: someone with upper level success. The moment any one of these players starts to show a flaw, they will cease to become new toys. That's just the way it is in baseball. Remember all of the talk about Brandon Belt being the next big thing? How many people are talking about Belt now, after hitting for a .225 average and a .718 OPS in the majors? I think every team in the majors would take Belt, but we're no longer talking about him as the next big thing. We're now moving on to other guys who have the benefit of no major league experience. There's no doubt that the focus on prospects is greater now than it ever was. But the shiny new toy syndrome still exists. I think this leads to the new market inefficiency in baseball: players who have seen their stock take a hit. We've seen the Pirates go this route the last few years. Some of those moves have worked out. Jose Tabata was untouchable in the winter of 2007. The Pirates got him for Xavier Nady and Damaso Marte in July 2008, mostly because Tabata's stock fell with the Yankees after trouble on the field at the AA level, and off the field out of frustration for the on-field struggles. The Atlanta Braves refused to deal Charlie Morton and Jeff Locke in deals for guys like Jason Bay and Jake Peavy in 2008. Then in 2009, after Locke started to struggle in high-A for the first two months of the season, the Braves dealt both, plus Gorkys Hernandez, for Nate McLouth. Of course the moves haven't always worked out. The Pirates acquired a lot of former top prospects only to see them fail to regain that prospect status. Jeff Clement, Lastings Milledge, and Tim Alderson were the notable three players from this group. You might include Andy LaRoche in this group, although I'd argue his value dropped after he came to the Pirates, rather than before the trade. Of course the flip side to all of this is that when you've got a guy coming off a down year, you should avoid the normal reaction once the new toy status wears off. We've seen the stock drop on a few former top prospects this past year. Pedro Alvarez really struggled in his first full year in the majors. Tony Sanchez struggled in his jump to AA. Stetson Allie struggled with his control. Those guys could go the Clement route, but they could also go the Tabata route. It's impossible to say whether Alvarez, Sanchez, or Allie will be a Clement or a Tabata. But it does add some caution to all of the projections. It wasn't too long ago that Alvarez, Sanchez, and Allie were the next big things. They still could be, but there's little room for error when you're a young player. Show one weakness and it's on to the next big thing and the next big prospect. That kind of puts a lot of the rankings in perspective. It almost becomes more about who hasn't seen a flaw exposed, rather than who is truly the best overall player. And when using that criteria, it's better to have zero playing time under your belt, leaving the ranking entirely up to projections, and leaving no chance for a flaw to be exposed. Links and Notes **The Pirates Prospects 2012 Annual arrived this evening, and will start shipping tomorrow. If you haven't ordered the book yet, you can do so on the products page. Buy the Annual and the Prospect Guide together for a discounted rate. Or, if you already bought the Prospect Guide, you can use the $5 off code in the back of the book to get a discount on the Annual. **To celebrate the release of the book, Matt Bandi will be live blogging an old video of the early 1990′s Pirates. The Annual includes a 20+ page feature on the early 90′s Pirates. **I'll be on ESPN 970 tomorrow at 10:15 AM with David Todd. **Kristy Robinson takes a look at the upcoming seasons for Mike McKenry and Jeff Locke. Also, check out her blog for a recap of today's Spring Training events. **FanGraphs has a great interview with Greg Smith, who was the Pirates' director of scouting before being promoted to Special Assistant to the GM. Also on FanGraphs, a scouting comparison between Gerrit Cole and Jameson Taillon. **Kevin Goldstein of Baseball Prospectus lists the top prospect rotations. The Pirates were one of four in the "Star-Studded Department", ranking third behind the Arizona Diamondbacks and Atlanta Braves. The prospects listed were Gerrit Cole, Jameson Taillon, Luis Heredia, Kyle McPherson, and Colton Cain. **Some draft prospect updates: Victor Roache went 0-for-3 against Georgia Tech, but walked twice. Roache now has a 26% walk rate in 19 plate appearances in the young season. Mike Zunino went 2-for-4 with two doubles and a walk as Florida took on UCF. Zunino now has a .450 average, including hits in all five of his games this year, and four straight multi-hit games.
Original Story:
http://blogs.piratesprospects.com/wil...
PLAYERS:
Gerrit Cole
,
Starling Marte
,
Brandon Belt
,
Jose Tabata
,
Xavier Nady
,
Damaso Marte
,
Charlie Morton
,
Jeff Locke
,
Jason Bay
,
Jake Peavy
,
Gorkys Hernandez
,
Nate McLouth
,
Jeff Clement
,
Lastings Milledge
,
Tim Alderson
,
Andy LaRoche
,
Pedro Alvarez
,
Tony Sanchez
,
Kyle McPherson
TEAMS:
Pittsburgh Pirates
,
Arizona Diamondbacks
,
New York Yankees
,
Atlanta Braves
,
New York Mets
,
Chicago White Sox
,
Cleveland Indians
,
Georgia Tech Yellow Jackets
MORE FROM YARDBARKER
MLB News

Delivered to your inbox

You'll also receive Yardbarker's daily Top 10, featuring the best sports stories from around the web. Customize your newsletter to get articles on your favorite sports and teams. And the best part? It's free!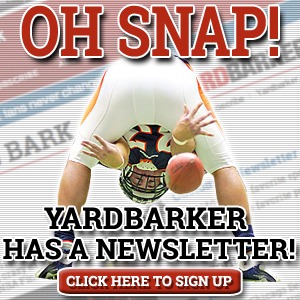 Latest Rumors
Best of Yardbarker

Today's Best Stuff

For Bloggers

Join the Yardbarker Network for more promotion, traffic, and money.

Company Info

Help

What is Yardbarker?

Yardbarker is the largest network of sports blogs and pro athlete blogs on the web. This site is the hub of the Yardbarker Network, where our editors and algorithms curate the best sports content from our network and beyond.