Found August 09, 2012 on Pirates Prospects:
We spent a lot of this summer debating when would be the best time to promote Starling Marte, who was in Triple-A and hitting well during the month of June. Can you imagine the discussions that are going on in Baltimore right now?
The Baltimore Orioles promoted Manny Machado to the majors tonight. What's surprising about this move is that he was skipped over Triple-A. What's even more surprising was that Machado wasn't even dominating the level. He had a .789 OPS with Bowie, with his last game coming against Altoona, where he went 1-for-3 with a homer.
I saw Machado a lot last year in the South Atlantic League. He's the real deal. But I think there's a big difference between having talent and being able to use that talent. Since Machado left low-A, he has put up a .692 OPS in high-A, followed by the .789 OPS in Double-A this year. I haven't seen him in action since then, so I'm not sure how he's looked versus the numbers. But I can't imagine those numbers are heavily misleading.
When Starling Marte was in the "When will Marte be Promoted" phase, the argument in favor of promoting him was "Look at Bryce Harper". Harper only had a .690 OPS in Triple-A, spanning 74 at-bats. That followed time in Double-A where he had a .724 OPS in 129 at-bats (which came after he was skipped over high-A). Yet Washington called him up, similar to what is happening with Machado now. Harper started off well, but has been struggling lately. His season OPS is down to .745. He had an .860 OPS in May, a .780 OPS in June, .619 in July, and .592 in August.
When Marte was on his hot streak, I pointed to the limited amount of games that made up his hot streak. My suggestion was to keep him down for another month and see if he could repeat those numbers over the long haul. That was early July. The Pirates did keep him down for almost a month. He's had some struggles since joining the majors, but he's starting to show some of those tools that had us ranking him so well the last few years.
Probably the most frustrating thing with prospects is that you only get one choice. We'll never know how Marte would have done if he was called up on July 1st. We'll never know what Harper could have done if he was called up in June, rather than April. And now that Machado is up, we will have to ignore what could have been had he gone through a normal progression, including Double-A success and time in Triple-A.
In all of these situations we tend to assume the best case scenario. Marte would have had this same success in early July that he's having now. Harper and Machado would have greatly benefitted with more time in the minors. But we don't know.
I'm not a fan of rushing prospects. I think patience is the best approach, although you probably know that if you've read me for any amount of time. I don't mind aggressive movements (SEE: Alen Hanson and Gregory Polanco to West Virginia, Luis Heredia to State College), but I think there's a fine line between "aggressive movements" and rushing a player. Aggressive movements are best in the lower levels, pushing a guy to a tougher league to challenge his skills. But when I think you get in to rushing players is when you get in to Harper/Machado territory. Harper barely had 200 at-bats above low-A before making it to the majors. Machado now has 402 at-bats above high-A, although he hasn't been dominating like he should. And looking back, if these guys have Pedro Alvarez type struggles early in their careers, it will be easy to find out what went wrong.
Links and Notes
**Join the DraftStreet freeroll and you could win part of a $350 prize pool. It's a one day fantasy baseball contest that's free to enter. It takes five minutes to enter and fill out your lineups, and if you're one of the top 12 teams on Friday you win cash. Click the link to enter.
**The Pirates beat the Diamondbacks 7-6.
**Pirates Notebook: Correia Adjusts in Spot Start; Presley in Triple-A to Get More At-Bats.
**Prospect Watch: McPherson Shines in Triple-A Debut.
**Kyle McPherson's Indians Debut Spoiled by Knights.
**State College Player Reports 8/8/12: Creasy, Harlan, Crumlich.
**Jeff Locke Officially Promoted, Alex Presley Optioned to AAA.
**Tyler Waldron Promoted to Altoona, McPherson Making Triple-A Debut.
**Minor League Schedule: 8/9/12.
Original Story:
http://feedproxy.google.com/~r/Pirate...
THE BACKYARD
BEST OF MAXIM
RELATED ARTICLES
About halfway to second, after he saw the path of the throw, you know he just wanted to turn around and head back to the dugout already
It's only been less than two weeks in the big leagues for Starling Marte, but we've already seen flashes of exciting plays from the 23-year-old that makes you see his special potential. He showed off his power in his very first pitch in his very first at-bat launching a home run in his 2-for-4 debut. We've seen him show off his cannon arm by nailing a runner trying to stretch...
So what happened in the sixth inning last night, with Bryce Harper at the plate with the bases loaded, two outs, and a 3-0 count? Just umpire Angel Hernandez being Angel Hernandez, inserting himself into the game yet again by calling three straight balls, strikes, against Harper. Angel's strike zone was all over the place all night long (at one point it was even spotted getting...
When we here at TOC did our midseason awards, Bryce Harper of the Nationals won the NL Rookie of the Year award in a shutout. But today, Harper doesn't even look like the presumptive winner, unlike Mike Trout in the American League. Harper's OPS is down to .745, lower than that of Brewers Japanese outfielder Norichika Aoki, Reds first/third baseman Todd Frazier, Rockies...
Thanks to the magic of Kristina Akra on MASN last night, we learned that some kids ended up with Gio Gonzalez's first career home run ball, then traded it for a couple of baseballs autographed by Bryce Harper. Of course they did. And here's the guy who almost threw Gio's HR ball back onto the field; thankfully he gave it to the kids. (Screen caps via MASN/MLB...
Your browser does not support iframes. After striking out on a Ricky Nolasco curveball in the fourth inning, Harper slammed his bat on home plate in frustration and snapped it in half. It startled Marlins catcher John Buck, who jumped back. According to the South Florida Sun-Sentinel, Harper apologized to Buck when he came back up to hit in the sixth. What's the verdict? Love the...
In Major League Baseball, the debate of which young phenom will have the better career is all the rage. These phenoms, of course, are Mike Trout of the Angels and Bryce Harper of the Nationals. Trout, who just turned 21, is the unanimous AL Rookie of the Year and perhaps MVP. He has almost single handedly turned around a struggling Angels team and continues to impress in every game...
Buster Olney took umpire, Angel Hernandez, to task in Olney's ESPN column (subscription) today. The incident occurred in the game between the Washington Nationals and Astros. Olney quotes from an Adam Kilgore story that Bryce Harper was called out on strikes against Armando Galarraga and was not happy about it. Harper then was, according to Olney, schooled by Hernandez who called...
FP Santangelo is apparently the Andy Martino of baseball broadcasting. FP, the Gnats 'color man' on MASN had this exchange with lead announcer Bob Carpenter. FP – [The Phillies] sellout streak ended tonight, apparently. 257 games. Bob – That's a great run. FP – They're gonna have to take back their own ballpark. Bob – Now that is funny.[pause] We took our's back...
FP Santangelo is apparently the Andy Martino of baseball broadcasting.FP, the Gnats 'color man' on MASN had this exchange with lead announcer Bob Carpenter.FP - [The Phillies] sellout streak ended tonight, apparently. 257 games.Bob - That's a great run.FP - They're gonna have to take back their own ballpark.Bob - Now that is funny.[pause] We took our's back.Zing...
The Future is Now for the orioles Machado will make his first MLB start for the Orioles tonight   While most of the beltway has had their heads turned by the great year the Washington Nationals have been having, another large group of DMV natives have just been waiting for RGIII to make his debut. Then there is this little small group of people who have stayed focused on the...
MLB.com's Richard Justice joins Fox Sports Tonight to discuss the latest news in Major League Baseball and his newest column on Bryce Harper's diminishing chances of winning National League Rookie of the Year.
MLB News

Delivered to your inbox

You'll also receive Yardbarker's daily Top 10, featuring the best sports stories from around the web. Customize your newsletter to get articles on your favorite sports and teams. And the best part? It's free!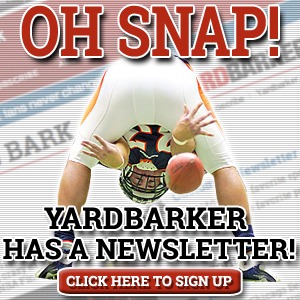 Latest Rumors
The Backyard

Today's Best Stuff

For Bloggers

Join the Yardbarker Network for more promotion, traffic, and money.

Company Info

Help

What is Yardbarker?

Yardbarker is the largest network of sports blogs and pro athlete blogs on the web. This site is the hub of the Yardbarker Network, where our editors and algorithms curate the best sports content from our network and beyond.