Found February 13, 2013 on Pirates Prospects:
PLAYERS:
Brandon Inge
,
Gaby Sanchez
,
Garrett Jones
,
Pedro Alvarez
,
Matt Diaz
,
Casey McGehee
,
Carlos Pena
,
Mark Reynolds
TEAMS:
Oakland Athletics
,
Pittsburgh Pirates
,
New York Yankees
,
Houston Astros
,
Cleveland Indians
My initial approach with the Brandon Inge news tonight was the same as any minor league signing: acknowledge that it happened and move on. Danny Knobler reported that the Pirates are close to a minor league deal with Inge, who turns 36 this season. Like 99% of minor league deals, this one comes with no risk, and a small chance to provide some sort of reward. For that reason, there's not much point in analyzing what Inge could do for the Pirates in 2013. Chances are he'll spend time in Triple-A, and if he does make the majors, he's not going to make much of an impact. In looking over his stats, I noticed that Inge has a platoon split. He crushes left-handers, but struggles against right-handers. I thought about how the Pirates have a few left-handed platoon options, but really only have one right-handed platoon option. That option is Gaby Sanchez, who will be platooning at first base this year with Garrett Jones. Then I thought about a potential platoon on the other side of the diamond. Last year at this time there was a debate on where Pedro Alvarez should have started the season: Triple-A or the majors. You don't hear much of that debate following Alvarez's 30 home run season in 2012. Now the conversation is on whether Alvarez can improve on his 2012 numbers. He had the power, with 30 homers and a .467 slugging percentage in 525 at-bats. What he didn't have was the average. Alvarez hit for a .244 average with a .317 OBP. He also struck out way too much, sitting at 30% for the third year in a row. Charlie wrote about the strikeouts a few days ago, and looked at some comparable players who have had similar strikeout numbers to what Alvarez saw in 2012 (180 strikeouts). The results weren't encouraging, and don't give much hope that Alvarez can improve his ratios and see an increase to his average in the future. Is Pedro Alvarez a platoon player? Aside from the strikeout problems, it's pretty well documented that Alvarez struggles against left-handers. Last year he had a .207/.270/.379 line in 140 at-bats against left-handers. That's compared to a .257/.334/.499 line in 385 at-bats against right-handers. In his career, Alvarez has a .247/.321/.454 line against right-handers and a .209/.281/.353 line against right-handers. The overall numbers against right-handers are low, mostly because Alvarez couldn't hit anyone in 2011. The addition of Inge, his platoon splits, his ability to play third base (career 6.8 UZR/150), and Alvarez's struggles against left-handers got me thinking about the idea of platooning Alvarez. I'm not necessarily saying Brandon Inge should be the guy for the job. I'm looking at this more in a general "Should Pedro Alvarez be in a Platoon" way. To start the debate, let's look at the career platoon splits of Alvarez next to an established platoon player. Pedro Alvarez: .209/.281/.353 in 292 AB vs LHP Player A: .210/.249/.381 in 328 AB vs LHP The stat lines are almost identical. Alvarez has a higher on-base percentage, the mystery player hit for more power, and the end result is that they both had an OPS around .630 against left-handers. Player A is Garrett Jones through the 2010 season. That's how long the Pirates gave Jones before they determined he was a platoon player. They brought in Matt Diaz for the 2011 season, Casey McGehee in 2012, and Gaby Sanchez for 2013. So far Jones has done his part in the platoon by hitting right-handers, and every time he's seen an increased role against left-handers he has struggled. It's pretty much accepted that Jones is a platoon player. So why haven't we accepted the same thing from Alvarez after the same overall results in the same amount of playing time? I think Alvarez can settle in as a Carlos Pena/Mark Reynolds type player — hitting for a lot of power, but putting up a low average in the process. One thing that drives his average down is his inability to hit left-handers. If you added a platoon player who could replicate his power against left-handers, while hitting for a better average or getting on-base at a higher rate, then you'd add value from the third base position. The value wouldn't be coming from Alvarez, but that's not important. A guy like Brandon Inge would be the perfect complement to Alvarez in a platoon. Inge has a career .791 OPS against left-handers. He's got a .194 ISO, which is better than Alvarez's .144 ISO against lefties (.172 in 2012). He plays good defense at third, and can serve as a bench bat and backup infielder during the time that Alvarez is starting. The downside is that if you turn Alvarez into a platoon player now, he's got no chance of improving against lefties. He's seen some improvements with his power against left-handers over the last three years. 2010: .114 2011: .131 2012: .172 That was a big jump in 2012, and his OPS was .648, which was right around where it was in 2010 (again, he couldn't hit anyone in 2011). So how do we know that's the ceiling? What if Alvarez improves again in 2013? If he saw another improvement, he could become passable against left-handers just on his power alone. The reason I wouldn't necessarily recommend Inge is because he has a Matt Diaz look to him. Diaz had good career numbers against lefties, but was coming off a down year when he came to the Pirates. He then proceeded to struggle against left-handers in 2011. Inge has good career numbers, but wasn't close to those numbers in 2012. He had a .209/.276/.417 line. The ISO was better than Alvarez, but the OPS was only 50 points better. I'm not sure that a 50 point difference in OPS over about 100-200 at-bats is worth benching Alvarez. The Pirates would be better off waiting to see if Alvarez continues his upward trend of power against lefties. In the mean time, they can keep Inge in Triple-A or on the bench in the majors to see if he can still hit left-handed pitchers. If Alvarez doesn't show any improvements against left-handers, or starts to fall from his 2012 power numbers, then it wouldn't be a bad idea to start considering a platoon. Alvarez would still be able to provide an impact going up against right-handers, but a platoon in that situation would allow the Pirates to upgrade the at-bats where Alvarez would normally be struggling against lefties. Links and Notes **The 2013 Prospect Guide is now available. The 2013 Annual is also available for pre-sales. Go to the products page of the site and order your 2013 books today! **Spring Training 2013 Position Battles: Right Field. **Pirates Close to Deal With Brandon Inge.
Original Story:
http://feedproxy.google.com/~r/Pirate...
THE BACKYARD
BEST OF MAXIM
RELATED ARTICLES
Last night we heard that the Pittsburgh Pirates were close to a deal with Brandon Inge. This morning the team made the move official via press release. Inge is coming in on a minor league deal with an invite to Spring Training. There are now 61 players in camp. The Spring Training tracker has been updated.
Baseball Prospectus released a list of nine breakout candidates, with each writer picking one player to have a breakout season in the majors in 2013 (h/t Rumbunter). One of the breakout candidates was Travis Snider, who looks to be the favorite to win the starting right field job. Hudson Belinsky picked Snider as his breakout player, noting that the outfielder "could have a very...
With pitchers and catchers reporting today, and Spring Training starting up this week, we will be previewing the position battles to follow throughout the Spring. To keep track of the players who are in camp, and the updated status of each position battle, check out the 2013 Pittsburgh Pirates Spring Training Tracker. I've already reviewed two of the position battles heading into...
With pitchers and catchers reporting today, and Spring Training starting up this week, we will be previewing the position battles to follow throughout the Spring. To keep track of the players who are in camp, and the updated status of each position battle, check out the 2013 Pittsburgh Pirates Spring Training Tracker. The Pirates have done a lot since the trade deadline to address...
Top pitching prospect Jameson Taillon is making his debut in Major League Spring Training this year, although realistically it is only for the experience, with Taillon having no chance of making the major league team on Opening Day. The right-hander will go to Double-A to start the 2013 season, and if he pitches the way he did at the end of the 2012 season, he should find his way...
With pitchers and catchers reporting today, and Spring Training starting up this week, we will be previewing the position battles to follow throughout the Spring. To keep track of the players who are in camp, and the updated status of each position battle, check out the 2013 Pittsburgh Pirates Spring Training Tracker. The Pirates only have one established outfielder at the major...
 Brandon Inge is 35 years old and still reinventing himself.  The diminutive catcher turned third baseman looks to extend his career again, this time as a member of the Pittsburgh Pirates.  Inge agreed to a minor league deal yesterday that includes an invitation to the Pirates major league camp. Only 5'11" 190 lbs., the Lynchburg, Virginia native spent his...
Spring training is hurtling towards us at a rapid pace, but the Pirates are apparently still filling out the fringes of their spring roster. While everyone was watching burning cabins and presidential speeches last night, the Pirates were signing Brandon Inge to a minor league deal. Inge, of course, spent most of his career in Detroit before being released by the Tigers in April...
Baseball players seem to suffer the most bizarre injuries imaginable.Take new Pittsburgh Pirates pitcher Francisco Liriano for example. The southpaw inked a one-year deal with the Buccos this past Friday, however, the signing almost didn't come to fruition.In December, Pittsburgh and Liriano were reportedly close to agreeing to a contract before it was announced that Liriano...
KRIS BRYANT 3B, San Diego Born: January 4, 1992 Height: 6′ 5″ Weight: 215 Bats: Right Throws: Right Class: Junior Level: NCAA Advisor: N/A Links: All Kris Bryant Posts SCOUTING REPORT The Pirates will eventually have to replace Pedro Alvarez at third base, whether that's when he leaves via free agency, or if he eventually needs to move to first base. Bryant...
The college baseball season begins tomorrow, which marks the beginning of draft prospect season. Ever since this site started, one of the goals has been to keep track of the players who could potentially be taken by the Pirates each year in June's draft. We keep individual player trackers updated with stats throughout the year, and have at least two weekly updates on the progress...
BRANDON INGE THIRD BASEMAN Born: May 19, 1977 Height: 5'11″ Weight: 190 Bats: Right Throws: Right Drafted: 2nd Round, 57th Overall, 1998 (Tigers) How Acquired: Minor League Free Agent College: Virginia Commonwealth University Agent: ACES WTM'S PIRATE PLAYER PROFILES Inge has had an interesting career.  He was considered a strong prospect coming up with...
MLB News

Delivered to your inbox

You'll also receive Yardbarker's daily Top 10, featuring the best sports stories from around the web. Customize your newsletter to get articles on your favorite sports and teams. And the best part? It's free!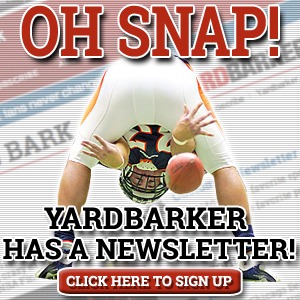 Latest Rumors
Best of Yardbarker

Today's Best Stuff

For Bloggers

Join the Yardbarker Network for more promotion, traffic, and money.

Company Info

Help

What is Yardbarker?

Yardbarker is the largest network of sports blogs and pro athlete blogs on the web. This site is the hub of the Yardbarker Network, where our editors and algorithms curate the best sports content from our network and beyond.