Found April 09, 2013 on Pirates Prospects:
PLAYERS:
AJ Burnett
,
Wandy Rodriguez
,
Jeanmar Gomez
,
Gerrit Cole
,
Kris Johnson
,
Charlie Morton
,
Francisco Liriano
,
Kyle McPherson
,
Jeff Locke
,
Neal Huntington
,
Phil Irwin
,
James McDonald
,
Jonathan Sanchez
,
Justin Wilson
,
Stolmy Pimentel
TEAMS:
Pittsburgh Pirates
At the start of the season, the Pittsburgh Pirates looked to have a great situation at the top of their rotation. A.J. Burnett had made 31+ starts each year since 2008. Wandy Rodriguez had made 30+ starts each year since 2009. They looked like guys who could give the Pirates a full seasons worth of starts, while potentially putting up 200 innings each. Rodriguez left tonight's game with tightness in his left hamstring in the third inning. It's unknown how serious the injury is, or whether he will need a trip to the disabled list, since the injury will be reevaluated tomorrow. The Pirates do have some options if Rodriguez does miss some time. That doesn't mean those options will replicate the numbers Rodriguez was capable of, but it does mean they won't be relying on Jeanmar Gomez to step into the rotation. Here is a breakdown of each available starter. Non-Options Gerrit Cole - The obvious name that will come up is Gerrit Cole. He's the top prospect in the system, and has the upside of a number one starter. The problem is that Cole isn't there yet. He began his 2013 season on a strong note, throwing three shutout innings. He gave up three runs in the fourth inning, and was removed when the inning was completed. That's only one start, but Cole hasn't shown that he's ready to move beyond Triple-A. He had a good debut with Indianapolis last year, then was bounced from his second start with the Indians after giving up eight earned runs in two innings. Cole needs more time in Triple-A, and not for service time or Super Two reasons. The idea of skipping pitchers over a level is generally a bad one. Sure, there are success stories, but there are also tons of talented pitching prospects who have seen their careers derailed after being rushed through the minors. The Pirates can't afford to do that with Cole. Andy Oliver - Right now he matches up with Rodriguez, but he needs more time in Triple-A to fix his control. Kris Johnson - He had a great off-season in the Dominican Winter League. His first start of the year with Indianapolis was also a good one. But that's not enough to launch him over McPherson or Irwin. He needs more starts to show that the DWL performance wasn't just a fluke. Injured Pitchers - Currently none of the injured starters are ready to join the Pirates. Charlie Morton threw two innings in an extended Spring Training game today. Jeff Karstens doesn't have enough work to make a full start. Francisco Liriano is in the same boat. Plus, all of those guys would be skipping their rehab work in the minors. The Candidates Thursday's start could be a try out for Kyle McPherson. Kyle McPherson - The final rotation battle came down to Jeff Locke and Kyle McPherson. McPherson didn't have a good debut, leaving after giving up three runs in three innings. Unlike Cole, McPherson has some success in the upper levels. It's limited, but he had three strong starts with Indianapolis last year, and 26 innings in the majors. Neal Huntington talked about McPherson after he was sent down, and said the club would be comfortable going with him early in the season if they needed a starter or a reliever. I doubt the first start from McPherson would have changed that. Phil Irwin - He threw six innings tonight, giving up one run and striking out five. Irwin had great numbers in Triple-A last year, and looked good in Spring Training. McPherson has more upside, and might be higher on the depth chart. Looking at the Organizational Probable Pitching Chart, Irwin would be throwing on six days rest when Rodriguez is due up next. However, with the off-day on Thursday, the Pirates could move James McDonald and Jonathan Sanchez up, which would put Rodriguez's next start on the same day as Kyle McPherson. The best part about this is that McPherson starts on Thursday, which means the Pirates could audition him for the role. If he doesn't look ready, they could opt for Irwin. If McPherson does look ready, they'd have enough time to adjust the rotation. Justin Wilson/Jeanmar Gomez - If the injury isn't serious, the Pirates could opt to push Rodriguez's start back, and use a combination of Justin Wilson and Jeanmar Gomez in relief. Neither pitcher is stretched out to make a full start, but both could combine for 6-7 innings. The downside to this is that you can't use either pitcher for a few games before or a few games after their starts. That would really deplete the bullpen, and might end up forcing a callup anyway, which is what this move would try to avoid. If Rodriguez does miss time, it seems the best bet would be giving McPherson an audition on Thursday. If he pitches well, push Wandy's next start back two days to line him up with McPherson. Then give McPherson the job until Rodriguez is ready to return. If McPherson has the same problems that he did in his first start of the year, the Pirates should consider Phil Irwin on six day's rest. Links and Notes **The 2013 Prospect Guide and the 2013 Annual are both available on the products page of the site. If you order them together, you'll save $5. Get them both to use throughout the 2013 season. **Prospect Watch: Glasnow Has Strong Debut, Allie Homers Again. **Pirates Win 5-3, Wandy Rodriguez Suffers Hamstring Tightness. **Last year at the end of the year I started a weekly recap looking at the top hitters and pitchers from the previous week. That returned this week with the "Top Performers" links below. **Top Performers: Jacob Stallings Shows Some Offense to Pair With His Strong Defense. **Top Performers: Great Pirates Debuts by Andy Oliver and Stolmy Pimentel. **Draft Prospect Watch: Week Eight Recap. **Minor League Schedule: 4/9/13.
Original Story:
http://feedproxy.google.com/~r/Pirate...
THE BACKYARD
BEST OF MAXIM
RELATED ARTICLES
Wandy Rodriguez isn't likely to make his next start. Photo credit: David Hague The Pittsburgh Pirates have announced that Wandy Rodriguez has been diagnosed with a left hamstring strain, and that it is not likely he will make his next scheduled start. That start was originally scheduled for Sunday. The Pirates haven't placed Rodriguez on the disabled list, despite saying the...
The Bucs played a solid game and earned a much needed win on Monday night, but they may have suffered a big loss as well. Wandy Rodriguez got off to a pretty good start and the Pirates' early lead seemed to be in good hands with him on the mound. In the third inning, though,Wandy walked off the mound and started doing all kinds of stretches, clearly feeling something wrong in his...
Garrett Jones hit his first homer of the season. (Photo credit: David Hague) The Pirates finally got a few runs to beat the Arizona Diamondbacks, 5-3. Andrew McCutchen and Travis Snider both drove in two runs to break Pittsburgh's four-game losing skid Monday night. The good news of a victory was mitigated, though, by the third-inning exit of Pirates starter Wandy Rodriguez. The...
Gerrit Cole There's one thing you notice when you cover prospects closely: there's no middle ground with expectations and reactions. At times it seems like there are pretty much only two reactions to a prospect. If there is a good report, or a player is performing well, there are calls for a promotion. If the player has a flaw, or is going through some struggles, the reaction...
TOP OF THE SYSTEM A look at how the current top 20 prospects did today.  Note that this list doesn't include players currently in the majors. If a player is in the majors, he will be removed, everyone below him will be shifted up a spot, and a new player will be added to the bottom of the list. Rankings are from the pre-season rankings, and links to each prospect writeup can be...
All four affiliates have gone through the entire rotation now for the first time, so pitchers are now getting their second looks.  Both Indianapolis and West Virginia are facing their current opponents for a second series already. Two top ten prospects will take the mound tonight, Kyle McPherson for Indianapolis and Nick Kingham for Bradenton. Altoona was rained out yesterday in...
A bittersweet night in Phoenix saw a Pirates win as well as an injury to perhaps the Pirates' best pitcher.  The Arizona heat warmed up the Pirates' bats as they scored a season-high 5 runs to give them a 5-3 run over the Diamondbacks. Wandy Rodriguez was standing in the on-deck circle before he had…
All four affiliates have gone through the entire rotation now for the first time, so pitchers are now getting their second looks.  Included among them today is the top prospect in the system, Gerrit Cole. He looked great early on in his first start, then struggled in the fourth inning, leading to an early exit. Also going today is Clay Holmes, the 11th ranked prospect in the system...
After a full week of the Pirates getting strong starting pitching, shaky relief work in big spots, and absolutely zero offense, the Pirates went out and scored three runs in the first inning and put up a five spot (62.5% of the total runs scored in their first six games) for the game while the bullpen had to go 6 2/3 innings after Wandy Rodriguez left early with a hamstring problem...
Need a laugh or want to watch a sensational play over and over again in a never ending loop? Look no further with the Sports GIFs of the Week. At least golfer Andreas Harto still has his dignity after hitting into a water hazard at the Morocco Tournament. A.J. Burnett fell for the old exploding rosin bag gag on April Fool's Day. Islander's Matt Marting knocks out...
Pirates News

Delivered to your inbox

You'll also receive Yardbarker's daily Top 10, featuring the best sports stories from around the web. Customize your newsletter to get articles on your favorite sports and teams. And the best part? It's free!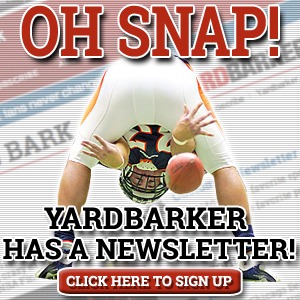 Latest Rumors
The Backyard

Today's Best Stuff

For Bloggers

Join the Yardbarker Network for more promotion, traffic, and money.

Company Info

Help

What is Yardbarker?

Yardbarker is the largest network of sports blogs and pro athlete blogs on the web. This site is the hub of the Yardbarker Network, where our editors and algorithms curate the best sports content from our network and beyond.