Found May 31, 2012 on Camden Crazies:
The Orioles have now lost five games in a row, and people are jumping off the bandwagon left and right. General consensus seems to be that the pitching has gone from great to terrible;
W-L ERA FIP xFIP K/9 BB/9 HR/9 Last week 1-5 4.41 4.51 3.88 7.9 2.1 1.8 Full season 29-22 3.67 4.13 4.01 7.1 2.8 1.1
Lot of home runs (due in part to many more flyballs) and a .318 BABIP, but one could argue that the pitchers themselves have been somewhere around "fine". Their K/BB ratio over the last week is 3.8 (compared to 2.5 overall), which is pretty darn good. Yeah they're giving up almost a run more per game, but at least some of that is just normal variation.
The offense has had some trouble scoring runs too, though they're not hitting any worse overall:
R/G BA/OBP/SLG wRC+ HR/G Last week 3.7 .250/.332/.402 105 1 Full season 4.5 .249/.314/.435 101 1.5
The O's have traded home runs for other types of hits (BABIP of .313 vs. .286), plus some extra walks (and K's). The issue, which has been evident all along, is that when the team doesn't hit home runs, they don't tend to score much. So, even though the Orioles are hitting just as well, if not better, they're scoring fewer runs per game. It was going to happen eventually, and it was always a questions how the team would off-set fewer balls leaving the yard.
It's not surprising that the O's have gone 1-5 over the last week, but it doesn't really tell us a lot about the team. If you thought they were a 100+ win team before and you don't think that now then, well, good - they were never a 100+ win team. Otherwise, things haven't changed all that much from a couple weeks ago:
Play like a __ win team Finish with __ wins 68 76 70 77 72 78 74 80 76 81 78 82 80 84 82 85 84 87 86 88 88 89 90 91 92 92
The top end is down a little, but the chances of the O's winning over 90 games were always going to be remote. Otherwise, they still have a solid chance of finishing over .500, even if it isn't written in stone.
Original Story:
http://www.camdencrazies.com/2012-art...
THE BACKYARD
BEST OF MAXIM
RELATED ARTICLES
Baltimore Orioles outfielder Nick Markakis was held out of the lineup for Wednesday's game against the Blue Jays with soreness in his right wrist. It's the first game he's missed this season. Markakis was injured on a swing in the ninth-inning of Tuesday's loss at Toronto. X-rays taken after the game were negative, but Markakis is scheduled to see a hand specialist...
Bad news for the Baltimore Orioles, as right fielder Nick Markakis will miss 3-4 weeks after breaking the hamate bone in his hand. Roch Kubatko of MASN is reporting that the injury first occured seven or ten days ago on a slide into second base, but the full break occured on Tuesday while swinging. The Orioles are exploring various internal options to replace Markakis on the roster...
Baltimore Orioles right fielder Nick Markakis is facing his second surgery in the last nine months. Markakis, who injured his wrist on a ninth-inning swing Tuesday, is set to undergo an operation Friday morning to remove a broken hamate bone from his right wrist. The timetable for Markakis' return is two to four weeks. "If you told me before that this is what they...
Adam Jones is ecstatic about one particular baseball transaction during the last week. No, its not his six-year, 85.5 million extension with the Baltimore Orioles. It was the Detroit Tigers decision to call up outfielder Quintin Berry, Jones best friend since they were 5 years old and attending Webster Elementary School in San Diego. The two are so close that Jones is the godfather...
Perhaps my favorite part about being a baseball fan is keeping tabs on the Minor Leagues. I am a prospect hugger and I take no shame in saying this. I follow all the big prospect guys on Twitter and I take in as many Penn League games as I can up here in Burlington. One thing I know is that there are plenty of you out there just like me, so this feature is for you. It is manageable...
He's the closest thing the Baltimore Orioles have had to an Iron Man since Cal Ripken Jr. retired. Nick Markakis missed his first game of the season Wednesday and just his sixth in the past three-plus seasons with a right wrist injury. Markakis was hurt on a swing in the ninth inning Tuesday, and he will be examined by a specialist Thursday. X-rays taken Wednesday were negative...
ST. PETERSBURG -- The battle for bragging rights in the AL East suddenly doesn't look like all that much to brag about. It was only a week ago that the Baltimore Orioles and Tampa Bay Rays were setting the pace atop the division, picking up steam heading toward their three-game series starting Friday night at Tropicana Field. But right now, the impending showdown for supremacy...
Table of Contents Here's the table of contents for today's edition of Daily Notes. 1. Featured Game: Baltimore at Toronto, 19:07 ET (Free Game) 2. Other Notable Games 3. Today's Complete Schedule Featured Game: Baltimore at Toronto, 19:07 ET Regarding These Teams, Their Respective Places in the AL East I'm not lying to you or your face when I say that these teams enter Wednesday...
On Tuesday night, the Orioles dropped their fourth game in a row as they lost to the Toronto Blue Jays, 8-6. With the loss, Baltimore has lost three straight series; however, they are still tied for first place in the American League East with the Tampa Bay Rays at 29-21. Once again, the Orioles got a shaky start from a pitcher – this time, Jake Arrieta – and much like Tommy...
Folks, are we worried about the Baltimore Orioles now? Tonight, they lost their fifth game in a row, as the Toronto Blue Jays defeated them, 4-1. Once again, the Orioles lose a series, and this time they were swept. The Jays treated the Orioles like a mule, and they once again brought the pain, as they scored all their runs off solo homers. Jason Hammel became the latest Baltimore...
Orioles News

Delivered to your inbox

You'll also receive Yardbarker's daily Top 10, featuring the best sports stories from around the web. Customize your newsletter to get articles on your favorite sports and teams. And the best part? It's free!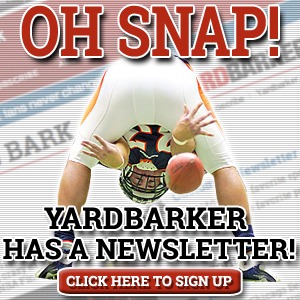 Latest Rumors
Best of Yardbarker

Today's Best Stuff

For Bloggers

Join the Yardbarker Network for more promotion, traffic, and money.

Company Info

Help

What is Yardbarker?

Yardbarker is the largest network of sports blogs and pro athlete blogs on the web. This site is the hub of the Yardbarker Network, where our editors and algorithms curate the best sports content from our network and beyond.