Found November 11, 2012 on The Sports Headquarters:
PLAYERS:
David Ortiz
,
Mike Napoli
,
Jerry Sands
,
Mo Vaughn
,
Theo Epstein
,
Adrian Beltre
,
Will Middlebrooks
,
Rafael Soriano
,
Mariano Rivera
,
Andrew Bailey
,
Alfredo Aceves
,
Andrew Miller
,
Jonathan Papelbon
,
Daniel Bard
,
Brandon McCarthy
,
Jon Lester
,
Clay Buchholz
,
Felix Doubront
,
Melky Cabrera
,
Jacoby Ellsbury
TEAMS:
Boston Red Sox
,
Texas Rangers
,
New York Yankees
,
Philadelphia Phillies
,
Oakland Athletics
,
San Francisco Giants
1. Re-sign David Ortiz: Yes, I realize this has already taken place. But let me tell you why this was so important. For the past two seasons, Big Papi has been a bit of a malcontent in the clubhouse because of a "lack of respect." And I'm one of the few people who has been 100% on Ortiz' side. The problem with the Sox has been an utter lack of respect fortheirplayers. I don't mean free agents. I don't mean first basemen acquired via trade. I mean the guys who have been there for the team. Ortiz is the longest tenured player the Red Sox have on their current roster. He's won two World Series for this team. He's played the last two seasons under one year deals and he felt slighted. Sure, three years ago David Ortiz looked like his best baseball was behind him. The strangest part about that is even a 50% Papi is the best DH in the league by a mile. Sure, he was raking in tens of millions of dollars during those one year deals. But the money was never the issue. It was the fact that the Sox were dishing out multi-year deals worth hundreds of millions of dollars to players who had never even put on a Sox cap in their lives. That kind of disrespect causes stirs in clubhouses nationwide in every sport. Making Ortiz a priority AND signing him to two years was a much bigger deal than people have made about the deal. I don't care about the base salary. It gave Ortiz peace of mind. If he acts up in the clubhouse this year, it will be on him and I likely will not side with him. As of right now, I believe this was the smartest move the Sox have made (player wise) in a while. 2. Get Mike Napoli for First: Here are two things I know: 1) Jerry Sands has no business being the Boston Red Sox first baseman; 2) Mike Napoli crushes the Green Monster. In three games at Fenway this season, Napoli mollywhopped three home runs with 18 RBI and hit .462. Too small of a sample size? OK. In his 19 career regular season games at Fenway Park, Napoli has a .306 average. He's hit seven homers and driven in 17 RBI. He carries an impressive 1.107 OPS while sluggin .710. I couldn't care less if he plays defense worse than Mo Vaughn would tomorrow at first. His bat in the middle of this lineup is crucial to the Sox future success. Theo Epstein let Adrian Beltre walk. Beltre's swing was tailor made for Fenway Park. Manny Ramirez' swing was tailor made for Fenway. Mike Napoli seems like he has a perfect swing capable of taking advantage of the Green Monster. In two years, if Papi decides to hang up the spikes, you have an immediate replacement at DH. This move couldn't make much more sense. Plus, if something horrible happens like all of our catchers get hurt, Napoli can fill in for a couple of games. The most versatility of all time? No, not even close. But he can hit. Are we ready to trust Will Middlebrooks to carry this team offensively? I know I'm not. Sign Napoli for three years minimum and get this offense rounded out. 3. Rafael Soriano… Yup: Soriano has been one of the most dominant bullpen arms for the past half-decade. When he first got to New York, he seemed shakey. Last season, he finished with 42 saves after Mariano Rivera tore his ACL shagging fly balls. He was going to receive $14 million for this season until he opted out for Free Agency. One would have to assume $15 million a season would be the floor for Soriano and, for the Sox, I'd be willing to push that to $17 mil. Why? Because Andrew Bailey isn't a sure thing. Alfredo Aceves may not even be here next season. Andrew Miller is as much of a closer as I am. Since Jonathan Papelbon sprinted for Philly, the Sox have been pissing into the wind at this position. Bailey is more than capable of handling the job – when he's healthy. I'm not sure "when he's healthy" is reason enough to stay put. If you sign Soriano, now the bullpen has flexibility. Now the Sox can use Bailey as a set-up man while they (hopefully) fix Daniel Bard. Maybe the Sox hold onto Aceves and all of a sudden they're dealing with one of the deeper bullpens in the American League. In football if you have more than one quarterback, you have no quarterback. In baseball, you can have as many closers as you damn well please. I'd give Soriano as much as three years at $51 million. Probably no more years unless they were options. Definitely not more money annually. But with his proven track record, especially in the decision, I believe the Sox would be wise to make this investment. 4. Brandon McCarthy, Come On Down!: One of the best personalities in the game, Brandon McCarthy's biggest issue has been healthy. Whether it's problems with his arm or line drives off the dome, the guy has had some bad luck. But, when he is pitching, he is pretty good. I've long been a firm believer that chemistry is the driving force behind winning in baseball. Your teammates almost have to be your family for the majority of any given year. The reason the '04 Sox were so loose down 0-3 to the Yankees in the ALCS was because of their chemistry. They firmly believed they could win and they did. They had eachothers' backs. They had an identity. This pitching staff severely lacks an identity. Jon Lester is relatively quiet. Clay Buchholz seems to have more fun off of the field than he does on the field. Felix Doubront is still developing an identity as a starter. John "Big Hoss" Lackey has been a mediocre starter but the pitchers love him. In fact, the whole clubhouse seems to love Hoss. Bring in McCarthy to be this rotation's number four or five and you could really have something next year. At the worst, you bring in someone who lightens the mood after a tough series. At best, you're talking about a back of the rotation starter hovering around 14 wins. Decent money with short years and you may be looking at the sign of the season for the Sox. 5. *looks left*…*looks right*… *gulps*… See what Melky's thinking: Yes, Melky Cabrera. Whoa! Settle down all of Boston! Hear me out first! Listen, Cabrera screwed up royally last season and probably the season before. He's been nothing more than a servicable outfielder during his career in New York and Atlanta. Then he went to Kansas City and he transformed into a top OF. Then he gets traded to San Francisco and he's winning the All Star Game MVP. He cheated, no one is denying that. He owned up to it the second he was caught. This is the land of second chances. If Cabrera lives in a state of dellusion and wants top dollar, move on immediately. But if the Sox can land Cabrera for a one year deal under reasonable money, he could really turn into something for this team. He's always been a solid defender, even without the juice. He's never been a liability at the dish, he just wasn't in the race for the batting crown either. Bring Cabrera in and have him play for his next contract on this team. Right now the Sox only have Jacoby Ellsbury for their outfield. Now, he's fast and all, but he can't cover all three fields. And he's good for at least one DL stint next season. But put Cabrera next to Ellsbury and you'll have two outfielders playing for their next contract. That's certainly not a bad thing.
Original Story:
http://feedproxy.google.com/~r/TheSpo...
THE BACKYARD
BEST OF MAXIM
RELATED ARTICLES
The Red Sox promised to go into the offseason spending, using their newly acquired payroll space to build a contender. But most people thought that meant filling two holes in the outfield and a spot at first base, not to mention bolstering the pitching staff. Snagging a third catcher? Well, that's nice, but it's hardly shock and awe. The Red Sox' reported deal with backup catcher...
The Boston Red Sox have signed catcher David Ross to a two-year deal worth $6.2 million. The deal was reached over the weekend. Ross was in Boston for a physical this week before it could be finalized. Ross played 62 games for the Atlanta Braves last season, his 11th in the major leagues. He batted .256 with nine home runs and 23 RBIs. Atlanta went 54-35 in his starts at catcher...
The Red Sox have made their first move of the offseason and it is a head scratcher.  The team has signed backup catcher David Ross to a 2-year $6.2 million contract.  The Red Sox have Jarrod Saltalamacchia and Ryan Lavarnway as catchers so one of them will be going elsewhere via trade or in Lavarnway's case, back to Pawtucket.  Ross is a valuable addition behind the dish,...
Every morning, we compile the links of the day and dump them here... highlighting the big storyline. Because there's nothing quite as satisfying as a good morning dump. ESPN The Magazine's Buster Olney checks in Sunday morning on the Red Sox catching situation , which got more interesting Saturday with the signing of long-time backup David Ross. The Sox now have a surplus...
This Napoli-to-Boston speculation/reporting seems to be picking up speed. Ben talked about WEEI's report about the Sox' interest in Napoli, and now ESPN's Buster Olney follows up that the Sox have their sleuthing hats on again. The last time I remember the Red Sox being noted for doing "extensive background work," it was their infamous chase of Carl Crawford...
A couple of years ago, I wondered why David Ross was taking such small contracts to back up Brian McCann in Atlanta when he seemed to be good enough to start elsewhere. Whether it was a lack of interest from other teams or Ross' desire to stay in Atlanta, it puzzled me. When he was eligible for free agency again this season, I figured he would probably just stay in in Atlanta as...
Every morning, we compile the links of the day and dump them here... highlighting the big storyline. Because there's nothing quite as satisfying as a good morning dump. According to FoxSports.com, the Red Sox have agreed to terms with catcher David Ross on a two-year contract worth $6.2 million. The deal is pending a physical for the 35-year-old, who played the last four...
  Tonight on CLNSRadio.com, SportsFans in Headbands returns from 8:00- 9:00 pm with host Nathan Conley and special co-host Chris Hogan, CLNSRadio's Featured Columnist and Red Sox Beat Editor. Jason Saulter will not be on tonight's show due to other obligations. Despite that, the guys will have an action packed show. Nate and Chris will [...]
The Red Sox made a move two days ago signing David Ross to a two year, $6.2 million contract. Ross brings with him four solid consecutive seasons backing up Brian McCann in Atlanta. Ross is a competent hitter and is what many scouts and experts expect to be a considerable upgrade over Kelly Shoppach. He [...]
The Boston Red Sox signed veteran catcher David Ross to a two-year contract, leading some to speculate that the team's starting backstop Jarrod Saltalamacchia could be traded this offseason. However, Ken Rosenthal of FOX Sports reports the Red Sox had been shopping Saltalamacchia "for weeks" prior to the signing of Ross. For those wondering about #RedSox's intentions...
The Boston Red Sox weren't expected to sign a catcher this offseason but reached agreement Saturday on a two-year, $6.2 million contract with David Ross, as first reported by Ken Rosenthal of FOXSports.com. Now that they've done it, the logic is apparent: The Red Sox can trade their most experienced (and most expensive) catcher, Jarrod Saltalamacchia, possibly to obtain the first...
The Boston Red Sox have signed catcher David Ross to a two-year, $6.2mm deal, Ken Rosenthal of FOX Sports reports. The deal could also allow the Red Sox to trade Jarrod Saltalamacchia or Ryan Lavarnway as Ross is slated to be more than a backup but not a starter. Ross who was a backup catcher in Atlanta was thrusted into a larger on the field role as Brian McCann seemed to be injured...
MLB News

Delivered to your inbox

You'll also receive Yardbarker's daily Top 10, featuring the best sports stories from around the web. Customize your newsletter to get articles on your favorite sports and teams. And the best part? It's free!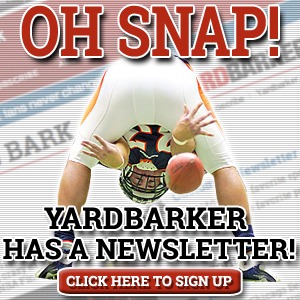 Latest Rumors
Best of Yardbarker

Today's Best Stuff

For Bloggers

Join the Yardbarker Network for more promotion, traffic, and money.

Company Info

Help

What is Yardbarker?

Yardbarker is the largest network of sports blogs and pro athlete blogs on the web. This site is the hub of the Yardbarker Network, where our editors and algorithms curate the best sports content from our network and beyond.