Found January 10, 2013 on NorthWest Sports Beat:
PLAYERS:
Miguel Cabrera
,
Dustin Ackley
,
Michael Saunders
,
Kyle Seager
,
Jesus Montero
,
Brandon League
,
Mike Trout
,
John Jaso
TEAMS:
Seattle Mariners
,
Detroit Tigers
,
Los Angeles Dodgers
,
Los Angeles Angels
Mariners have offensive woes Big Question: What else can the Seattle Mariners improve on to win in 2013? In a world of statistics, team totals are often overlooked. The average baseball fan knows that Miguel Cabrera won the triple crown with his monster numbers last season, but most have no idea if the Tigers led the league in those numbers or finished dead last (they finished 10th in HR's, 5th in RBI, and 3rd in average, if anyone cares). The Mariners have work to do, below are 5 categories that could make or break the upcoming season. 1. Runs I promise creativity from the rest of the article, but I cannot begin with anything less that runs scored. The park a team plays in may dictate or slightly affect home runs and doubles, but no park can take away singles with people on base. It's not entirely depressing that the M's finished last in the AL last season, but it is unfortunate that they finished 100 runs below league average. Yikes. If the top of the lineup (presumably 2B Dustin Ackley and OF Michael Saunders) can get on base, be aggressive and put themselves into position for the players to drive them in, this team can improve. Kendrys Morales, 3B Kyle Seager, and C Jesus Montero may not be traditional home run hitters, but all can work the count and should get more base knocks with runners on this season. We all love the Bartender. 2. OPS The Mariners' On-base plus slugging percentage (OPS) was far and away the worst in the league (Come on Astros!). This can be dictated by where the team plays, but numbers like these, if improved upon, will simply make the team better. 3. Blown Saves We all love the Bartender. It would be difficult to find someone that doesn't love closer Tom Wilhemson, but his expectations are high coming into this year. Remember Brandon League one year ago? League was coming off an all-star type season as the Mariners closer, looking at 2012 and maybe 40-45 saves. Then, everything imploded on him. He couldn't get anyone out, and it hurt the Mariners early season record. Wilhemson will have the same pressure this year, how he deals with it could help or hurt the Mariners early, a very important time for a young club. 4. SB against The M's were 12 in the AL in stolen bases against them. You can attribute this to Mike Trout if you want, but the reality is that our pitchers and catchers need to be more efficient keeping the base runners out of easy scoring position. Taking to you Montero and John Jaso. 5. Total Plate Appearances Each team is guaranteed 27 plate appearances per game (24 in a home win). This includes walks, as are HBP's and weird dropped strikeout scenarios. Other than that, it comes down to getting our team as many TPA's as possible. This should be the Mariners' top priority this season. Maybe that means looking at more pitches and drawing walks to get more people on base, but the reality in Seattle is the need for a better batting average. After finishing dead last in TPA (in the AL) once again, it is time to put up or shut up. If the Mariners are not competitive this season, the Sonic faithful may never watch a baseball game again with their beloved back in town. Get something going M's! Cheers. CLICK HERE TO CHECK OUT THE MARINERS BLOG IN OUR CLUBHOUSE TODAY AT NWSB!
Original Story:
http://www.nwsportsbeat.com/mariners/...
THE BACKYARD
BEST OF MAXIM
RELATED ARTICLES
Time to curb expectations With a promising core of young and talented players, the Seattle Mariners have one of the brightest futures in the MLB. One of those young—and talented players—are top prospect Mike Zunino. A big catcher drafted from the University of Florida, Zunino absolutely mashed in his senior season. By years end he was awarded the Golden Spikes Award—given each...
Milton Bradley has been charged with domestic abuse against his estranged wife and reportedly is facing up to 13 years in prison if convicted on all 13 charges. You may recall that Bradley was arrested in Sept. 2011 for allegedly swinging a bat at his wife. A month later it was revealed that his wife says Bradley threatened to kill her during that incident. Bradley was also charged...
  Former Major League Baseball outfielder Milton Bradley has been charged with abusing and assaulting his wife. Racking up 13 total misdemeanor counts, Bradley could face up to 13 years in prison if found guilty on all of the charges. Bradley and his attorney have denied all charges and contend that his estranged wife simply made up the allegations. Bradley and his wife are currently...
Former MLB outfielder Milton Bradley may face up to 13 years in jail after allegedly abusing his estranged wife.On Thursday, Bradley was charged with 13 misdemeanor counts, including assault with a deadly weapon, by Los Angeles city prosecutors.Authorities claim that he threatened and assaulted his wife on at least five occasions in the past two years. Bradley currently remains a...
Former baseball player Milton Bradley, 34,  is facing jail take after several alleged attacks on his estranged wife, Monique.   click to read more
Former Los Angeles Dodgers and Seattle Mariners outfielder Milton Bradley has been charged with abusing his estranged wife and faces up to 13 years in jail if convicted, city prosecutors announced Friday. Bradley, 34, was charged on Thursday with 13 misdemeanor counts of assault with a deadly weapon, vandalism and dissuading a witness from making a report. In addition to jail time...
The Mariners continue to push for more offense, but there are times they experience a push back. Seattle made an offer to Arizona for the services of two-time All-Star Justin Upton, but after the Diamondbacks agreed, the veteran outfielder invoked the no-trade clause in contract to shoot the Mariners down. So desperate is Seattle for a middle-of-the-lineup hitter that general...
Former outfielder Milton Bradley faces up to 13 years in prison if convicted of charges involving abusing his estranged wife.   Bradley faces 13 misdemeanor counts of assault with a deadly weapon, vandalism and dissuading a witness from making a report.   In addition, if convicted Bradley would have to pay $13,000 in fines and [...]
Raul Ibanez isn't a young offensive force anymore and he really isn't an ideal fit anywhere defensively. But don't let those issues cloud your judgment of his potential impact to this young Mariners club; He is a steadying influence and natural leader that could prove invaluable to a developing Seattle Mariners clubhouse during the upcoming season.
If you want to lead your Beer League softball team in home runs, hits and RBIs this season, take a look at the latest MLB 13 cover video featuring Miguel Cabrera. Oh yeah and don't forget to go out and vote for Cabrera in this year's cover voting! I don't think there's any curses associated with this honor…  
David Denson, a 17-year-old first baseman from South Hills High School in California, recently put on a display that left agents and scouts drooling on themselves and had to turn the heads of power hitters like Detroit Tigers Miguel Cabrera and L.A. Angels Josh Hamilton. Participating in the DPL Baseball Power Showcase at Marlins Park, [...]
As we continue through our series we move onto a stronger position on the diamond. Miguel Cabrera was obviously the class of the position, but many of you would be surprised to see how close the race ended up being for him. This is why the focus on all three facets of the game: fielding, hitting, and base running, are so very important. It's the main reason why the MVP race should...
MLB News

Delivered to your inbox

You'll also receive Yardbarker's daily Top 10, featuring the best sports stories from around the web. Customize your newsletter to get articles on your favorite sports and teams. And the best part? It's free!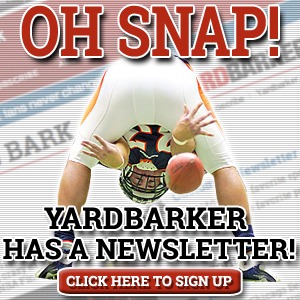 Latest Rumors
Best of Yardbarker

Today's Best Stuff

For Bloggers

Join the Yardbarker Network for more promotion, traffic, and money.

Company Info

Help

What is Yardbarker?

Yardbarker is the largest network of sports blogs and pro athlete blogs on the web. This site is the hub of the Yardbarker Network, where our editors and algorithms curate the best sports content from our network and beyond.