Found April 24, 2012 on Mets Fever:
Jose Reyes was never my favorite Mets player.  In fact, he probably wouldn't find himself in my personal top five.  However, as a fan who considers the triple to be the most exciting play in baseball, Reyes is without question the most exciting player I've ever seen strap on the blue and orange of the New York Mets.
Reyes made things happen, seemingly always putting immense pressure on the opposition.  Stealing bases, stretching singles into doubles and scoring from first base on a single were just a few of his specialties.  The speed responsible for such events constantly placed Reyes in discussions about the best players in all of baseball.  And most importantly, he was a Met through and through, signing with the organization at only sixteen years of age.
We watched him grow up before our very eyes and then watched him excel on the game's biggest stage, in baseball's biggest market.  But not every chapter of Reyes' story was rosy.  As is always the case, what goes up inevitably comes back down, and all the talent and potential in the world couldn't stop his far too frequent trips to the disabled list.  Yet even as his days in New York appeared to be numbered, the 2012 version of Jose Reyes led Mets fans on one final wild ride to the NL batting title.
Despite what appeared obvious to many, I remained optimistic the team would find a way to retain their all-star shortstop.  Ultimately, it wasn't to be, but I can say with absolute honesty that I'm at peace with the fact that the Mets didn't temporarily lose their minds and top the six year, $106 million dollar deal Reyes got from the Miami Marlins.  To this day, I remain convinced that it was a baseball decision by Sandy Alderson, rather than one driven by the club's unstable finances at that time.
And now as Reyes returns to Citi Field for the first time with his Marlins in tow, I find myself with surprisingly few emotions.  Although he was great while he was here, his era was yet another in Mets' history without a World Series crown.  While I wish him well and have fond memories of his time in Queens, Reyes now dons the crest of the opposition.  So embrace him one final time when he steps to the plate for the first time today, and then remember what he's capable of, because he's no longer on your team. He is now and always will be from this day forward, the enemy.
Follow me on Twitter
@RobPatterson83
Original Story:
http://www.metsfever.com/2012/04/form...
THE BACKYARD
BEST OF MAXIM
RELATED ARTICLES
Just minutes ago, I asked you on Facbeook and Twitter what your thoughts about Jose Reyes' return tonight. Tell us what you think on Facbeook, Twitter, by email (adamgross@metsonline.com), or by commenting on this post. We will post your responses! Here are your responses (we will post more as they come in): Thomas Hill: won't boo, wont cheer. i'll sit back let it happen...
When Jose Reyes inked his name on a six-year, 106 million dollar deal back in December it was admittedly hard to be rationale. The Mets were seemingly letting one of the faces of their franchise walk away to a division rival. With all that being said, months later it is becoming increasingly apparent that Met fans need to collectively stand up and salute Sandy Alderson for saving...
Miami Marlin Jose Reyes returned to NY yesterday. Fans showed up early for autographs and to sing the Jose song. The Mets put together a video tribute and Jose was announced in the Marlins'... Full story at Bob's Blitz ~ http://www.bobsblitz.com
I went to Citi Field last night specifically to cheer Jose Reyes in his first game back in New York. I appreciate all he did for the team and can't see how anyone can blame him for leaving when the Mets did not make him an offer. I stood and cheered for his first at-bat, then treated him like any other member of the Marlins, rooting for the Mets to get him out, but not booing...
After spending the previous nine seasons pacing the New York Mets, the Miami Marlins' Jose Reyes is looking forward to returning to the Big Apple. A three-game set at Citi Field could help the reigning NL batting champion get going at the plate. With Reyes and the rest of his team looking to break out, Miami sends Josh Johnson to the hill opposite New York's Johan Santana...
Get used to it. Jose Reyes makes his highly anticipated return to Citi Field tonight as the Mets host the Marlins in the opener of an important (for April) three-game set. The Mets will send Johan Santana to the mound tonight looking to end a two-game losing streak. He'll be opposed by Miami's ace Josh Johnson. First pitch is scheduled for 7:10 p.m. and the game can be seen on...
Jose Reyes went hitless in his return to Citi Field and Lucas Duda lined a tiebreaking single in the eighth inning that caromed off reliever Edward Mujica, sending the New York Mets to a 2-1 victory over the Florida Marlins on Tuesday night. Johan Santana and Josh Johnson zipped through the first six innings in a crisp pitchers' duel between healthy-looking aces. Santana, coming...
The first of anything that Jose Reyes does against the Mets can be pretty jarring. Take Wednesday, when Omar Infante crushed a home run off R.A. Dickey to make the score 1-0. Who do you think was waiting for Infante at the top step with a choreographed handshake? That's right, Reyes.Now I've been the guy who has spent years defending the choreography. So I'm not going...
Well this just about brings it home, so to speak. Doesn't it? It promised to be an eventful day, but we just didn't know how eventful. We awoke to "Jose Reyes Day" with Jason Bay hitting the disabled list with a fractured rib which he accrued by flailing and missing a fly ball. This we sort of expected. But then we find out that Mike Pelfrey (the other boo twin...
The night was supposed to be all about ex-Met Jose Reyes' return to New York in his splashy new Miami Marlins uniform. The more significant story, though, turned out to be a pair of gems thrown by aces injured in 2011, as Johan Santana and Josh Johnson locked up in an old-fashioned pitchers' duel in the first game of their three-game series at Citi Field on Tuesday. As...
Starting Lineup Kirk Nieuwenhuis – CF Ruben Tejada – SS Daniel Murphy – 2B David Wright – 3B Lucas Duda – RF Ike Davis – 1B Mike Baxter – LF Josh Thole – C Johan Santana – LHP Mets Notes RISP: The Mets were 3-15 with runners in scoring position during yesterday's doubleheader. On the year, the Mets are batting .222 (32-144) with runners in scoring position...
MLB News

Delivered to your inbox

You'll also receive Yardbarker's daily Top 10, featuring the best sports stories from around the web. Customize your newsletter to get articles on your favorite sports and teams. And the best part? It's free!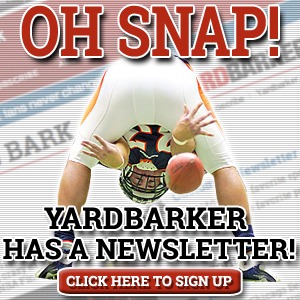 Latest Rumors
The Backyard

Today's Best Stuff

For Bloggers

Join the Yardbarker Network for more promotion, traffic, and money.

Company Info

Help

What is Yardbarker?

Yardbarker is the largest network of sports blogs and pro athlete blogs on the web. This site is the hub of the Yardbarker Network, where our editors and algorithms curate the best sports content from our network and beyond.