Found December 18, 2012 on Fox Sports Ohio:
Baseball beat writers covering the Cincinnati Reds in the early 1980s slapped a nickname on pitcher Frank Pastore: Mr. Good Wrench.Thats because Pastore incessantly talked about pitching mechanics and was obsessed over making every wind-up, every stretch, every delivery a picture of pitching perfection.There was a game early in his career when Pastore struggled in the first inning. He walked the first two batters and manager John McNamara trudged to the mound.What the hell is going on? he asked, his Irish face flushed red, as it did when he was upset.Im working on my mechanics, said Pastore.To hell with the mechanics, just throw a strike, said McNamara.Pastore, 55, died Monday in a California hospital from head injuries suffered in a motorcycle crash Nov. 17. His Honda Shadow was struck by a female motorist who swerved into Pastores lane on the 210 Foothill Freeway in Duarte, Calif. and he was thrown from his bike.He was in a coma for a month.Pastore, a born-again Christian, was a talk show host on KHLA-FM, a Christian radio station. Eerily, on the day of his accident, he talked about the possibility of dying on his motorcycle. His wife, Gina, authorized the release of the tape on which he said, You guys know I ride a motorcycle, right? At any moment, especially with the idiot people who cross the diamond lane into my lane, without any blinkers not that Im angry about it at any minute, I could be spread all over the 210. And thats exactly what happened. Even the book he wrote was somewhat prophetic: Shattered: Down, But Not Destroyed. Pastore graduated from Darien High School in La Verne, Ca. in 1975 and was Cincinnatis No. 2 draft choice. He surprisingly made the team out of Class AA in 1979 and worked mostly out of the bullpen that year, going 6-7 with a 4.25 earned run average. And he did make nine starts and the 21-year-old rookie started Game 2 of the NLCS against the Pittsburgh Pirates and lost. And he met his hero, which became somewhat of a curse for Pastore. Tom Seaver pitched for the Reds at the time and Pastore wanted to be Tom Seaver. Nobody could be Tom Seaver, but Pastore desperately tried. They were inseparable and Pastore picked his brain and tried to rework his pitching style to become a mirror image of the Hall of Fame pitcher. And it seemed to work in 1980. Ironcially, Seaver was scheduled to pitched Opening Day, 1980, but Seaver came down with the flu. Pastore, 22, was an emergency fill-in to face Atlanta knuckleballer Phil Neikro. Pastore pitched a complete-game three-hit shutout and didnt walk a batter as the Reds won, 9-0. In his second start, Pastore pitched another complete game as the Reds started the season 8-and-0. In fact, Pastore pitched three complete games in his first four starts and it looked as if maybe, just maybe, the Reds did have another Tom Seaver. For the year, Pastore was 13-7 with a 3.27 ERA and nine complete games in his 27 starts. It was to be the only good year of his short career, a career that ended eight years into it when he retired in 1987 while trying to make a comeback with Texas, but couldnt get out of Double-A. He was 4-9 in 1981, then 8-13 (when the Reds lost 101 games in 1982), 9-12 and 3-8 his next three years. By 1985 Pete Rose was managing the Reds and decided to try Pastore in the bullpen and he was 2-1 with a 3.83 ERA in only 17 appearances. And six of those were starts. At the end of spring training in 1986 the Reds released him and he was signed by the Minnesota Twins and worked out of the bullpen, finishing 15 games. But they, too, released him and the Rangers signed him for 1987, but sent him to Double-A. And thats when, at 28, he retired with a 48-58 record, a 4.29 ERA over 220 major-league games (139 starts) and 22 complete games. He returned to California and became a student, eventually earning degrees in business administration, philosophy of religion and ethics and political philosophy. He obtained graduate degrees in theology and political science. His syndicated Christian radio talk show became one of the most popular in the country until his prophetic comments the day of his tragic crash on the very highway where he said he might die.
Original Story:
http://www.foxsportsohio.com/12/18/12...
THE BACKYARD
BEST OF MAXIM
RELATED ARTICLES
The plan to transition Cuban phenom Aroldis Chapman from reliever to starter is one widely welcomed by Reds fans. In fact, it is probably a move that is being secretly lauded by current Reds players as well. However, there may one guy in particular who isn't so thrilled by the team's decision. And that guy is right-hander Mike Leake. This is because Chapman's new...
The Reds finished the 2012 regular season with the second-best record in baseball. That is pretty good in and of itself. Some would even argue that they have upgraded their roster since then through various free agent signings and a 3-team trade. Naturally, industry experts have taken notice and are placing the reigning National League Central champs in high regard for 2013 -- namely...
by: Parker Perry @ParkerPerry_ The Blog Red Machine posted an article Monday explaining that a Reds' outfielder has once again been put in a tough spot as the fourth outfielder in 2013. It argued that Chris Heisey is on the baseball God's bad side, as he continues to be put on the back burner as a Cincinnati Red. And though Heisey is definitely the fourth option...
Believe it or not, Christmas Day is just one mere week away, folks. That means the holiday shopping rush/crunch is about to kick into full gear, but don't panic. Here's some holiday gift ideas you may want to consider, courtesy of the Reds: 1. Chapman Pick-6 Plan - Guarantee the Aroldis Chapman Bobblehead when you buy this six game ticket plan that includes the Saturday...
Here are a few photos taken at the Cincinnati Reds' fan festival at the beginning of December. The event wasn't nearly as crowded as in years past, due in large part to the discovery of another floor in the convention center. It was there that the kids section was moved to, and it was much better than any year before. With the additional room, there was space for some new attractions...
Baseball beat writers covering the Cincinnati Reds in the early 1980s slapped a nickname on pitcher Frank Pastore: Mr. Good Wrench.Thats because Pastore incessantly talked about pitching mechanics and was obsessed over making every wind-up, every stretch, every delivery a picture of pitching perfection.There was a game early in his career when Pastore struggled in the first inning...
Mason Felt was the Cincinnati Reds' fifth round draft pick this past June.  He was drafted straight out of high school and has yet to play a professional game.  Felt was driving on Interstate 10 in South Texas when he was involved in a single-car accident.  His father was with him and died as a result of the accident.  Felt is in critical, but stable condition. According...
The Reds are already projected to have a pretty solid rotation in 2013, but might they be looking to add some depth? According to CBS Sports' Jon Heyman, the Redlegs are among three teams to have allegedly checked in on veteran right-handed pitcher Freddy Garcia. The Minnesota Twins and Colorado Rockies are the other two teams. The 36-year old has played for five different...
Ryan Wright is a rising prospect in the Reds organization. MLB.com currently ranks him as the team's9th-best prospect in the farm system. Cincinnati originally acquired Wright when they selected him in the fifth round of the 2011 MLB Amateur Draft. The second basemen spent the bulk of the past season at Single-A Dayton where he appeared in 102 games and posted a .285/.343...
The 2012 fifth-round pick of the Cincinnati Reds is in stable condition after a single vehicle accident claimed the life of his father. Mason Felt, 18, was driving his Ford F-150 when he began to drift off the road. According to police, Mason Felt attempted to overcorrect and then went through both lanes of traffic into the center median before overturning his truck. Felt's father...
Coming off a 97 win campaign the Reds have not been idle this offseason in attempts to improve their chance for winning a championship next year. The first move they made was retaining closer Jonathan Broxton with a free agent deal that will release Aroldis Chapman to join the rotation. This year's rotation was superb and Chapman's move will push Mike Leake outside of the top five.
Frank Pastore, former starting pitcher for the Cincinnati Reds and Minnesota Twins, passed away Monday night from complications following a November 19 motorcycle accident. Brian Day of the Silicon Valley Mercury News reports that  Pastore had been in a coma since the accident and had been recently transferred to a hospital in Upland, California from Los Angeles County-USC...
MLB News

Delivered to your inbox

You'll also receive Yardbarker's daily Top 10, featuring the best sports stories from around the web. Customize your newsletter to get articles on your favorite sports and teams. And the best part? It's free!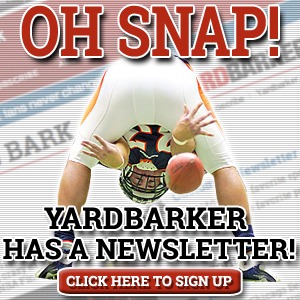 Latest Rumors
The Backyard

Today's Best Stuff

For Bloggers

Join the Yardbarker Network for more promotion, traffic, and money.

Company Info

Help

What is Yardbarker?

Yardbarker is the largest network of sports blogs and pro athlete blogs on the web. This site is the hub of the Yardbarker Network, where our editors and algorithms curate the best sports content from our network and beyond.