Found July 18, 2012 on Pirates Prospects:
PLAYERS:
Josh Wilson
,
Yohan Flande
,
Jeff Locke
,
Jeff Clement
,
Jose Constanza
,
Jose Tabata
,
Jose Yepez
,
Ruben Gotay
,
Matt Hague
,
Eric Fryer
,
Brandon Boggs
,
Yamaico Navarro
,
Kris Johnson
,
Felix Pie
,
Anderson Hernandez
,
Duke Welker
,
Daniel McCutchen
,
Ernesto Mejia
,
Tony Sanchez
,
Jeff Larish
TEAMS:
Atlanta Braves
,
Boston Red Sox
,
Pittsburgh Pirates
Gwinnett Braves  8,  Indianapolis Indians  5
(Box)
Chase d'Arnaud tripled and scored in the 1st inning.
Braves' SS Josh Wilson was an Indianapolis Indian back in 2008, when he appeared in 97 games for the Tribe before being traded away to the Red Sox organization.  Since that season, Wilson has been playing in the Pacific Coast League, so this series between the Indians and the Gwinnett Braves was his first visit back to Victory Field since 2008.  Wilson went 1-for-4 in yesterday's first game of the series, but he celebrated his return in a big way tonight, going 4-for-4, with two doubles and a home run.  He scored two runs and drove in four runs, leading the Braves to a win over the Indians at Victory Field tonight.  In fact, it was the Braves' first win over the Tribe this season — the Indians swept the 4-game series in Gwinnett last month, and then won the first game of this 4-game series.
The Indians were first to score tonight, and usually that is a good omen for the Tribe.  Not tonight, though.  SS Chase d'Arnaud crushed a one-out triple into the gap in left-center field in the bottom of the 1st.  He scored on a wild pitch from Braves' starter Yohan Flande, for a 1-0 lead.
Jeff Locke made the start but did not factor into the decision.
Tribe starter Jeff Locke allowed only one hit, a single by CF Luis Durango, over the first two innings of his outing.  Wilson began the top of the 3rd with his first hit of the night, a double into the right-center field gap, which sailed all the way to the wall.  Flande tried to put down a sacrifice bunt, but the ball went up (way up) and because the corner infielders were expecting a bunt and charging in, the pop was caught on the third base line by 1B Jeff Clement.  Wilson stole third base, then scored on LF Jose Constanza's RBI single.  That tied the score at 1-1.
The Indians took the lead back with a run in the bottom of that frame.  With one out, Locke himself worked a walk.  He scored all the way from first base when CF Jose Tabata lifted a long fly to deep center field.  Durango played the carom off the wall, firing in to second base for the relay to third.  Locke crossed the plate with the run as the ball was coming in to third base — unfortunately, a split second before Tabata did.  Tabata was tagged out at third, credited with only a double, but Locke's run counted since he scored before Tabata was tagged.
Gwinnett took the lead right back again in the 4th.  Locke began the inning by hitting C Jose Yepez with a pitch.  After a fly out, 2B Ruben Gotay doubled off the left field wall, moving Yepez to third base.  That brought up the Braves' hero of the day, Josh Wilson.  Wilson also doubled to the left field wall, driving in both Yepez and Gotay, for a 3-2 lead.
Matt Hague rejoined the Indians today and got into the lineup at third base.
Locke struck out three Braves in order in the 5th inning, but because in the bottom of the inning the Indians needed a pinch-hitter more than they needed Locke to hit and come back out and pitch again.  Locke threw 79 pitches (51 strikes)  in his 5 innings.  He gave up 3 runs on 5 hits and one walk.  Not his best outing, but definitely not his worst either.  After the game, C Eric Fryer reported that Locke had to work hard during his start.  "Early on, he didn't have his best stuff, but late in his outing, he started to really get sharp on his breaking balls.  He located his fastball most of the night… He fell behind hitters early on, so they were able to chip away a few easy runs here and there, but once we were ahead of the hitters, we kept them off balance and were able to get them out."
The Indians' half of the 5th inning saw LF Brandon Boggs reach base on Josh Wilson's only tough moment of the night.  Wilson fielded Boggs' grounder to short, but the throw to first was not on target, giving Wilson a throwing error.  A ground out put Boggs on second base.  Boggs scored an unearned run when Fryer ripped a double down the left field line.  Yamaico Navarro came on to pinch-hit for Locke, as the Indians hoped to keep the rally going.  That didn't happen, though– Navarro grounded out to short to end the inning, with a 3-3 tie.
Matt Hague and Chase d'Arnaud confer in the infield.
Kris Johnson came in to relieve Locke to begin the 6th, and that was when things started falling apart.  Yepez greeted Johnson with a double right back up the middle.  Gotay singled into right field, scoring Yepez with the go-ahead run.   Then Wilson took a 1-1 pitch over the left field wall and into the Captain Morgan Cove area for a 2-run homer.  After a quick ground out by Flande, LF Stefan Gartrell (who had come into the game as a defensive replacement for Jose Constanza) smacked a solo home run to just about the same spot in the Cove.  Four runs for the Braves, and a 7-3 lead for the Braves.  A third home run, by RF Felix Pie, led off the 7th inning and signaled the end of Kris Johnson's night.  He had allowed 5 runs on 5 hits in one inning plus one batter. The Braves led 8-3.
Another rally for the Indians got two of the runs back in the bottom of the 7th.  With one out, Boggs reached base on a walk.  He raced around to score from first base when 2B Anderson Hernandez rocketed the Indians' second triple of the game off the center field wall.  Braves' starter Flande exited the game at that point.  He was eventually credited with the win.
Duke Welker took over on the mound for Johnson and finished the 7th inning without allowing another run to score.  Welker also pitched the 8th inning.  He surrendered Josh Wilson's fourth hit of the game, this one a single.  Eric Fryer, who was charged with a missed catch error on a foul pop during Wilson's at-bat, redeemed himself by throwing out Wilson as he tried to steal second base.  Two strikeouts finished the inning for Welker.
Jeff Clement and Anderson Hernandez talk while the relief pitcher warms up.
Daniel McCutchen pitched the 9th for the Indians.  He got one quick out, then gave up a single grounded through the right side of the infield to Pie.  1B Ernesto Mejia followed with a double down the left field line, with the ball coming to rest underneath the Indians' bullpen bench.  LF Brandon Boggs raced over to the bullpen, dove under the bench to come up with the ball, then made a perfect throw to Eric Fryer at the plate.  Pie raced around from first base and was bearing down on Fryer as Fryer made the catch. Fryer hunkered down a bit, but Pie is not as big as Mejia, who crashed into C Tony Sanchez yesterday.  Pie did not try to slam Fryer or even go around him, but instead pulled up as Fryer made the inevitable tag — no bodies flying, no ball escaping the mitt, and no one to pick up from the dirt.
The Indians had scoring opportunities in their final two at-bats, but could not capitalize.  Chase d'Arnaud doubled in the 8th, but was out at third on a fielder's choice.  1B Jeff Clement lined a double into the right field corner to open the bottom of the 9th.  He advanced to third base on a ground out.  Fryer worked a walk, giving the Indians runners on the corners.  Tony Sanchez, the potential tying run, came to the plate to pinch-hit, but grounded to short, ending the inning and the game with a force out at second base, and Gwinnett had the win.
Seven hits were all the Indians managed in this game — as the Braves put up 14 hits.  Chase d'Arnaud and Jeff Clement were the only members of the Tribe to have two hits in the game.
The Indians and Braves continue this series with two more games, on Wednesday afternoon and Thursday evening.
Indians' Hitting Gem of the Game:  Anderson Hernandez's RBI triple off the center field wall in the 7th inning.  It drove in Brandon Boggs with the Indians' fourth run, and he scored moments later on a ground out.  It was Hernandez's 5th triple of the season, which is especially cool, since Hernandez is not as speedy a runner as Marte or d'Arnaud.
Indians' Defensive Gems of the Game:  Brandon Boggs' perfect strike from the bullpen bench to home plate in the 9th inning, cutting down Felix Pie at the plate as Pie tried to score from first base on Mejia's double.  That's exactly what that play is supposed to look like, and he did it with the added degree of difficulty provided by the bench.  And, Eric Fryer did not get blown off his feet.   Also a nice play:  In the top of the 7th, with a runner on first and no outs, Jose Yepez grounded toward third base.  Matt Hague charged in from third to make the play, but as he tried to scoop up the ball, it flipped up from his glove and away from Hague — but toward the left side of the mound, and right at Duke Welker.  Welker picked up the roller, whirled, and fired to first base, in time to make the out on Yepez  (5-1-3).  Very well choreographed.
NOTES
As seen above, Matt Hague, who was optioned down from the Pirates, has arrived in Indianapolis and is on the active roster.  That meant that someone else had to come off — Jeff Larish has been placed on the Indians' Disabled List.
Original Story:
http://feedproxy.google.com/~r/Pirate...
THE BACKYARD
BEST OF MAXIM
RELATED ARTICLES
Alvarez blasted No. 18 on the season in Colorado on Wednesday. Entering game action on Wednesday, Andrew McCutchen (.531 avg, 1.594 OPS) and Neil Walker (.490 avg, 1.357 OPS) were ranked No. 1 and No. 2 in the Majors in the month of July in average and OPS. But despite those two combining to go 0-for-8 on the day, Pittsburgh was still able to pull together a huge win in Colorado...
Bryan Morris pitched 1 2/3 scoreless innings with two strikeouts. He now has a 2.57 ERA over 56 innings with a 57:12 K:BB ratio. Starling Marte was 0 for 4. Chase d'Arnaud went 2 for 4 with a triple and a walk. Kyle McPherson started and gave up three runs over five innings. He struck out eight and didn't walk a batter. He has recorded at least seven strikeouts in each...
My camera has a really insane zoom. This was taken from section 312, in club level above the visitor's dugout. Randall looks nice though, doesn't he?   Went with Alison and Jenna, had a wonderful time, and seriously, why do I take so many more pictures when I'm with Alison and her megacamera? There are 138 pics from this game in the gallery, and they are almost all good...
The Atlanta Braves received a solid pitching performance from an unexpected source in their most recent contest to help extend their winning streak to a season-best seven games. Jair Jurrjens' personal hot stretch also has been impressive given his earlier struggles. The right-hander looks to remain unbeaten since being recalled from the minors when surging Atlanta hosts former...
Pittsburgh Pirates Live Game Chat ©2012 Raise the Jolly Roger. All Rights Reserved..
Two weeks ago, during the game that we'll all remember as the Drew Sutton game, Andrew McCutchen and Garrett Jones had a little moment in the dugout after the Jones home run that gave the Pirates their first lead of the game. Jones's homer came on a ridiculous golf swing and after he and McCutchen rounded the bases, 'Cutch mocked the swing in the dugout with a huge grin...
Brian McCann was dominating the National League when Buster Posey was playing shortstop as a freshman at Savannah State. There's a new sheriff behind the dish. There's no greater feeling as a franchise than having a young, cheap catcher who rakes on offense and is above-average behind the plate. Braves fans can tell you all about it. From 2006-2011 Brian McCann averaged an OPS...
Year Age Tm Lg G PA AB R H 2B 3B HR RBI SB CS BB SO BA OBP SLG OPS OPS+ TB HBP IBB 2012 25 PIT NL 86 366 329 64 123 17 5 22 65 14 5 31 66 .374 .426 .657 1.083 197 216 2 7 Provided by Baseball-Reference.com: View Original TableGenerated 7/18/2012. As I joked on Twitter last night when Jon Anderson mentioned that 'Cutch was 49-for-his...
Chipper Jones and Lance Berkman both made terribly hilarious plays on defense yesterday, but which was worse? I'll go with the one that allowed the Giants to score. (-_-)
The Pirates had some more problems on the mound on Wednesday afternoon, but were able to overcome them with a ton of offense. Four long balls helped the Bucs earn their second straight win in Colorado, giving them the series victory. James McDonald was awful to open the game. He had no control whatsoever, and served up two very long home runs to the first three batters. It was 3...
With the Pirates in need of a strong start to help them break out of a post-All Star break mini-funk, Erik Bedard gave them 6 2/3 innings in thin air of Colorado tonight, which turned out to be plenty good for an offense that finally showed some real life after a strange set of post-ASB games. I'm not sure I'd say Bedard is "back" based on his work tonight (four...
MLB News

Delivered to your inbox

You'll also receive Yardbarker's daily Top 10, featuring the best sports stories from around the web. Customize your newsletter to get articles on your favorite sports and teams. And the best part? It's free!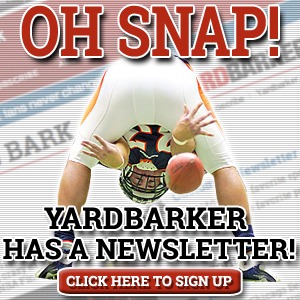 Latest Rumors
The Backyard

Today's Best Stuff

For Bloggers

Join the Yardbarker Network for more promotion, traffic, and money.

Company Info

Help

What is Yardbarker?

Yardbarker is the largest network of sports blogs and pro athlete blogs on the web. This site is the hub of the Yardbarker Network, where our editors and algorithms curate the best sports content from our network and beyond.