Found November 14, 2013 on Fox Sports Arizona:
PLAYERS:
Frank Thomas
,
Mickey Mantle
,
Yogi Berra
,
Miguel Cabrera
,
Mike Trout
,
Chris Davis
,
Adam Dunn
,
Paul Goldschmidt
,
Andrew McCutchen
,
Ryan Braun
,
Buster Posey
,
Barry Bonds
,
Yadier Molina
,
Matt Carpenter
TEAMS:
Chicago White Sox
,
Detroit Tigers
,
Los Angeles Angels
,
Baltimore Orioles
,
Arizona Diamondbacks
,
Pittsburgh Pirates
,
San Francisco Giants
,
St. Louis Cardinals
Finally. The award that everybody has been waiting for: the MVP. There are some new faces and some familiar ones amongst the three finalists for each league. One of them has a chance to be the first AL back-to-back winner since the White Sox's Frank Thomas in 1993 and '94, and in doing so, he would join the ranks of other familiar AL back-to-backers such as Roger Maris, Mickey Mantle and Yogi Berra. So who's it going to be? AMERICAN LEAGUE Miguel Cabrera, Detroit Tigers Miggy is looking to be that back-to-back winner and is competing again with Mike Trout, whom Cabrera beat out for last year's MVP. If history is any indicator, he should fare well again in this year's voting, as he put up a nearly identical statistical line in 2013 as he did in 2012. This season, Cabrera led all of baseball in batting average (.348), on-base percentage (.442), and slugging percentage (.636). He finished second in the AL in runs scored (103), hits (193), homers (44) and RBI (137). He hit the exact same number of home runs as he did last year, had only two less RBI, six less runs, four less strikeouts and 24 more walks. Oh, and his batting average increased by 18 points. That means that somehow, Cabrera has become more efficient at the plate by walking more, striking out less and hitting for a higher average. However, he did finish second in many categories which brings us to our next candidate. Chris Davis, Baltimore Orioles Davis is responsible for Cabrera's second-place finish in both homers and RBI, enjoying a breakout year for the finally-competitive Orioles. Davis led the majors with 53 HR and 138 RBI. While Davis and Cabrera had similar seasons in three major statistical categories (runs, homers and RBI), where Davis falls short is in strikeouts. Davis fanned 199 times which was second in baseball and 10 more than perennial whiffer, Adam Dunn. The O's first baseman offset the K's with 72 walks and a .286 batting average, but he struck out 105 more times than Cabrera. Thats a lot of outs. When you're up against guys like Cabrera and the other finalist, all that fanning at the plate could lead to an empty-handed trip home. Mike Trout, Los Angeles Angels When will this guy get a chance to play for a contender. All signs pointed to this year, but once again the Angels fell on their face. Trout, however, had another fantastic season and is up against Cabrera once again. The 22-year-old outfielder was another reason that Cabrera finished second in another AL category. Trout led the Junior Circuit with 109 runs, while Miggy and Davis scored 103 apiece. And if you are the kind of person that cares about WAR, Trout led all of baseball at 9.2. Trout's second-full season in the majors was another great one. In addition to the runs scored, he posted 27 homers, 97 RBI, 33 stolen bases and a .323 batting average. He doesn't have the same level of power as Cabrera or Davis, but his ability to steal bases makes him a five-category contributor. Plus, he's one of the top defensive outfielders in the game. Trout also led the AL in walks with 110. Very impressive for a player his age as plate discipline typically improves with age. Hopefully, his ridiculous skill set will be showcased in the postseason sometime soon and I am sure he will take home an MVP eventually, but not this year. FOXSports.com winner: Cabrera We expect Miggy to take home a second consecutive MVP award on Thursday. Though a strong case can be made for each finalist, Cabrera's numbers coupled with his team's playoff appearance give him the edge. NATIONAL LEAGUE Paul Goldschmidt, Arizona Diamondbacks Through no fault of his own, Goldy is probably the least-known player of this bunch. In his third year (second full season) with the D-backs and at only 26 years old, Goldschmidt was a breakout candidate before the season started, and he surpassed even the grandest predictions. Leading the NL with 36 home runs, 125 RBI and 75 extra-base hits along with many other advanced metrics that would further drag this paragraph along, Goldschmidt anchored a ship that otherwise would have drifted off. Though the D-backs finished the season with a .500 record and missed the playoffs, if not for Goldschmidt, they would likely have floundered in the NL basement. Arizona's 81-81 finish gives us the perfect setup for illustrating his actual importance to his team -- which is what this award is all about, if you remember. In his team's wins, Goldy hit .376 with 74 runs, 28 homers and 97 RBI. In the losses, he hit .223 with 29 runs, only eight homers and a measly 28 RBI. That's a stark contrast and further proof that 'Zona goes as Goldschmidt goes. Andrew McCutchen, Pittsburgh Pirates McCutchen actually regressed this year in most statistical categories. But the Pirates finally made the playoffs! So that was good news. McCutchen still fared well, but couldn't quite match his tremendous 2012 season that landed him third in the MVP voting behind the disgraced Ryan Braun and winner Buster Posey. In the same amount of games as last season, McCutchen had nine fewer hits (185), 10 fewer runs (97), 12 fewer RBI (84), 10 fewer home runs (21), and a lower batting average, .317 vs. .327. Granted, those are all fine numbers regardless, but the difference should be noted. He did, however, post improvements in stolen bases (27) and walks (78) while cutting back on his strikeouts (101). McCutchen didn't lead the NL in anything, but was solid across the board. He is the heart of a Pirates team that made the playoffs for the first time since Barry Bonds was a Buc -- a feat that cannot be quantified -- but from a numbers stand point, besides his improved efficiency at the plate, this was not his best season. Yadier Molina, St. Louis Cardinals Molina added to his many solid seasons this year, calling games for another Cardinals World Series team. Though, when you bring catchers into the MVP race, it becomes tricky to gauge their value. He was certainly a crucial part of a team that featured a young pitching staff including several rookies that excelled. But, leaving all that aside for the moment, let's look at the numbers. Molina finished the year with a .319 average, 68 runs, 12 homers and 80 RBI. Solid stuff, but you're not setting the world on fire with those stats. And Molina might not even be the best player on his team. Matt Carpenter was getting some love as a potential MVP after he put up league-leading numbers in runs (126), hits (199) and doubles (55). That being said, Molina is probably the best catcher in the NL and deserves the recognition, however, I think he falls short this year. The Giants' Buster Posey won last year with significantly better numbers in every category. FOXSports.com winner: Goldschmidt Though his team did not make the playoffs, Goldschmidt set the world on fire at the plate, providing clutch hitting all year long for a D-backs team that lacked many other true offensive threats. He's no slouch on the defensive end, either, having won a Gold Glove and finishing with the most putouts in the league at first base. McCutchen may be the most likely to win, but we think the honor belongs to Goldy.
Original Story:
http://www.foxsportsarizona.com/mlb/a...
THE BACKYARD
BEST OF MAXIM
RELATED ARTICLES
Diamondbacks first baseman Paul Goldschmidt finished second to Pirates center fielder Andrew McCutchen in balloting for the National League Most Valuable Player Award. Goldschmidt's second-place finish is the highest in franchise history. McCutchen's victory was not unexpected, but the margin surprised many. He received 28 of 30 first-place votes from members of the Baseball...
MVP voting is always one of those things that no matter how the voting goes, people are going to be outraged over the way a someone voted. Bashing reporters for their voting choices has almost become a new sport, especially since the BBWAA chose to make all of the ballots public. One of the cardinal sins of voting, at least in the eyes of the fans, is for a writer not to give a first...
Well, the BBWAA got it wrong. As was very clearly laid out for them in our Editor's Choice Awards , Paul Goldschmidt was the right choice for NL MVP. NOT Andrew McCutchen. This is a Sam Bowie-esque catastrophe , and I aim to rebut the decision of the BBWAA' (that's Baseball Writers' Association of America, you'll soon see baseball loves acronyms). And hopefully...
Nick Piecoro is the Arizona Diamondbacks beat writer for the Arizona Republic. He's a pretty good one, too. Piecoro was one of the 30 voters for the NL MVP award, two per market, and he voted Andrew McCutchen of the Pirates first and Paul Goldschmidt of the Diamondbacks second. It was a tough choice, and Piecoro justified his vote (not that he needed to). McCutchen ran away with...
The postseason awards are honestly becoming an annoying way to posture why one thinks a player is better than another. Within the last three seasons, both the Cy Young and league MVP discussions have changed from being an award that simply goes to the best pitcher or hitter in each league to one that depends on which stat you choose to go with. The sabermetric community likes to...
The Bucs have taken home a bunch of awards over the last few two weeks or so, but the last and biggest comes tonight at 6 PM on MLB Network. Andrew McCutchen is a finalist for the NL Most Valuable Player award, and it seems likely he'll be the first Pirate to win it since Barry Bonds in '92. The other two finalists are Yadier Molina and Paul Goldschmidt, both of whom have decent...
MLB News

Delivered to your inbox

You'll also receive Yardbarker's daily Top 10, featuring the best sports stories from around the web. Customize your newsletter to get articles on your favorite sports and teams. And the best part? It's free!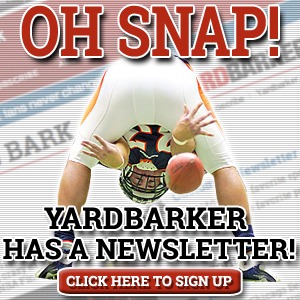 Latest Rumors
The Backyard

Today's Best Stuff

For Bloggers

Join the Yardbarker Network for more promotion, traffic, and money.

Company Info

Help

What is Yardbarker?

Yardbarker is the largest network of sports blogs and pro athlete blogs on the web. This site is the hub of the Yardbarker Network, where our editors and algorithms curate the best sports content from our network and beyond.