Found February 05, 2013 on Bronx Pinstripes:
PLAYERS:
Brian Cashman
,
George Steinbrenner
,
Carl Pavano
,
AJ Burnett
,
Shawn Chacon
,
Aaron Small
,
Eric Chavez
,
Raul Ibanez
,
Kerry Wood
,
Nick Swisher
,
Robinson Cano
,
Brett Gardner
,
Phil Hughes
,
Joba Chamberlain
,
Eduardo Nunez
,
David Robertson
TEAMS:
New York Yankees
,
Cleveland Indians
,
Minnesota Twins
,
Pittsburgh Pirates
,
Arizona Diamondbacks
,
Seattle Mariners
,
Chicago Cubs
When Brian Cashman began his internship with the Yankees in 1987, he saw then GM Woody Woodward buckle under The Boss. Nicknamed The Pharmacist because of his trove of stress-relieving medication, Woodward resigned after one year. Being the General Manager for the Yankees under George Steinbrenner was just as good as an internship it seemed like. Cashman was almost 20 then, and was just hoping the Yankees would win while he was passing through so he'd have some stories to take with him. He worked in the  minor league scouting department by day, and the security office by night, trying to earn a few extra bucks. Little did he know the journey he was about to go on. Cashman landed the summer intern job through a friend who worked at a Florida racetrack which was affiliated with the standardbred farm Cashman's father, John, had in Kentucky. This friend happened to know a guy by the name of George M. Steinbrenner III. Cashman attended the Catholic University of America, and was a four-year starting second-baseman, setting the school's all-time hits record in the process, which has since been broken. Cashman graduated in 1989, and began working with the Yankees. As they say, the rest is history. Brian Cashman in uniform at Catholic University in D.C. After winning the World Series in 1996 and falling to the Cleveland Indians in the 1997 ALDS, then GM Bob Watson stepped down in February of 1998 under pressure from, who else, George Steinbrenner. Upon Watson's exit, he requested that his protégé be the next GM. 15 years ago this month, Cashman was named the new General Manager. From intern to the top, he was just 30 years old – the 14th GM in 25 years for Steinbrenner, surely a stand-in until the next victim took the job. Or so people thought. The 1998 Yankees, built essentially by Gene "Stick" Michael in the early 90′s, went on to become one of the greatest teams of all-time. They won again in 1999, then 2000 – completing a three-peat with a 33 year old GM who was looked at as more of a braniac than a baseball man at the time of his hiring. In 2001, the team was within inches of capturing a four-peat. It was after 2001 that Steinbrenner became thirsty for more, and the checkbook opened. With any decisions in business, especially sports, there are very good ones and very bad ones. Cashman has had his fair share of bad ones, thats for sure. Carl Pavano collected $45 million over four years after sitting on the bench from injuries. Randy Johnson was a very mediocre pitcher over two seasons that saw the Yankees bounced in the division series both years. Kevin Brown is best remembered for a short temper and getting shellacked in Game 7 of the '04 ALCS. AJ Burnett — well, his stay in the Bronx goes without saying. Fans seem to remember the bad moves, and not give Cashman any credit for the good. Making moves that take more than opening a checkbook and writing down the highest dollar amount, like signing Shawn Chacon, Aaron Small, Eric Chavez, Raul Ibanez, bringing in Kerry Wood or a then struggling Nick Swisher, are often forgotten about. Those guys knew how to win, and not only contributed on the field, but in the clubhouse as well. Without those players, the Yankees don't make the playoffs in any of those respective years. All the while, Cashman has held on to prospects and developed them. Robinson Cano, Brett Gardner, Phil Hughes, Joba Chamberlain, Eduardo Nunez and David Robertson are all quality players that have been contributing factors to playoff teams. Now, with the checkbook somewhat off limits, Cashman still boasts one of the best starting rotations in the major leagues, and an offense that is less powerful, but more geared toward small ball – a winning formula in October. His ballclubs have made the playoffs in 13 of 14 years, winning the pennant six times and the World Series four times. With only one championship in the past 11 years, fans have forgotten that these accomplishments are hard to come by in professional baseball. Brian Cashman has made some unpopular moves. But the good outweighs the bad. Yes, the core of these teams in the nineties were in place for the most part before Cashman was in place, but he still had to manage the New York media and the constant pressure put on by the higher ups. Cashman would often keep his wife awake at night from the sound he made when he ground his teeth. You see pictures of Cashman now, he often looks tired, stressed, worn out. It's hard to believe that his closer is just two years younger. Whether you agree with his moves, past or present, you have to respect the guy. Being the GM for what will be his 16th year is incredible, given the win-now attitude by the fans and ownership. The team has been in the mix for a championship every single year, which is taken for granted. The Pittsburgh Pirates haven't made the playoffs in two decades. 2013 may be Brian Cashman's finest hour. The team is trying to get under the $189 million payroll threshold to avoid the insane luxury tax. Couple that with a mediocre free-agent class, and Cashman has made the best of what is available. By signing experienced, useful veterans to one or two year deals, he is giving the team  a chance to win now, while being fiscally responsible and allowing the farm system to develop for the future. Fans need to realize that spending doesn't necessarily equal winning. When the team spent the most out of anyone over a 10-year span, they only produced one title. If the Yankees can somehow win anything substantial this year, the team will have earned every bit of it. Regardless of how 2013 plays out, Brian Cashman's legacy in the history of the New York Yankees is set. Respect him for it.
Original Story:
http://bronxpinstripes.com/beyond-bas...
THE BACKYARD
BEST OF MAXIM
RELATED ARTICLES
So the Alex Rodriguez saga continues, but no one can seem to find him?  Alex Rodriguez – Yankee Stadium. Well according Bill Maddon of the New York Daily News : "The latest word on Alex Rodriguez, wherever he is, is that he's scared. Not scared because of all these revelations about his involvement with an associate named Tony Bosch, an alleged dispenser of HGH and testosterone...
LIP SERVICE
The Yankees captain thinks Alex Rodriguez should speak out publicly on the latest round of PED allegations before he makes his feelings known on the subject.
  Mark Teixeira says he is "overpaid."   Usually when athletes talk about their contracts, they are complaining about how small it is, but, apparently, Mark Teixeira is not one of those athletes. In an interview with The Wall Street Journal, he stated that he is overpaid and "on the backside of [his] career." Talk about honesty. A week following a Yankee player who has...
After concerns that Michael Pineda could miss the entire 2013 season for the Yankees, fear started setting in.  At least among Yankees fans.  New York had traded away Jesus Montero to get Pineda.  He couldn't flop.  Now, it seems Pineda will not miss the 2013 season after all.  He threw from a half-mound yesterday for the first time. Anthony McCarron got a sneak peak...
From the NY Daily News:Alex Rodriguez is taking his wildest swing yet in his fight against steroid allegations: The Yankees and MLB are conspiring to push him out of the game. Sources say the embattled Yankee star is "scared" that bigger forces are at work to try to discredit him and sink his career. Holed up in Miami, Rodriguez has been huddling with an army of lawyers and...
Like many players who make the move over to that team in the Bronx, Kevin Youkilis has gone through a drastic transformation. Youkilis unveiled his new batting stance in a video interview with the YES Network. The new Yankees third baseman described it as "a wider, more athletic 'linebacker'-type foot position to achieve better balance." Youkilis also decided to discontinue...
Alex Rodriguez appears to be hiding. Between rehabbing an injury that could sideline him for much of the 2013 season and facing accusations surrounding performance-enhancing drug use, A-Rod is likely not anxious to speak to the media any time soon. That is why the New York Yankees are doing their best to protect him. "I'm not going to say to try and keep away the extra, whatever...
Derek Jeter has taken to the field for a full week now and even hit in the batting cage Monday for the first time since breaking his ankle last October.  The Yankees shortstop took 55 grounders — but doesn't move move laterally — and said his left ankle is healing right on schedule. He expects to be ready by Opening Day on April 1. "Everything's been good, everything...
Alex Rodriguez is under fire once again for rumored use of performance enhancing drugs.  Rodriguez is rehabbing a bad hip, and in order to keep the media from hounding Rodriguez during his rehab, ESPN New York is reporting that the team will keep his rehab location a secret. "I'm not going to say to try and keep away the extra whatever you want to call it, paparazzi, whatever...
Sitting on a stage with their manager and GM during a fundraiser, Mariano Rivera and Mark Teixeira vowed to welcome Alex Rodriguez back to the New York Yankees following the latest drug allegations against the New York Yankees star.
During the off-season before the 2009 season it was rumored that the Mets came very close to signing Derek Lowe only to have the Braves swoop in and grab the veteran pitcher.  The made a low ball offer that they sat on saying they wouldn't bid against themselves, the Braves missed several pitchers and were able to become the highest bidder. Now most believed that the Braves...
MLB News

Delivered to your inbox

You'll also receive Yardbarker's daily Top 10, featuring the best sports stories from around the web. Customize your newsletter to get articles on your favorite sports and teams. And the best part? It's free!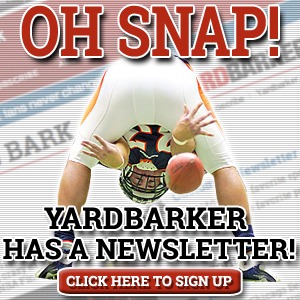 Latest Rumors
Best of Yardbarker

Today's Best Stuff

For Bloggers

Join the Yardbarker Network for more promotion, traffic, and money.

Company Info

Help

What is Yardbarker?

Yardbarker is the largest network of sports blogs and pro athlete blogs on the web. This site is the hub of the Yardbarker Network, where our editors and algorithms curate the best sports content from our network and beyond.