I apologize for the lateness of my recaps the last couple games.  I have been fighting a pretty bad chest cold and find myself drained of energy at the end of the day, so for the second consecutive morning, I bring you a hearty coughing fit and a morning after game summary. Frankly, the Dodgers look like they've come down with my cold.  See, their offense got sick again around the 6th or 7th inning Monday night, which is the point at which I had to leave the game because my cough came roaring back.  Coincidence?  Most likely.  But as long as I've had this cold, the offense seems to ebb and flow as I feel better or worse, so maybe it's time for me to kick this thing. Chris Capuano made his first start of the season for the Dodgers and quickly found himself down 4-0 in the first inning.  Chris Denorfia led the game off with a single.  Everth Cabrera sacrificed him to second, then Yonder Alonso hit a single to right, scoring Denorfia from second.  Jesus Guzman then singled, and after a Jedd Gyorko line-out to center for the second out, things really got out of hand.  Capuano allowed an infield single to Kyle Blanks.  Nick Hundley then drew a bases-loaded walk, and Alexi Amarista knocked a single into right field, scoring Guzman and Blanks.  Jason Marquis then grounded out to mercifully end the Top of the First, but the Padres succeeded in sending every man in their lineup to the plate and jumping out to a 4-0 lead. Capuano added injury to what was tantamount to an insulting first injury, injuring his calf after issuing a leadoff walk in the Top of the 3rd to Jesus Guzman and being replaced by Matt Guerrier.  Two batters later, Guerrier gave up a double to Kyle Blanks, then a sacrifice fly to center off the bat of Nick Hundley plated Jesus Guzman and gave the Padres a 5-0 lead going into the Bottom of the Third. Capuano's line on the night was anything but impressive: 2 innings pitched (1 batter faced in the third inning,) 5 earned runs allowed on 5 hits and 2 walks. The fact that Capuano was starting in place of the injured Zack Greinke only added to Dodger fans pain, since that injury happened against the Padres due to the actions of Carlos Quentin just last week. The Dodgers got a run back in the Bottom of the 3rd.  Juan Uribe singled to lead off the inning and would eventually come around to score on Mark Ellis's sacrifice fly to center, cutting the margin to 5-1.  However, Padres starter Jason Marquis would have little trouble the rest of the way and not see any real scoring threats occur again until the late innings. Meanwhile, the Padres kept churning out the runs one at a time as a plethora of Dodger relievers came into the game.  After Guerrier allowed only the one inherited runner to score in 2 innings of work for what honestly might have been his best outing in a Dodger uniform in some time, Josh Wall started the Top of the 5th out with two strikeouts before giving up a double to Nick Hundley and a single to Alexi Amarista for another run and a 6-1 Padres lead. Wall gave up two more runs in the Top of the 6th.  Chris Denorfia doubled, stole third, then came home on Yonder Alonso's double.  Jedd Gyorko followed up with a two out single to left, plating Alonso and giving the Padres an 8-1 lead. Carl Crawford would chase Jason Marquis in the 8th inning with a two out double down the right field line.  However, Mark Ellis followed this with a flyout to left, ending the threat and closing the book on Marquis. Jason Marquis had an excellent night on the mound for the Padres.  His final line:  7 2/3 innings pitched, 1 earned run allowed on 3 hits and only one walk to go with 5 strikeouts as he lowered his season ERA to 2.41. The Padres and Dodgers would each add a run in the 9th inning.  On the Padres side, Kyle Blanks was hit by a pitch, took second on a wild pitch, went to third on a flyout, then Alexi Amarista drove in his 4th run of the night with yet another single, expanding the Padres lead to 9-1.  For the Dodgers part, a leadoff single by Jerry Hairston, Jr. and walks to Andre Ethier, Skip Schumaker and Nick Punto pushed across a run.  However, Luis Cruz struck out with the bases loaded to end the game and a 9-2 final score in favor of San Diego. The winning pitcher was Jason Marquis, who went a brilliant 7 2/3 for the Padres and improves his record to 1-1.  The loser was Chris Capuano, who falls to 0-1. The final game of this 3 game set will be tonight at Dodger Stadium, a 7:10 p.m. start.  Vin Scully announced on-air last night that tonight's game is a sellout, so if you have tickets plan to get to the ballpark early if you can, and if you don't have tickets, unless you've got a source or a broker, it might be best to take this one in from home.  With this pesky cough, I know I will.  Clayton Kershaw (2-1, 1.16 ERA) takes the mound for the Dodgers against Tyson Ross (0-1, 4.82 ERA) for the Padres.  (Oh, and it's probably going to be cold, so I know my mother would be telling you all to bring a sweater if you're going to the game tonight.  I'm pretty sure the cold's what got to me on Monday night, so I'm going to have to recommend mom's advice on this one.) This article has been read (0) times
Original Story:
http://thesuicidesqueeze.com/?p=1755
PLAYERS:
Chris Capuano
,
Chris Denorfia
,
Everth Cabrera
,
Yonder Alonso
,
Jesus Guzman
,
Jedd Gyorko
,
Kyle Blanks
,
Nick Hundley
,
Alexi Amarista
,
Jason Marquis
,
Matt Guerrier
,
Zack Greinke
,
Carlos Quentin
,
Juan Uribe
,
Mark Ellis
,
Josh Wall
,
Carl Crawford
,
Andre Ethier
,
Skip Schumaker
,
Nick Punto
,
Luis Cruz
,
Vin Scully
,
Clayton Kershaw
,
Tyson Ross
TEAMS:
Los Angeles Dodgers
,
San Diego Padres
MORE FROM YARDBARKER
MLB News

Delivered to your inbox

You'll also receive Yardbarker's daily Top 10, featuring the best sports stories from around the web. Customize your newsletter to get articles on your favorite sports and teams. And the best part? It's free!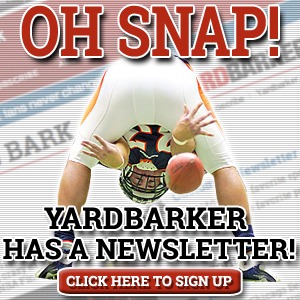 Latest Rumors
Best of Yardbarker

Today's Best Stuff

For Bloggers

Join the Yardbarker Network for more promotion, traffic, and money.

Company Info

Help

What is Yardbarker?

Yardbarker is the largest network of sports blogs and pro athlete blogs on the web. This site is the hub of the Yardbarker Network, where our editors and algorithms curate the best sports content from our network and beyond.