Found April 07, 2012 on Cub Reporter:
Word is that the wind is blowing out briskly to left, so Sveum has loaded up on the righties to battle southpaw Gio Gonzalez in his NL debut. Nationals Cubs Desmond, SS Johnson, RF #Espinosa, 2B Mather, 3B Zimmerman, 3B Castro, SS *LaRoche, 1B Soriano, LF Werth, RF Baker, 1B DeRosa, LF Soto, C *Bernadina, CF Byrd, CF Ramos, C Barney, 2B Gonzalez, P Garza, P How many walks will Cubs get off Gio? 0-23-55 or more    pollcode.com free polls  Rodgrigo Lopez is the first call-up from the minors, so congrats to those that picked it in our prediction contest. It appears Luis Valbuena is going back through waivers in an attempt to option him to Iowa to make room for Lopez.
Original Story:
http://feedproxy.google.com/~r/TCRfee...
THE BACKYARD
BEST OF MAXIM
RELATED ARTICLES
I'd probably go Eric Jokish and Arismendy Alcanatra as your pitching and hitting stars of the day, both for Hi-A Daytona.   Round Rock 4 - @Iowa 3; Coleman gives up 4 earned runs over 5 innings, but does strikeout 5 without giving up a walk. Rizzo with a two singles and an error. W. Castillo and B. Jackson have the only 2 extra-base hits on the night for Iowa. Campana gets...
Top Nats hitting prospect Anthony Rendon had to be helped off the field last night in Class A Potomac after he hurt himself rounding third in just his second minor league game. Apparently, it was not a pleasant scene. Bill Ladson of MLB.com is reporting this morning that the injury was to Rendon's left ankle. The slugging infielder had previously hurt his right ankle severely...
Here's video of Bryce Harper doing an interview with CNY Central News in Syracuse during Chiefs media day on Wednesday. (Asked what he knew about Syracuse prior to arriving, Harper acknowledged that he "always knew it was a big basketball town. Everyone knows about Syracuze".) The Washington Post's Dave Sheinin was at Harper's AAA debut in Syracuze on Thursday...
Tuesday night I endured a local school board meeting. It comes with the territory of my day job. I sat glassy-eyed in the gallery, my mind drifting ahead 48 hours at which point I would be sitting in the stands on Opening Night at Principal Park, cracking open peanut shells instead of stifling yawns. After work on Wednesday I went to the ballpark to collect my media credential....
Don't you ever change, Cubs fans. And they said there was pressure on Theo Epstein to win now. Pssshh. H/T Bryan Dryfout via Kevin Kaduk
Jeff Samardzija dominated into the ninth, outpitching Jordan Zimmermann, and the Chicago Cubs beat the Washington Nationals 4-3 Sunday for their first win of the Theo Epstein era. Samardzija was simply spectacular in his sixth career start, allowing four hits and an earned run. He struck out eight without a walk as the Cubs shook off two wrenching losses to start the season. There...
Is the hype to be believed? Could the Nationals actually contend this year? Sawyer Ballston, VA ___________________________________ Sexy superlatives and arduous absolutes, ladies and gentlemen, please welcome your 2012 Washington Nationals! Could they actually contend? Hmm… does watching a pitcher's duel strike me with uncontainable bonerjamz? HELL to the YES, my friend! There...
Losing Stephen Strasburg again would be not good.
MLB News

Delivered to your inbox

You'll also receive Yardbarker's daily Top 10, featuring the best sports stories from around the web. Customize your newsletter to get articles on your favorite sports and teams. And the best part? It's free!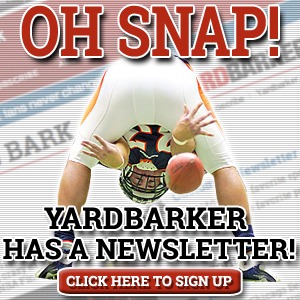 Latest Rumors
Best of Yardbarker

Today's Best Stuff

For Bloggers

Join the Yardbarker Network for more promotion, traffic, and money.

Company Info

Help

What is Yardbarker?

Yardbarker is the largest network of sports blogs and pro athlete blogs on the web. This site is the hub of the Yardbarker Network, where our editors and algorithms curate the best sports content from our network and beyond.