Found April 08, 2013 on Suicide Squeeze:
PLAYERS:
Clayton Kershaw
,
AJ Burnett
,
Starling Marte
,
Matt Kemp
,
Carl Crawford
,
Russell Martin
,
Justin Sellers
,
Clint Barmes
,
Mark Ellis
,
Paco Rodriguez
,
Kenley Jansen
,
Brandon League
,
Hyun-jin Ryu
,
Jeff Locke
,
Adrian Gonzalez
,
Andre Ethier
,
Luis Cruz
,
AJ Ellis
TEAMS:
Los Angeles Dodgers
,
Pittsburgh Pirates
Another beautiful night at Dodger Stadium, great weather, a great crowd of about 40,000 on hand for Saturday night baseball, and Clayton Kershaw on the mound for the Dodgers against Pittsburgh Pirates Ace A.J. Burnett.  I settled into my seat in the Right Field Pavillion around 5:30 P.M. with my Dodger Dogs, my peanuts and a Coke with Aaron (who I wrote about in a blog earlier this afternoon) and got to watch a great night of baseball.  I will post pictures and tell you more about my game day experience in a blog tomorrow, but tonight let's get to the recap. Clayton Kershaw opened up by allowing a dying quail to center off the bat of Starling Marte that was just a little too shallow for Matt Kemp to run under.  Kershaw wouldn't allow another hit until Marte beat out an infield single to second with 2 outs in the 6th.  Between Marte's hits, Kershaw would retire 17 batters in a row, striking out 9 of them, and looking downright masterful on a perfect April evening in Los Angeles.  At times, Kershaw looked even more dominant than he did in his Opening Day shutout on Monday.  All of his pitches seemed to be working and he was getting a lot of bats to swing and miss throughout his outing. Carl Crawford got in on the act as well.  Crawford led off the Bottom of the First by working a walk, then stole second without drawing a throw from Russell Martin.  Crawford would wind up being stranded on the basepaths as the Dodger offense again stalled, but it wouldn't be the last time Crawford reached base and showed off his speed. On the Pirates' side, A.J. Burnett worked hard but pitched effectively for 5 1/3 innings, giving up only 1 run on 4 hits.  Burnett also gave up 4 walks, but struck out 9.  Burnett might have won but for the fact that the Pirates' bats are colder than the Dodgers' right now. The one run Burnett did allow came in the third.  After retiring Justin Sellers and Clayton Kershaw, Burnett gave up an infield single to Carl Crawford on a ball that Pirates shortstop Clint Barmes was not able to field cleanly and make a play on.  Crawford then worked his magic, stealing second on a pitch where he got such a good jump that he was already halfway to second base by the time the ball came out of Burnett's hand and started working its way toward the plate.  Russell Martin's throw down to second didn't even have a chance to get Crawford.  Mark Ellis then followed with a single to left, with Crawford beating Marte's throw to give the Dodgers a 1-0 lead that they wouldn't relinquish. The only real look at getting in the game that the Pirates had came with two out in the Seventh, when Russell Martin would draw a walk off of a tiring Clayton Kershaw.  Kershaw put an end to the threat himself, however, catching Martin leaning off first base and picking him off to end the inning.  Kershaw finished the night throwing 97 pitches in 7 innings, striking out 9 batters, giving up two hits, and allowing the one walk to Martin.  Kershaw has opened the season with 16 consecutive shutout innings. Paco Rodriguez faced one batter for the Dodgers in the 8th and struck him out.  Kenley Jansen finished the 8th, then Brandon League gave up a walk and nothing else in the 9th to pick up a save in his second consecutive game. The Dodgers' offense continued to struggle, but on this night it was the pitching staff that carried the team.  The Dodgers have one more game against the Pirates this weekend, a 1:10 P.M. start tomorrow at Dodger Stadium.  Hyun-Jin Ryu will make his second Major League Appearance coming off a hard-luck 3-0 loss to the Giants.  He will be countered by Jeff Locke who will be making his first start of the season for the Pirates. All About Clayton: Clayton Kershaw at times looked even more dominant than he did on Opening Day.  Kershaw expressed frustration with himself when he struggled early in Spring Training, but has looked like a man on a mission so far this season.  Kershaw's 16 consecutive shutout innings to start the 2013 season extend his total streak of shutout innings to 20 dating back to last season.  Kershaw's line on the season so far: 1 complete game, 1 shutout, 16 innings pitched, 16 strikeouts, 1 walk, 0 runs allowed, 6 hits allowed. All About Carl: Carl Crawford has been the one constant in the Dodgers' offense the first 5 games of this season.  Crawford was 2-for-3 tonight with 2 stolen bases and scored the only run on Mark Ellis's third inning single.  He is now 7-for-16 on the season and has also drawn 2 walks for a batting average of .438 and an on-base percentage of .500.  Crawford has also scored 3 runs in the Dodgers' 5 games, a significant feat given that the team has struggled to score.   Though caught stealing in his first two attempts, Crawford looked absolutely explosive in his two steal attempts tonight and is now 2-for-4 in stolen base attempts on the season. Hard Luck Burnett: A.J. Burnett falls to 0-2 on the season for the Pirates despite pitching well.  Burnett gave up 3 runs in 5 2/3 innings in his Opening Day assignment against the Cubs and gave up only 1 run tonight in 5 1/3 against the Dodgers.  Burnett appears to be struggling with keeping his pitch count down in his first two outings, but has gotten outs when he's needed to and has a startling 19 strikeouts in only 11 innings pitched. So What's The Truth? Truth is, the Dodger offense needs to start generating runs.  The pitching staff has been stellar so far this season, recording 3 shutouts in 5 games.  The Dodger bullpen is yet to surrender a run this season.  While the Dodgers definitely have the arms they need to shut down their opponents' offenses, their pitchers could use a few runs to work with to take off some of the pressure and allow for some margin for error.  The offense has shown a few signs of life, with Adrian Gonzalez doubling for the second consecutive game and Andre Ethier picking up another solid single tonight.  Carl Crawford has been stellar at the top of the order and Mark Ellis has delivered a couple timely hits.  But Matt Kemp, Luis Cruz, Justin Sellers and A.J. Ellis have been mostly dormant and have not helped the Dodgers much when given opportunities to do so with runners in scoring position.  The offense needs to step up for the Dodgers to continue to win games and make a strong showing in the National League West. This article has been read (0) times
Original Story:
http://thesuicidesqueeze.com/?p=1410
THE BACKYARD
BEST OF MAXIM
RELATED ARTICLES
The Los Angeles Dodgers not only did some sweeping this weekend but they re-organized the garage as well. Coming off a weekend sweep of the Pittsburgh Pirates, GM Ned Colletti made good on a few off season promises. The Dodgers are counting on Ramon Hernandez to be the veteran they need to back up AJ Ellis. Last winter, Colletti said that obtaining a veteran back-up catcher for A...
Many around the league expect Los Angeles Dodgers left-hander Clayton Kershaw to become the first pitcher to receive a $200 million guaranteed contract. According to Jon Heyman of CBS Sports, this will certainly happen, as he hears negotiations between Kershaw and the Dodgers have already surpassed the $200 million mark. Heyman notes that Kershaw is everything a team...
Clayton Kershaw was dominant in two outings this past week and now Major League Baseball has recognized his accomplishments! Congratulations Clayton Kershaw! National League Player of the Week for the first week of 2013! (Image Credit: Dodgers.com) Here's a brief recap of what Clayton did during Opening Week. -Shut out the Giants on Opening Day, going 9 innings, striking out...
Clayton Kershaw followed up his sensational one-man show on opening day with seven innings of two-hit ball and nine strikeouts in a spirited duel with A.J. Burnett, and the Los Angeles Dodgers beat Pittsburgh 1-0 Saturday night for their second straight shutout win over the Pirates., http://juicedsportsblog.com/sports-news/news/kershaw-turns-in-second-solid-start
Los Angeles Dodgers starting pitcher Clayton Kershaw has been named National League Player of the Week after his two lights out performances to start the season. At a time when the Dodgers' bats have struggled to find consistency, Kershaw, the team's ace, has at least done his part to shut down the opposition, going 2-0 in two starts and not allowing a single earned run...
Just two weeks ago there was speculation that Carl Crawford might start the year on the DL. This move would have allowed the fast rising prospect Yasiel Puig, who had hit over .500 for Spring Training, to give the Los Angeles Dodgers faithful a quick glimpse of the near future. It wasn't too far out of the question for the Dodgers who were concerned that Crawford wouldn't even...
When Clayton Kershaw takes the mound for the Los Angeles Dodgers, one can almost pencil in a win for them – even if their offense is struggling like has been the case of late. In his second start of the season, Kershaw is off to a sensational start. After pitching a two-hit, complete game shutout in his season debut against the defending world champion San Francisco Giants, Kershaw...
LOS ANGELES (AP) -- Clayton Kershaw followed up his sensational one-man show on opening day with seven innings of two-hit ball and nine strikeouts in a spirited duel with A.J. Burnett, and the Los Angeles Dodgers beat Pittsburgh 1-0 Saturday night for their second straight shutout win over the Pirates. Kershaw (2-0) walked one and retired 17 consecutive batters after giving up...
Clayton Kershaw has allowed 0 runs on 2 hits through 6 at the Taj Mahal of Baseball and the Dodgers lead 1-0. Game recap will be delayed due to me being at the game. Hope all of you watching at home are enjoying this Saturday Night delight! This article has been read (0) times
Baseball fans were wondering what Los Angeles Dodgers left hand pitcher Clayton Kershaw would do for an encore, after pitching a complete game, four hit shutout on opening day while chipping in at the plate with a home run (does listening to Vin Scully on any call ever get old).  While not quite as impressive, Kershaw followed it up today with a 7 inning performance only allowing...
That … about sums it up, I think.
AJ Burnett pitched well, but the Pirates offense hasn't woken up yet.  Facing the Dodgers' Clayton Kershaw didn't help, of course.  He pitched 7 innings and allowed just 2 hits. AJ needed 108 pitches to get through 5.1 innings, but he only allowed 1 run off 4 hits and 4 walks.  That run came in…
MLB News

Delivered to your inbox

You'll also receive Yardbarker's daily Top 10, featuring the best sports stories from around the web. Customize your newsletter to get articles on your favorite sports and teams. And the best part? It's free!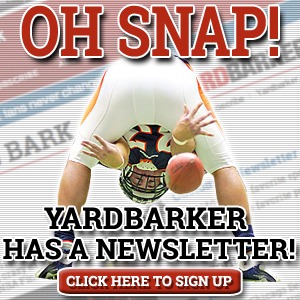 Latest Rumors
The Backyard

Today's Best Stuff

For Bloggers

Join the Yardbarker Network for more promotion, traffic, and money.

Company Info

Help

What is Yardbarker?

Yardbarker is the largest network of sports blogs and pro athlete blogs on the web. This site is the hub of the Yardbarker Network, where our editors and algorithms curate the best sports content from our network and beyond.