Found April 30, 2012 on Love My Bravos:
Our pretty Beachy "stretching" during batting practice Cousin Catherine and I went to the game Friday, had a super-awesome time. The picture above is the best one I snagged, but I'll post a few more below. Everyone was pretty scattered today! Rossy laughing. EO hat. HUDDY! Kimmie's cute grin. I swear, it looks like Meds can see my lens pointed at him from all the way across the field AND HE IS SMIRKING. So far away today, boys! I really like MikeMinor's shoes. Why does Jonny use this beautiful beard-colored glove during BP but that boring black glove during games? O was doing... pull ups? We had no idea, but it was very entertaining. Catherine: "Use your super-creeper zoom and try to get a picture of Beachy's watch." Me: "Why is he wearing a watch out here? Also, I like the band." Former Brave Nate McLouth warming up. He got boo-ed. :( Little ones played an inning in the outfield and did the parade. It was super-cute. This one got an aut...
Original Story:
http://www.lovemybravos.com/2012/04/b...
THE BACKYARD
BEST OF MAXIM
RELATED ARTICLES
Tim Hudson's fastball wasn't great. His sinker sometimes stunk. His cutter didn't always do what he wanted. None of that mattered on Sunday. It was a great day for Hudson. Seven months to the day after his last big league start which ended in a season-ending loss to the Phillies -- and five months after back surgery, Hudson returned to a big league mound. It wasn...
Manager Fredi Gonzalez and the Braves training staff are taking no chances on lingering injuries this season. That is the residue of last September's collapse, caused in part by catcher Brian McCann's weak offense after coming back too soon from a strained left oblique. So when right-fielder Jason Heyward woke up Monday morning with a tender right oblique, there was no question...
#pirates option Meek to Indianapolis — Tom Singer (@Tom_Singer) May 1, 2012   No corresponding move has yet been made, but one would have to assume that it will be either Doug Slaten, Daniel Moskos, or Daniel McCutchen, and most likely in that order. Evan Meek has struggled so far this year with a 5.59 ERA over 9 2/3 innings. Slaten has a 0.69 ERA over 13 innings for Indianapolis...
The Pirates optioned right-hander Evan Meek to Triple-A Indianapolis after Monday night's game with instructions to sharpen the location on his fastball. Manager Clint Hurdle said he wasn't ready to announce a corresponding move. Meek allowed three inherited runs to score and was charged with one earned run in 1 2-3 innings against the Braves on Friday night. He had a...
Everyone in action again today. Durham 1, Indianapolis 0 – Jeff Locke started and pitched 7 scoreless innings. He struck out 2, walked 4, and gave up 3 hits. Daniel Moskos gave up 1 run in 1 inning. Jordy Mercer went 1 for 3. Starling Marte was 0 for 3 with a walk. Erie 10, Altoona 5 – Nathan Baker started and gave up 8 runs (7 earned) over 4 1/3 innings. Brock Holt was...
Our cutest bullpen coach ever! My friend Susan and I sat by the bullpen Saturday night. I love that Eddie posed for the picture above. He's so fun! Pictures! Laughing with some kids in the stands shortstop 1 shortstop 2 Love Marteeeeeeen's socks up for BP! Freddie hit TWO home runs that hit the back wall of the grass farm in center field. I took way too many pictures of Eric...
Three Pittsburgh Pirates farmhands combined on a no-hitter in the Indianapolis Indians' 2-0 victory over the Durham Bulls on Sunday in the International League. Winning pitcher Justin Wilson struck out nine in 7 1-3 innings for the Indians before he was relieved in the eighth by Jose Diaz, who retired the only two batters he faced. Doug Slaten got three groundouts in the ninth...
I'm not even sure where to start handing out blame for this one. Kevin Correia was pretty awful today; he couldn't get out of the fifth inning, he walked five hitters, and he struck out no one. He was the picture of a guy that couldn't fool anyone. Braves hitters just stood in against him and took their hacks until he either walked them or they hit a ball hard. It'...
The Pittsburgh Pirates have recalled RHP Jared Hughes to take Evan Meek's spot on the roster.  Meek was optioned to AAA after last night's game against the Braves. This is a bit of a head-scrather to me.  Hughes had a pretty good ERA when he went down (1.86), but otherwise he did nothing to impress [...]
MLB News

Delivered to your inbox

You'll also receive Yardbarker's daily Top 10, featuring the best sports stories from around the web. Customize your newsletter to get articles on your favorite sports and teams. And the best part? It's free!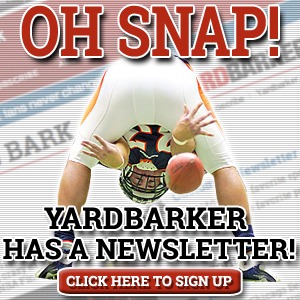 Latest Rumors
Best of Yardbarker

Today's Best Stuff

For Bloggers

Join the Yardbarker Network for more promotion, traffic, and money.

Company Info

Help

What is Yardbarker?

Yardbarker is the largest network of sports blogs and pro athlete blogs on the web. This site is the hub of the Yardbarker Network, where our editors and algorithms curate the best sports content from our network and beyond.