Found April 07, 2013 on Dodgers Rumors:
PLAYERS:
Clayton Kershaw
,
AJ Burnett
,
Starling Marte
,
Matt Kemp
,
Mark Ellis
,
Adrian Gonzalez
,
Andre Ethier
,
AJ Ellis
,
Luis Cruz
,
Carl Crawford
,
Justin Sellers
,
Russell Martin
,
Don Mattingly
,
Paco Rodriguez
,
Pedro Alvarez
,
Kenley Jansen
,
Garrett Jones
,
Clint Barmes
,
Brandon League
TEAMS:
Los Angeles Dodgers
,
Pittsburgh Pirates
,
San Francisco Giants
When Clayton Kershaw takes the mound for the Los Angeles Dodgers, one can almost pencil in a win for them – even if their offense is struggling like has been the case of late. In his second start of the season, Kershaw is off to a sensational start. After pitching a two-hit, complete game shutout in his season debut against the defending world champion San Francisco Giants, Kershaw followed that gem up with another stellar showing at Blue Heaven on Earth on Saturday night against the Pittsburgh Pirates. He tossed seven innings of scoreless ball with nine strikeouts while giving up just two hits in another classic pitchers duel with Pirates' A.J. Burnett. Dating back to his final start of the 2012 season, Kershaw has not given up a run, earned or otherwise, in 20 consecutive innings. "For me it just starts with throwing strikes," Kershaw said. "Just keep pumping the strike zone and letting the defense work. That's kind of my mindset." After giving up a leadoff single to left fielder Starling Marte to begin the game, Kershaw responded by retiring the next seventeen batters in a row. Starling Marte singled again in the sixth for the Pirates' second hit of the game. On the offensive side of the game, the Dodgers' offense continues to be anemic at best. While he didn't have to go out and hit a home run to ensure the victory this time, Matt Kemp continues to struggle to start the season with just one hit in 18 at-bats. He grounded into an inning-ending double play in the seventh. "Right now the offense isn't scoring a ton of runs, so the pitchers have got to pick up the hitters – just like we expect them to pick us up when we're struggling," Kershaw said. It isn't for a lack of opportunities for the Dodgers. After Crawford led off the bottom of the first with a walk and stealing second base, Burnett struck out Mark Ellis, Matt Kemp and Adrian Gonzalez, all looking. Burnett followed that up with a perfect second inning in which he got Andre Ethier to ground out to first, A.J. Ellis to ground out to third and Luis Cruz to fly out to center field. The Dodgers, led by Carl Crawford, finally broke through in the bottom half of the third inning. After retiring Justin Sellers and Kershaw to open up the inning, Carl Crawford reached on an infield single to short stop. He then advanced to scoring position by stealing his second bag of the day. Mark Ellis then knocked him in with an RBI single to left field. In hopes of extending the two-out rally, Ellis stole second off former Dodgers catcher Russell Martin only to get stranded their by Kemp's second strikeout in as many at-bats. They tried to break through again in the fourth after a lead off walk by Gonzalez and Ethier singling to right field, but A.J. Ellis grounded into a rally-killing double play. Luis Cruz, who has showed no signs of resuming his career-year from last season, then proceeded to strike out looking to officially end the inning. Kershaw tried to help out his own cause again in the fifth by drawing a walk a one-out walk after Sellers struck out, but the rest of the lineup failed with Crawford and Mark Ellis both striking out. The Dodgers had another great opportunity in their half of the sixth inning. Kemp struck out to begin the inning but the Dodgers then loaded the bases after Gonzalez singled to right, Ethier walked and A.J. Ellis singled to shallow left. However, Cruz popped out to shallow left and sellers hit a soft ground ball to second base to end the threat. After failing to give Kershaw any insurance runs, Dodgers skipper Don Mattingly decided to pinch hit for him to lead off the bottom of the seventh. Skip Schumacher grounded out to third before Crawford and Mark Ellis both singled to shallow left field and right field, respectively. With two on and just one out, Matt Kemp stepped into the batters box with yet another chance to jumpstart his season. But, once again, he failed to do so and grounded into an inning-ending double play. It was up to the Dodgers' bullpen to hold the razor-thin lead. Fortunately for the Dodgers, they were up to the task. Paco Rodriguez relieved Kershaw to face Pedro Alvarez and struck him out before he was relieved by set-up man Kenley Jansen. Garrett Jones came in as a pinch hitter but popped out to third before Kenley Jansen fired a fastball pass Clint Barmes to end the inning and setting up Dodgers' closer Brandon League. League sailed through the ninth with relative ease, recording his second save of the season, in as many days. When asked about leaving the game early with another shutout going, Kershaw said he didn't have his normal repertoire. "My fastball wasn't great tonight," Kershaw said. "I was reaching back and didn't have a whole lot in the tank, for whatever reason. But I was able to keep them a little bit off-balance and was able to get some big 3-2 strikeouts with the slider." Burnett, who pitched a second great game in a row himself, struck out nine Dodgers – including Matt Kemp three times. But, his lack of run support continued, having received less then three runs in eight of his last nine starts dating back to last season. "I want to go up against every ace. That's what I'm here for," Burnett said. "I'm not worried about run support. That's not my thing. That's beyond my control." The Dodgers have won 11 of their last 12 games against the Pirates and eight straight at Chavez Ravine. Their sole loss against Pittsburgh came in their final meeting of last season. Related Posts:Game Three Summary: Giants 5 – Dodgers 3Game One Recap: Dodgers 4 – Giants 0Game Four Summary: Dodgers 3 – Pirates 0Game Two Summary: Giants 3 – Dodgers 0Kershaw In Ace Form, Outduels Lincecum In Victory
Original Story:
http://www.dodgersrumors.com/game-fiv...
THE BACKYARD
BEST OF MAXIM
RELATED ARTICLES
The Los Angeles Dodgers not only did some sweeping this weekend but they re-organized the garage as well. Coming off a weekend sweep of the Pittsburgh Pirates, GM Ned Colletti made good on a few off season promises. The Dodgers are counting on Ramon Hernandez to be the veteran they need to back up AJ Ellis. Last winter, Colletti said that obtaining a veteran back-up catcher for A...
Clayton Kershaw was dominant in two outings this past week and now Major League Baseball has recognized his accomplishments! Congratulations Clayton Kershaw! National League Player of the Week for the first week of 2013! (Image Credit: Dodgers.com) Here's a brief recap of what Clayton did during Opening Week. -Shut out the Giants on Opening Day, going 9 innings, striking out...
Clayton Kershaw followed up his sensational one-man show on opening day with seven innings of two-hit ball and nine strikeouts in a spirited duel with A.J. Burnett, and the Los Angeles Dodgers beat Pittsburgh 1-0 Saturday night for their second straight shutout win over the Pirates., http://juicedsportsblog.com/sports-news/news/kershaw-turns-in-second-solid-start
Los Angeles Dodgers starting pitcher Clayton Kershaw has been named National League Player of the Week after his two lights out performances to start the season. At a time when the Dodgers' bats have struggled to find consistency, Kershaw, the team's ace, has at least done his part to shut down the opposition, going 2-0 in two starts and not allowing a single earned run...
LOS ANGELES (AP) -- Clayton Kershaw followed up his sensational one-man show on opening day with seven innings of two-hit ball and nine strikeouts in a spirited duel with A.J. Burnett, and the Los Angeles Dodgers beat Pittsburgh 1-0 Saturday night for their second straight shutout win over the Pirates. Kershaw (2-0) walked one and retired 17 consecutive batters after giving up...
Clayton Kershaw has allowed 0 runs on 2 hits through 6 at the Taj Mahal of Baseball and the Dodgers lead 1-0. Game recap will be delayed due to me being at the game. Hope all of you watching at home are enjoying this Saturday Night delight! This article has been read (0) times
Saying that the Pirates' offense has to start to get better soon is a true statement given how badly things have gone in the season's first four games, but Clayton Kershaw is starting for the Dodgers tonight, so maybe tomorrow is the day to hope for better. Jeff Locke gets the start for the Pirates. I'd say that if he can give the Bucs a start like Jonathan Sanchez did...
Baseball fans were wondering what Los Angeles Dodgers left hand pitcher Clayton Kershaw would do for an encore, after pitching a complete game, four hit shutout on opening day while chipping in at the plate with a home run (does listening to Vin Scully on any call ever get old).  While not quite as impressive, Kershaw followed it up today with a 7 inning performance only allowing...
That … about sums it up, I think.
The newly purchased Los Angeles Dodgers started the 2013 season by rolling up to their home stadium in a fleet of high end BMWs, Lamborghinis, and Porsches. Three games later the San Francisco Giants had those vehicles tagged, towed and impounded in the 2013 National League West cellar. And while it's not likely the Dodgers will continue to lose two of every three games,...
Pirates (1-3) at Dodgers (2-2) 9:10 PM–Dodger Stadium, Los Angeles MLB.com Gameday TV: ROOT The Bucs will look to right the ship tonight out in Los Angeles, but the timing couldn't be much worse for a matchup against the best pitcher in the NL. The many struggles on offense have been well chronicled so far, but here's a quick summary: OK, official offensive slashes: 127/.195...
AJ Burnett pitched well, but the Pirates offense hasn't woken up yet.  Facing the Dodgers' Clayton Kershaw didn't help, of course.  He pitched 7 innings and allowed just 2 hits. AJ needed 108 pitches to get through 5.1 innings, but he only allowed 1 run off 4 hits and 4 walks.  That run came in…
MLB News

Delivered to your inbox

You'll also receive Yardbarker's daily Top 10, featuring the best sports stories from around the web. Customize your newsletter to get articles on your favorite sports and teams. And the best part? It's free!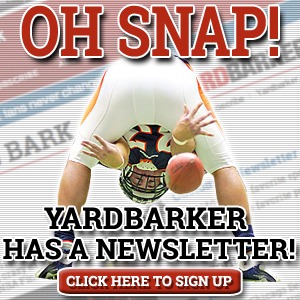 Latest Rumors
Best of Yardbarker

Today's Best Stuff

For Bloggers

Join the Yardbarker Network for more promotion, traffic, and money.

Company Info

Help

What is Yardbarker?

Yardbarker is the largest network of sports blogs and pro athlete blogs on the web. This site is the hub of the Yardbarker Network, where our editors and algorithms curate the best sports content from our network and beyond.