Found June 23, 2012 on Monkey with a Halo:
Dear Dodger Fans,
It's okay. I understand your frustration. Your team was riding high with a solid first couple of innings and looked like you were on your way to righting your sinking ship. We Angel Fans were in your same boat just a dew month ago. We too, would get overly excited about the illusion of our team playing well only to have our hopes dashed by a superior team. Look, your run as LA favorite sons was a nice little story in April, but this is the real part of the season and this is big boy baseball. And tonight, was exactly what big boy baseball players do.
Angels 8 Dodgers 5
Game Notes
-- Yes, Dan Haren got the win. But his start continued a trend of his inability to get batters out when he's ahead in the count. Haren got rocked in the first two innings, but somehow managed to go five innings and keep the Angels in the game. To put it simply, Haren needs to start pitching better if the Angels have any hope of long term success.
-- Mike Trout is really, really good. But what makes him special is his sense of the moment. Superstars know how to elevate their game at the right moment and between the go ahead home run and the ridiculous speed he showed scoring from first on a single, Trout found the moment. MVP anyone?
-- I love how Mike Scioscia is using his bullpen. In a normal circumstance Scott Downs does not pitch the seventh inning. The old Mike would have saved Downs for the eighth since he is the "set-up man". But with the game in doubt, Scioscia threw his best guy out there. Brilliant!
Halo Hero
So that's why the Angels gave him that new deal? Erick Aybar was everywhere tonight. He had a double, a triple and 2 RBI at the plate. He made a couple of nice plays in the field, including a acrobatic double play to squash a Dodger rally. Seems like the pressure is starting to ease and Erick is playing at the pace he is capable.
Original Story:
http://www.monkeywithahalo.com/2012-a...
THE BACKYARD
BEST OF MAXIM
RELATED ARTICLES
ANAHEIM, Calif. It's almost getting ridiculous the way Mike Trout is able to conjure up new ways to win games for the Angels. Every day, he comes up with something new, something more spectacular than the previous performance. His teammates have come to expect it, and so has Trout. His speed, his power, his fearless base running all of it has become his calling card. It'...
Historically, there has always been a major deficiency in some facet of Angel's catchers. Bobby Wilson is hitting roughly .175, with 3 RBIs, and recorded his first extra-base hit of the season Wednesday (in 35 games). His stolen base percentage against him is .750, leaving room to improve. Chris Iannetta, John Hester, and Hank Conger are .818, .857, and .714 respectively. None...
    vs.    Has the offense improved since Mickey Hatcher's departure on May 15th? The obvious answer is yes, the offense has improved! Is that entirely because of Jim Eppard..no, not entirely. The improvement can be attributed to (in no specific order) the arrival of Mike Trout, the injury to Vernon Wells, the dismissal of Bobby Abreu the breakout of Mark Trumbo and...
By Rob Goldman - AngelsWin.com Historical Writer The skinny kid at shortstop gives a defiant look toward the fungo circle. The intense glare is partially hidden by the sweat stained cap that covers his neat crew cut. Coach Joe Gordon slaps a sharp grounder to the kid's right. With the grace of a seasoned veteran the kid glides over it with ease. Scooping the up the ball in...
By Brian Waller, AngelsWin.com Columnist Angels/Dodgers Preview: The Angels continue to roll! After taking two out of three games from the San Francisco Giants earlier in the week the Angels head into the weekend series with the Los Angeles Dodgers having won eight out of their last nine series. The Halos are a season high six games over .500 and finally seem to be clicking on...
                                                     @ Los Angeles Dodgers of Los Angeles (42-28) @ Los Angeles Angels of Anaheim (38-32) Pitching Probables: LAD  –  Chad Billingsly (4-5, 3.75 ERA)  LAA – Dan Haren (4-7, 3.97 ERA) Game Info: 7:05 PM PT; TV - Fox Sports West, Fox Prime Ticket; Radio - KLAA 830The freeway...
ANAHEIM, Calif Saturday afternoon's starting pitchers for the Dodgers and Angels couldn't be having seasons that are anymore different. Not much was expected from lefthander Chris Capuano, a free agent pickup by the Dodgers, whose career has been one of ups and downs, usually interrupted by injuries. A lot was expected from Angels' righthander Ervin Santana, who is...
Rookie sensation Mike Trout hit a go-ahead homer and scored from first base on a single as the Los Angeles Angels rallied from an early five-run deficit against Chad Billingsley to beat the Dodgers 8-5 Friday night in the opener of the season's second Freeway Series. Dan Haren (5-7) allowed five runs, nine hits and three walks over five innings with five strikeouts. Ernesto...
Chris Capuano outdueled Ervin Santana with seven gritty innings, leading the Los Angeles Dodgers to a 3-1 victory over the Angels on Saturday and helping end the NL West leaders' four-game losing streak. Capuano (9-2) allowed a run and seven hits, struck out four and walked none while lowering his ERA from 2.71 to 2.51. The left-hander worked with runners on base in every inning...
I remember hiding under the covers and listening to the Angels on a hand-held transistor radio while I was supposed to be asleep.  The lights were out and the volume was down and that radio was very close to my ear.  My dad was in the next room, his den, almost always listening to the game just as I was.  Once in a while he'd walk over to my room, open the door and say, "we...
Time for the weekend! Let's get right to the trots. Home Run of the Day: Mike Trout, Los Angeles Angels - 19.38 seconds [video] Coming immediately on the heels of a successful suicide squeeze (successful thanks to a missed tag by AJ Ellis), Angels Stadium was already rocking when Trout took the first pitch he saw deep over the centerfield wall to give the Angels a late lead...
Angels News

Delivered to your inbox

You'll also receive Yardbarker's daily Top 10, featuring the best sports stories from around the web. Customize your newsletter to get articles on your favorite sports and teams. And the best part? It's free!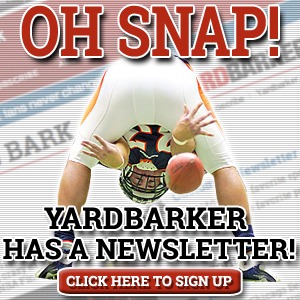 Latest Rumors
Best of Yardbarker

Today's Best Stuff

For Bloggers

Join the Yardbarker Network for more promotion, traffic, and money.

Company Info

Help

What is Yardbarker?

Yardbarker is the largest network of sports blogs and pro athlete blogs on the web. This site is the hub of the Yardbarker Network, where our editors and algorithms curate the best sports content from our network and beyond.