Posted February 28, 2013 on AP on Fox
PLAYERS:
Ron Gardenhire
,
Joe Girardi
,
Don Mattingly
,
Ned Yost
,
Wil Myers
,
James Shields
,
Wade Davis
,
Charlie Manuel
,
Jim Leyland
,
Carl Crawford
,
Hanley Ramirez
,
Adrian Gonzalez
,
Josh Beckett
,
Zack Greinke
,
Derek Jeter
,
Mariano Rivera
,
Alex Rodriguez
,
Terry Collins
TEAMS:
Minnesota Twins
,
Los Angeles Dodgers
,
Colorado Rockies
,
Kansas City Royals
,
Tampa Bay Rays
,
Philadelphia Phillies
,
Detroit Tigers
,
New York Yankees
(Updates. With AP Photos.) By NOAH TRISTER AP Baseball Writer The Minnesota Twins have had all of two managers over the last quarter-century, so it's a bit startling to see Ron Gardenhire beginning the last year of his contract, his job seemingly on the line after back-to-back seasons of more than 95 losses. Of course, Gardenhire isn't alone. Four years after winning the World Series, Joe Girardi is in the final season of his deal with the New York Yankees. Don Mattingly is in a similar situation with the Dodgers - and even Walt Weiss, who just took over the Colorado Rockies in November, is signed for only a year. Every season, a handful of managers find themselves under increased pressure, and 2013 is no different. Sometimes a struggling team wants to keep its options open, or perhaps a contender starts losing patience. A manager facing the end of his contract isn't necessarily doomed, but these next few months will be crucial for some of baseball's biggest names. ''I've got a contract for this year. That's all I know. And I have a job to do, and I'm getting paid to do it,'' Gardenhire said. ''The Twins have been very, very good to me, so I'm not going to complain.'' There's actually a decent amount of managerial stability in baseball these days. Coming into the 2013 season, the average manager has been with his team for 3.4 years, according to STATS, LLC. That's up from 2.13 a decade ago - and 1.65 back in 1983. Gardenhire took over in Minnesota before the 2002 season after Tom Kelly managed the Twins for over 15 years. Gardenhire has won six division titles with Minnesota, but the bottom fell out when the Twins went 63-99 during a 2011 season wrecked by injuries. They improved by only three games last year. Gardenhire's challenge is to piece together a rebuilt pitching staff. His contract status doesn't appear to be weighing on him. ''There's not much I can do about it, so why worry about it? I don't worry about it,'' he said. ''Whatever happens, happens. I'm going to go out and do my job. Hopefully, I stay here forever. I like it here, my family loves Minnesota, but it's not something I too often worry about.'' While the Twins focus on returning to relevance, the Royals are trying to end a long rebuilding phase. Kansas City picked up manager Ned Yost's option for 2013 over a year ago, so he's back and under pressure to guide the Royals at least into contention after the team dealt Wil Myers and a package of other top prospects for James Shields and Wade Davis. In Colorado, Weiss takes charge of a team that lost 98 games last season. The former shortstop is making the jump from high school coach to major league manager - with a one-year contract right at the start. Weiss' inexperience bears watching, but even managers who have won big must constantly prove themselves. Charlie Manuel has won a World Series and two pennants with the Philadelphia Phillies, but their streak of five NL East championships ended last year. Philadelphia looks determined to make another push for the playoffs. Beyond this season, the future is murky. Manuel said at the beginning of spring training he wasn't going to answer constant questions about his expiring contract. His attitude isn't unusual. Job security is a sensitive topic that can become a distraction. Jim Leyland was in the last year of his deal in 2011. Two AL Central titles later, he's still in charge in Detroit. The Tigers signed him to a one-year extension after winning the American League pennant in 2012, and the 68-year-old skipper seems content with that arrangement, which allows Leyland and the team to re-evaluate things every 12 months or so. In Washington, there isn't much doubt about Davey Johnson's future. He's expected to stop managing after this season and move into a consulting role. Mattingly, on the other hand, has only been managing a couple years. The Dodgers went 86-76 in 2012, but the team acquired Carl Crawford, Hanley Ramirez, Adrian Gonzalez, Josh Beckett and Zack Greinke in the last year. ''I'm not burying my head in the sand. I know people expect us to win, basically,'' Mattingly said. ''All the expectations are just noise to me and the club, that we should win the Series and all that. My job and my staff's job is to prepare the club to play the best it possibly can, and I can't worry about the noise. The job doesn't change.'' The Dodgers went on a spending spree, and Mattingly's task is to make it work. Girardi can probably relate to that after five years managing the Yankees. New York won the World Series in 2009, but that memory fades a bit more with each postseason flameout. The Yankees were swept by Detroit in last year's AL championship series, and instead of loading up with free agent stars, New York spent much of the offseason waiting to see how Derek Jeter, Mariano Rivera and Alex Rodriguez would recover from their injuries. But this is still the Yankees, so Girardi shouldn't expect much of a pass if it turns out to be a down year in the Bronx. He's in the final season of a three-year deal. ''I don't worry about where I'm going to be next year,'' said Girardi, who got used to moving around during his playing career. ''When I signed, I was called up in 1989 and thought I'd be a (Chicago) Cub the rest of my life. Lo and behold, I was with three other teams, back with the Cubs. I was all over the place. So you get used to not worrying about next year, and I'm not worried about it.'' Across town with the Mets, Terry Collins was under .500 in each of his first two seasons at the helm. Collins is in the last year of his deal, too. ''I have nothing to prove to myself,'' Collins said. ''You turn it over to the guys that can play, and my job is to get them ready to play, and I've got to do a better job of it because it wasn't good enough last year.'' Like Gardenhire, Girardi, Manuel and the rest, Collins figures there's no use dwelling on what he can't control. ''I'm not going to worry about having a tough loss or anything else,'' Collins said. ''I've got a job to do, and I'm going to go do it. I can't worry about the future.''
Original Story:
http://msn.foxsports.com/mlb/story/Ga...
THE BACKYARD
BEST OF MAXIM
RELATED ARTICLES
Joe Mauer has spent his entire career with the Minnesota Twins. So it's only fitting that he'll soon be the father of his own set of twins. The team confirmed Wednesday that the star catcher and his wife, Maddie, are expecting their first children, as was first reported by the St. Paul Pioneer Press. Of course, it's all too perfect that the couple will have twins. ...
When word came that Minnesota Twins superstar Joe Mauer and his Maddie were expecting twins...I'm pretty sure fans from Rochester to Fergus Falls completely lost their mind.Yup, the guy who, when it's all said and done, might supplant Kirby Puckett or Harmon Killebrew as "Mr. Twin" is about to have twins of his own.  "Obviously, we're both really excited...
Get your puns ready, because Minnesota Twins catcher Joe Mauer and his wife, Maddie, are expecting twins. Charley Walters of the St. Paul Pioneer Press reported the news Wednesday. "Obviously, we're both really excited and couldn't be happier," Mauer told Walters. "Everything so far is good." Mauer is the Twins' franchise icon and a hometown player from St. Paul, so...
Once upon a time, Justin Morneau was a very solid player. He was never the player his most-valuable-player status would have seemed to convey, though he was still solid. But that time was more than two seasons ago, and as he enters a contract year in what will be age-32 season, it's fair to wonder if this is Morneau's last stand. To be sure, Morneau is no scrub. Since the Integration...
Joe Mauer of the Minnesota Twins announced that his wife is pregnant with Minnesota twins, and yes, our jokes about it are terrible.
As news spread that Joe Mauer and his wife are expecting twins in August, the All-Star catcher had two hits with an RBI, a walk and two runs scored to lead the Minnesota Twins over the Baltimore Orioles 7-1 on Thursday. Josh Willingham boosted his spring average to .727 with a pair of hits for the Twins. Willingham also drove in a run, drew a walk and scored twice. Hitting behind...
DUNEDIN, Fla. (AP) --Justin Morneau is finding his hitting touch early in preparation for the World Baseball Classic. Morneau had two hits, including an RBI double, and the Minnesota Twins beat the Toronto Blue Jays 8-4 on Tuesday. Morneau and teammate Joe Mauer, both taking part in next month's WBC, made the 2-hour trip from Fort Myers. "Just to get my legs underneath...
FORT MYERS, Fla. (AP) -- As news spread that Joe Mauer and his wife are expecting twins in August, the All-Star catcher had two hits with an RBI, a walk and two runs scored to lead the Minnesota Twins over the Baltimore Orioles 7-1 on Thursday. Josh Willingham boosted his spring average to .727 with a pair of hits for the Twins. Willingham also drove in a run, drew a walk and scored...
The bullpen allows 11 runs to score, doing in the Phils as they lose their third spring training game, dropping this one to the Twins, 12-5. The Phils took the lead in the first as, with two men on, and with one man out, Ryan Howard hits an RBI single, knocking in Ben Revere, who had started the game off with a single, then stole second base, giving the Phils a 1-0 lead, while sending...
MLB News

Delivered to your inbox

You'll also receive Yardbarker's daily Top 10, featuring the best sports stories from around the web. Customize your newsletter to get articles on your favorite sports and teams. And the best part? It's free!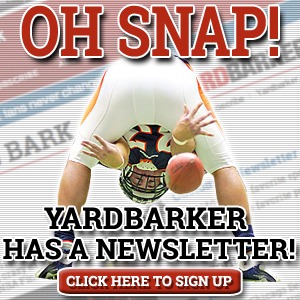 Latest Rumors
The Backyard

Today's Best Stuff

For Bloggers

Join the Yardbarker Network for more promotion, traffic, and money.

Company Info

Help

What is Yardbarker?

Yardbarker is the largest network of sports blogs and pro athlete blogs on the web. This site is the hub of the Yardbarker Network, where our editors and algorithms curate the best sports content from our network and beyond.