Found August 01, 2012 on Philly Sports World:
PLAYERS:
Joe Blanton
,
Cliff Lee
,
Shane Victorino
,
Hunter Pence
,
Josh Lindblom
,
Ethan Martin
,
Tommy Joseph
,
Seth Rosin
,
Jonathan Singleton
,
Ryan Howard
,
Chase Utley
,
Carlos Ruiz
TEAMS:
Philadelphia Phillies
,
Los Angeles Dodgers
,
San Francisco Giants
,
Houston Astros
The trade deadline has passed, and now the dust begins to settle for the Philadelphia Phillies. There were 2 casualties, but there could have been more. The Phillies were unable to complete a deal with Baltimore to trade Joe Blanton, and also along the way decided to pull Cliff Lee off of the table.
In the end the Phillies traded away outfielders Shane Victorino and Hunter Pence. It is a sell off that will dramatically change the make up of the Phillies outfield and team.
In the Victorino trade, the Phillies acquired right handed reliever Josh Lindblom, who has pitched in 48 games for the Dodgers this year. They also got Ethan Martin, a former 1st round selection in 2009. Martin is in Double A at the moment, but could still project to be a solid starting pitcher. In 20 games for Double A Chattanooga, Martin was 8-6 with a 3.58 ERA. The Phillies will also get a player to be named later or cash considerations.
The Hunter Pence trade is the one that has many fans around the Delaware Valley unhappy. Pence was shipped to the San Francisco Giants in exchange for top catching prospect Tommy Joseph, (Double A) Seth Rosin (Single A) and major leaguer Nate Scheirholtz. It's not so much what the Phillies got for Pence as it is what the Phillies gave up to get Pence one year and two days ago. The haul in return for Pence was much less substantial than what the Phillies gave up to get him from the Astros last July 29th.
In that trade to acquire Pence, the Phillies gave up Jonathan Singleton, Jared Cosart, Josh Zied and Domingo Santana. Cosart has struggled to adjust to a recent promotion to Triple A, but has pitched relatively well prior to that. Jonathan Singleton is batting .281 with 13 HRs and 56 RBI in Double A Corpus Christi. Domingo Santana is batting .295 at advanced single A. It's not necessarily that those players are playing great, it's that they still have upside, and only 367 days later the Phillies have given up on Pence.
It is a sobering reminder of what can happen when you mortgage your farm to win now. It is an unsustainable business model, and at the end, you wonder how much it will cost the Phillies in the future.
Still, no one was complaining last year when the Phillies dealt those players for Pence's bat. It's hard to say that Pence was a bust in Philadelphia, he certainly put up good numbers. The problem is that he put up what many say were hollow numbers. When it came to crunch time or the Phillies needed Pence to step up, he didn't. He struggled mightily with runners in scoring position, and seemed to wilt under the pressure of having to be the guy in the absence of Ryan Howard and Chase Utley. With all of that said, moving Pence will be more about money than anything else.
Time will tell how the Phillies will piece a team back together for 2013. Clearly some of this will hinge on the play of Domonic Brown, who will return to the big club for an extended look. It may be his last chance with the Phillies.
The Phillies wound up getting a couple of key pieces in the trades today, but nothing that screams difference maker. Tommy Joseph is a solid prospect and could someday be Carlos Ruiz's replacement. They did get some bullpen help now, and a body in Scheirholtz that can be a stop gap for the rest of the season in right. It's hard to say whether this was a success or not. We'll have to see what the team does with the money they unloaded.
I'm still left with the feeling that what the Phillies did wasn't enough.
Similar Posts:
Original Story:
http://phillysportsworld.com/gauging-...
THE BACKYARD
BEST OF MAXIM
RELATED ARTICLES
MAHALO
Shane Victorino may have driven some of us crazy time to time with his play, but the man is a true class act. He took out this full-page ad in tomorrow's Philadelphia Daily News. I'm shocked he got this out so fast. Bob Ventrone, Jr. shared the picture on his Facebook page that I noticed thanks to Phillies Beat Writer Kevin Cooney on Twitter. Speaking of Twitter, Shane...
The Philadelphia Phillies have begun the retooling process. It could hardly be called a rebuilding process following the six year, 144 million dollar extension they gave to Cole Hamels. For the time being, the Phillies have more than 90 million committed to their top three pitchers and Ryan Howard. The extension began wide speculation that the Phillies would begin to...
A couple nights ago, Dennis O'Donnell of KPIX twittered about that the Giants "have acquired Hunter Pence". It started a wildfire of retweets (re-posts for you old people not on Twitter), by everyone and their mother, including Andy Baggarly of CSN.  With fans going nuts over this apparent news, KPIX ran the story even after Baggarly had confirmed with Bobby...
What a difference a year makes.  On this date one year ago the Phillies brought in Hunter Pence in a hugely popular trade - remember the cameras following his arrival in that black SUV?  It bolstered a team who was 29 games above .500 and held a 6 game lead in the NL East on their way to 102 victories. Exactly one year later, the 12 games under .500 last place...
LOS ANGELES The Los Angeles Dodgers today designated outfielder Bobby Abreu for assignmentas Shane Victorino was added to the active roster. Abreu was signed by theDodgers as a free agent on May 4 and batted .251 with two home runs and 17 RBIin 70 games with Los Angeles, including a .316 batting average (6-for-19) and a.409 on-base percentage in 22 pinch-hitting appearances. Victorino...
Reading the headline on the newyorkdailynews.com "It's a fire sale in Philadelphia….", is a reality we all should have seen coming. The "fire sale" at the trade deadline moved long time fan favorite Shane Victorino and Hunter Pence the one year fan favorite both to the West Coast. Victorino who in all likelihood would not have been re-signed next season did have a great...
After days of rumors and speculation, the Giants have finally acquired outfielder Hunter Pence. Heading to Philadelphia are Nate Schierholtz and a pair of prospects — Tommy Joseph and Seth Rosin. Hunter Pence, 29, is under team control through the end of 2013, but is set to make nearly $15M next season. More on this later…
Hunter Pence to the San Francisco Giants? Joe Blanton to the Baltimore Orioles? Cliff Lee to the Texas Rangers? Are these Phillies and more on the move? Discuss....
LOS ANGELES- L.A. sports fans now have another arch-villain to cheer for that is swapping their old memories for California love. The Dodgers have traded reliever Josh Lindblom and minor league pitcher Ethan Martin to the Philadelphia Phillies for two-time All-Star center fielder Shane Victorino. Please click the link below to read this story watch it's accompanying video.
Say goodbye to 2012. Atlanta did that with a sweep of the Phillies this past weekend, and what dagger the Braves did, Phillies GM Ruben Amaro twisted inside the belly of Phillies fans. OK, gone are Hunter Pence and Shane Victorino. Coming in are outfielder Nate Schierholtz and minor-league prospects Tommy Joseph, a catcher, and Seth Rosin, a righthanded pitcher (from the Giants for...
Tim Brown of Yahoo! Sports says the Dodgers have traded Josh Lindblom and Ethan Martin to the Phillies for Shane Victorino. Phillies have traded Victorino to Dodgers for Lindblom and Ethan martin — Tim Brown (@TBrownYahoo) July 31, 2012 I'll have analysis up later, but in the mean time, here's Shane Victorino's best contributions to
The trading of Shane Victorino and Hunter Pence this week signaled that Phillies general manager Ruben Amaro came to grips with reality that the team needed an overhaul. But is he perhaps showing a little more fear than we'd like to see in today's decision to place starting pitcher Cliff Lee on waivers? Source: Phillies have placed Cliff Lee on waivers. Executives expect...
MLB News

Delivered to your inbox

You'll also receive Yardbarker's daily Top 10, featuring the best sports stories from around the web. Customize your newsletter to get articles on your favorite sports and teams. And the best part? It's free!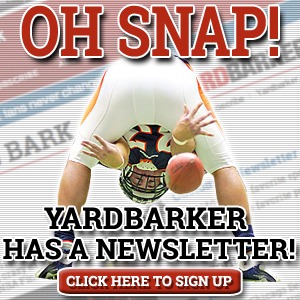 Latest Rumors
Best of Yardbarker

Today's Best Stuff

For Bloggers

Join the Yardbarker Network for more promotion, traffic, and money.

Company Info

Help

What is Yardbarker?

Yardbarker is the largest network of sports blogs and pro athlete blogs on the web. This site is the hub of the Yardbarker Network, where our editors and algorithms curate the best sports content from our network and beyond.